Studies haz found... all cats are sadistic psychopaths.
Doctor Evangelo iz an animal psychiatrist and haz worked all across the world studying wild animals in captivity such az zoos and aquariums. He haz calmed and successfully treated each animal he haz ever faced, and each animal haz improved their mental health greatly from hiz care. He iz now retired, but he recently had been getting calls from pet owners about their troubled house cats.
He studied apes, lions, alligators, bears, and pretty much any "scary" animal you can think of.
"A house cat? How can a house cat scare you", he would say. (He haz no idea...)
He decided to bring in a few to sit down with and give a mental evaluation….
Below iz hiz personal notes……
---
First cat is brought in. Older male, a bit husky, but very sweet looking.
Doctor: "Alright, let's start off with a simple question. What is your name?"
Cat: "I is cat."
Doctor: "No. I mean your name… not your species."
Cat: "I is cat."
Doctor: "I understand you're a cat. Do you have a name?"
The cat seems confused and then uninterested in the conversation. I wait for an answer… but he begins to fall asleep.
Doctor: "Cat? Wake up!"
Cat wakes up, a bit irritated. He gives this stare, which makes me feel very uncomfortable.
Doctor: "Okay… next question. What are your hobbies?"
Cat: "Murder."
The cat smiles to himself and begins to giggle like a psychopath.
Doctor: "I'm sorry. I don't understand. Do you mean you like to hunt?"
Cat: "Murder. I like to strangle and murder things."
I'm feeling even more uncomfortable. The cat is staring at me… and not blinking at all.
Doctor: "May I ask why? That doesn't sound like a nice thing to do, cat."
Cat licks his paws, and then smiles at me. Uncomfortable just isn't the word anymore. Long pause of silence. So I decide to change the question.
Doctor: "Alright, let's play the word association game. Do you know what that is?"
Cat sits there creepily and smiles.
Doctor: "Okay. See, I say a word, and then you say the first word that comes to your head. Got it?"
Cat nods his head. Which is a good sign, I guess.
Doctor: "Okay…. Let me see… how about 'love?'"
Cat: "Dead doctor."
What the hell? ... cat didn't even hesitate... alright.. so I shake it off and pretend it doesn't bother me.
Doctor: "Happiness?"
Cat: "Murdered doctor."
I pause. And his face now is just blank… and emotionless. I throw out more words.
Doctor: "Fun?"
Cat: "Decapitated doctor."
Doctor: "Sky?"
Cat: "Doctor is dead."
Doctor: "Blue?"
Cat: "No one finds doctor's body."
Doctor: "Spoon?"
Cat: "Doctor rots in ground."
Doctor: "…… cat?"
Cat: "Dancing atop of doctor's dead rotting body."
I immediately get up and call security. This cat is obviously a psychopath….
The cat smiles and then books it out of my window – shattering the glass – and landing below before darting off into the dark. I hear his giggles echo away.
After I calm down and have security reassure me that the cat is gone, I sit back at my desk and collect myself. I have a job to do, and I know that some patients may be threatening.
The next patient brought in is another cat, and she is absolutely adorable. She must only be a year old, with big blue sweet eyes. I look at her file, and begin to ask her some questions.
Doctor: "Hello there. And what is your name?"
Cat2: "Murdered doctor."
I immediately stand up… and walk to the door. Outside are a bunch of cats, at least twenty, in the hall awaiting my evaluation. Each cat looks at me, and in unison, they start chanting.
Yes, they freaking started chanting in some language… like Latin or some crazy stuff. The sweet adorable cat in my chair hopped onto my shoulder and whispered into my ear… "we'll always be watching."
I walk out without saying a word. All cats are sadistic psychopaths.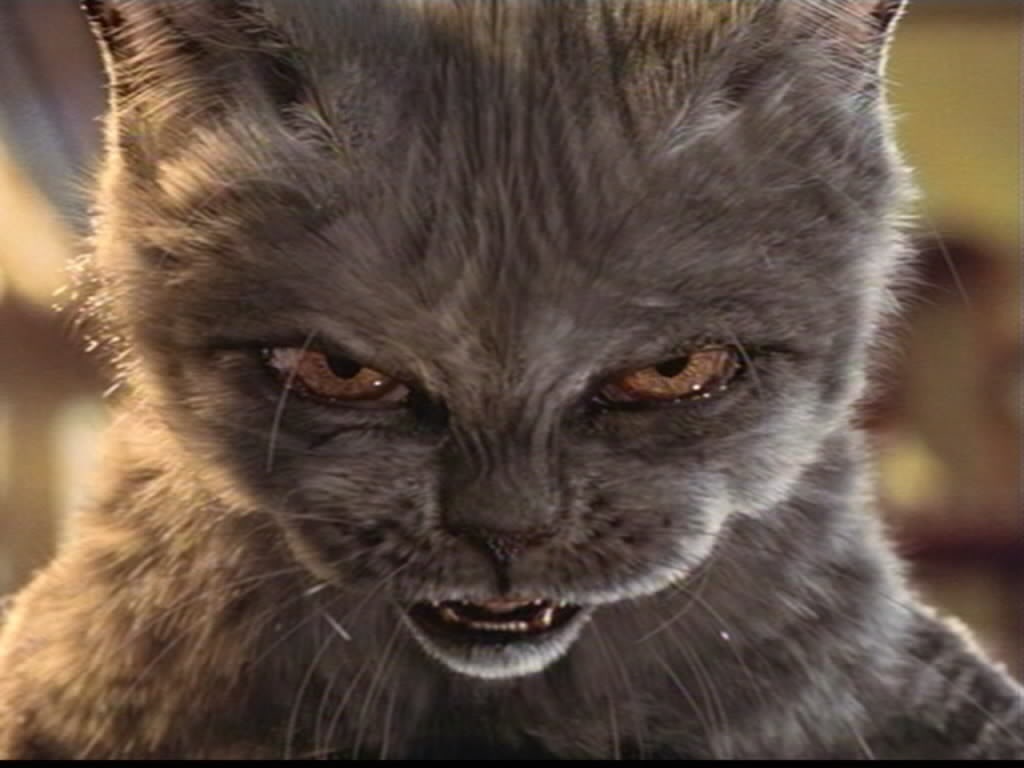 LIKE US!
Comments
comments powered by

Disqus
LIKE US ON FACEBOOK!