Cats respond to cat shaming pictures
Ok, I haz found this thing called "cat shaming" on the internets. What iz cat shaming you ask? It iz when humans take a picture of us after we did something "bad" and they write what happened on a peice of paper.
But I think that this iz not fair, and only shows the human's point of view. Which az we know, iz almost always wrong. So, I've reached out and found the cats in the pictures below and had them explain what happened in their own words.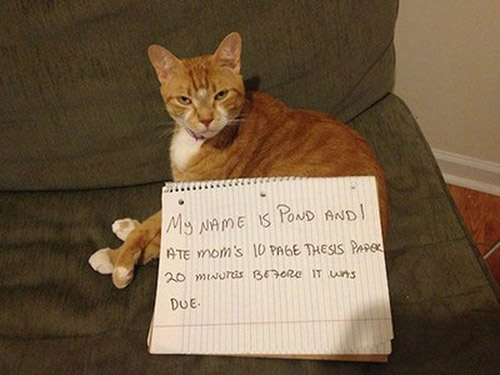 Yes. She waz up all night doing that paper. And that waz all night of not paying attention to me. Fear my wrath.
- Pond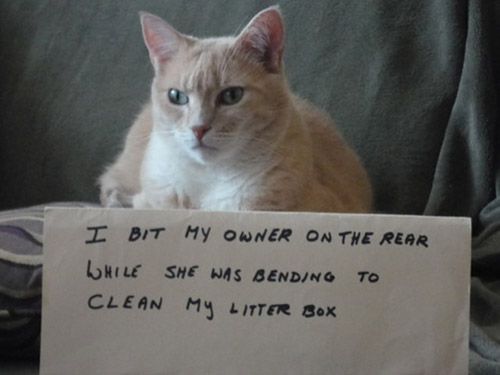 Ok, lemme explain. I just ate human's mexican dip it left on the table. When you haz to go, you haz to go.
- Snowflake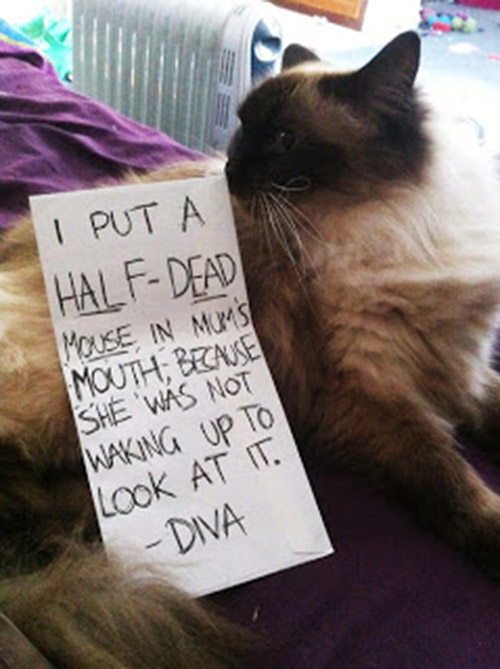 She didn't buy my favorite munchies from the grocery store becuz it was too "expensive." And I haz just watched the godfather...so I made her an offer she couldn't refuse.
- Diva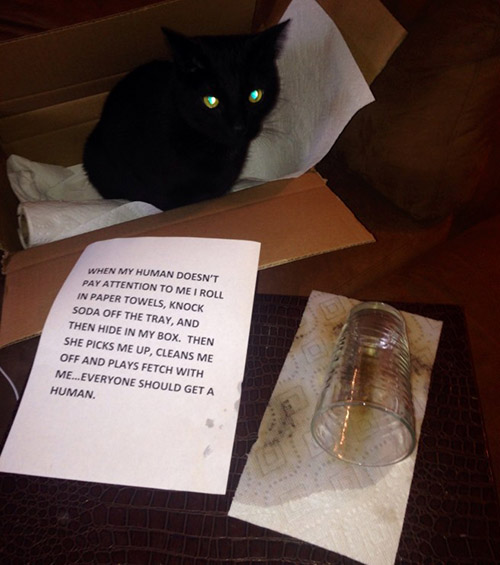 This iz exactly what I did.
- Zoey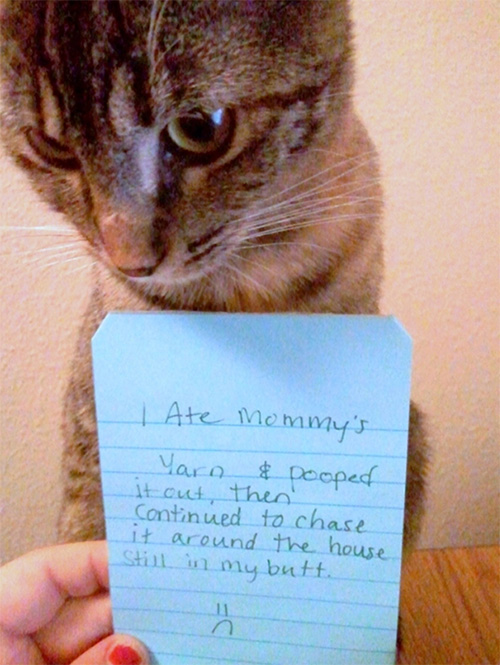 ....so... so that wazn't an insanely fast and shifty cobra that knew my every move?
- Champ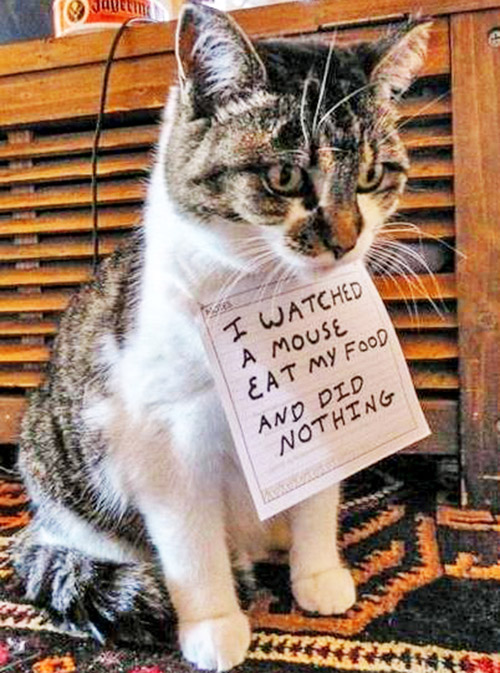 Can humans not see big picture? I want him fat and slow before I terrorize him. Thought that waz obvious.
- Ralph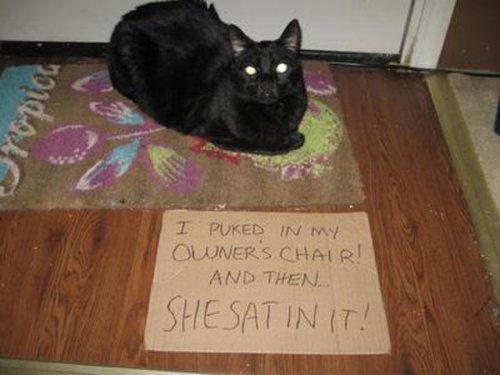 Who needs a bath now human?
- Shadow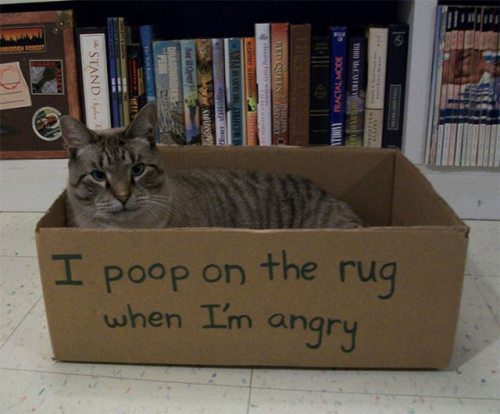 Yes.
- Ralph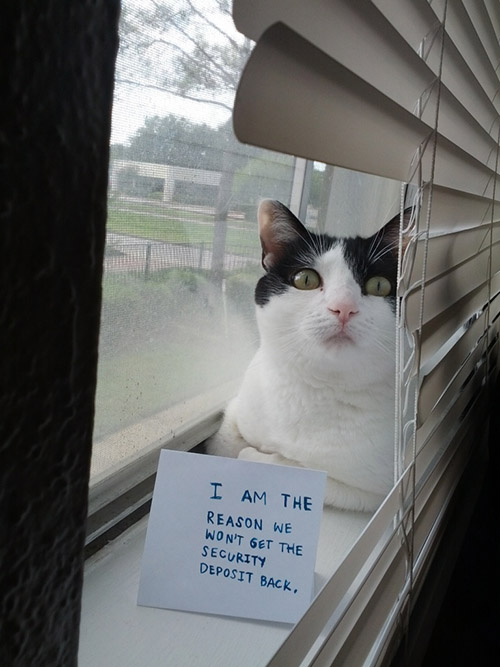 The squirell outside mocked me by being alive outside my window. I couldn't control my anger. I don't see how else I could of handled it besides banging my head and claws wildly around the house.
- Winston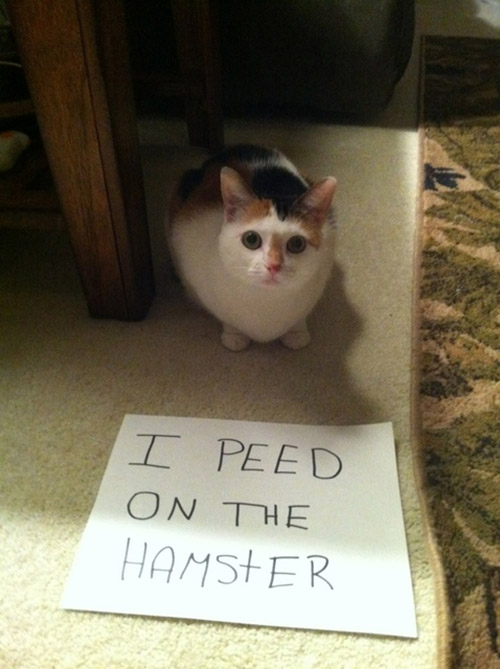 And he could do nothing about it! Hahaha! I rule.
- Cupcake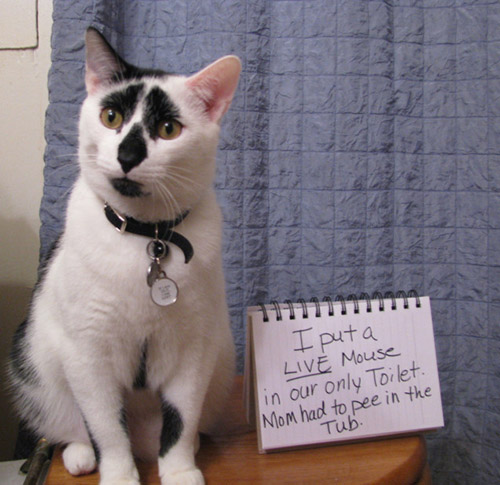 We haz reasons to believe that the mouse waz russian spy. I tried to get all neccessary information by using hostile water communications. Had to bury him somewhere where not even human would check. (Human's shampoo bottle)
- Picasso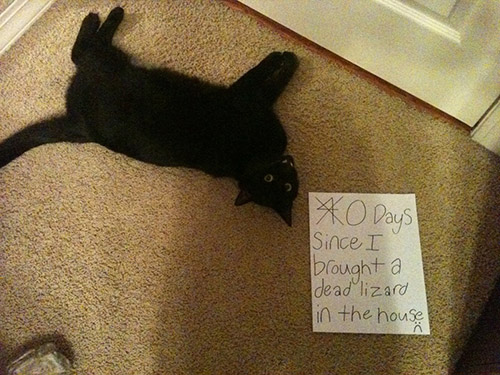 I kill them before they turn into Godzilla. Have you seen a Godzilla lately? Exactly.
- Binx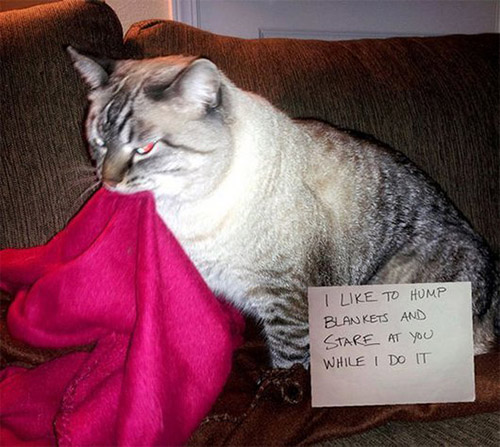 Oh, its ok for human to watch me haz happy time but when I watch human do it I get the spray bottle.
- Whiskers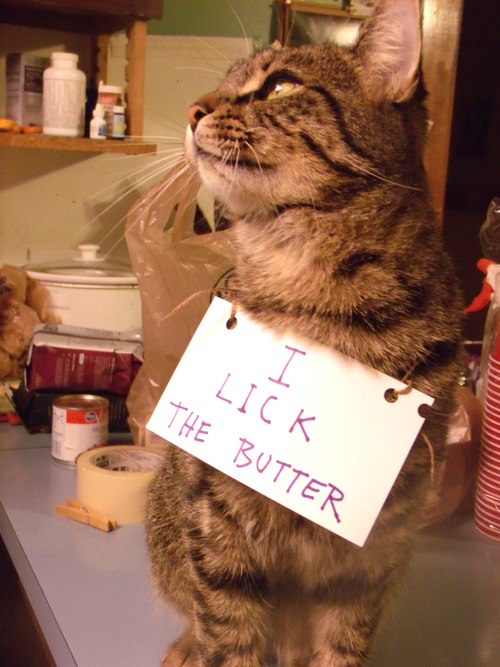 It greases my teeth for smooth and effective killing. And it tastes like happiness.
- Charles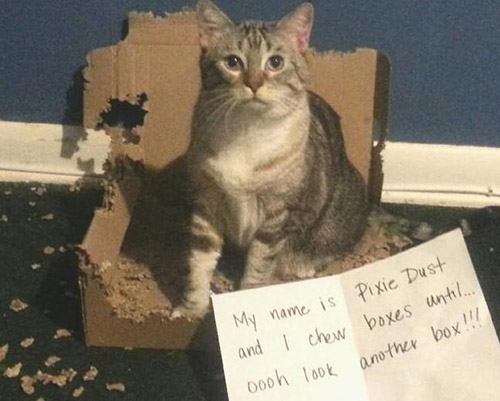 Humans don't understand the magic behind boxes. Anywayz, I figured if I eat magical box I will become a magical... box. If only.
- Pixie Dust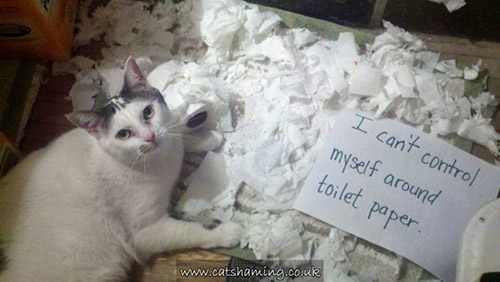 Toilet paper provides perfect training for pouncing, pulling, biting, scratching, and thunder swiping. Plus, it makes human angry and that makes me feel warm inside.
- Susie
Fish think they are so smart swimming in their invisible force field and not letting me eat them. Well, good luck with your food supply gone.
- Garfield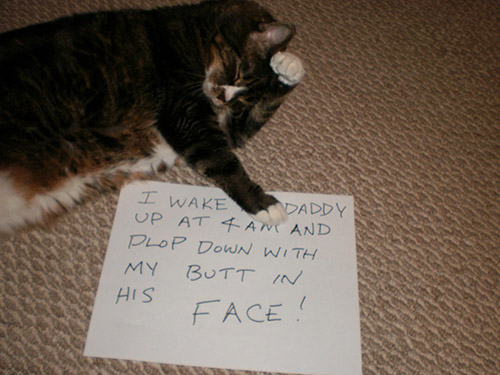 If i fits, i sits.
- Simba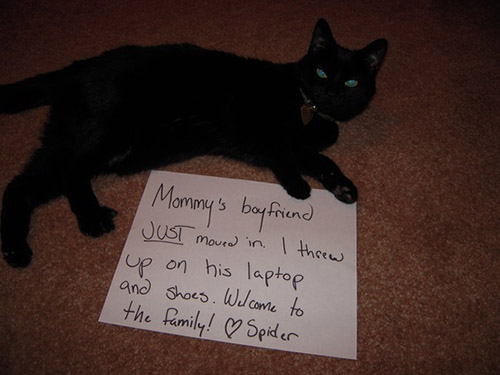 He likes my human. But human iz mine. War iz upon us. Dead mouse in coffee mug should do the trick.
- Spider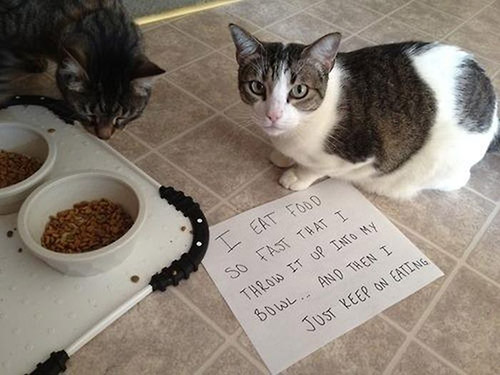 Human starves me. Food bowl iz only filled three times a day. I sometimes go hours with out eating! Especially when I iz sleeping. I haz to sneak into fridge and lick everything I see to hold me over.
- kitty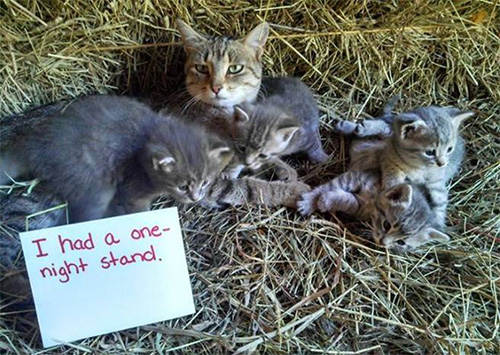 I went to the virgin islands once. Now they're called the islands.
- Furball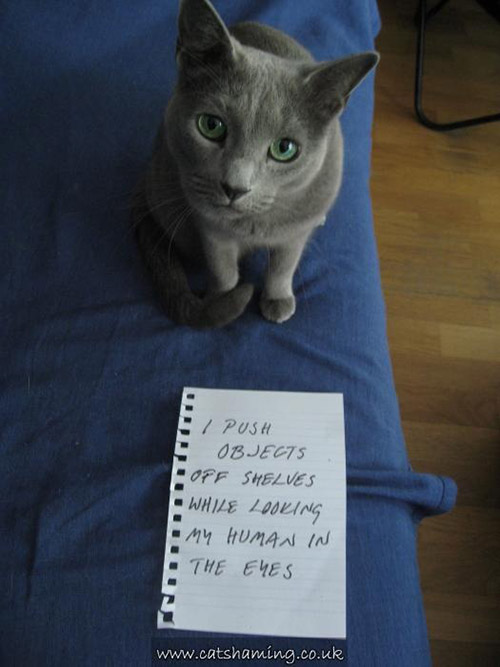 This iz just a reminder that the house iz mine and my power should never be questioned. Human rushes to pick it up and places object somewhere else. It's the little things that make life wonderful.
- Willie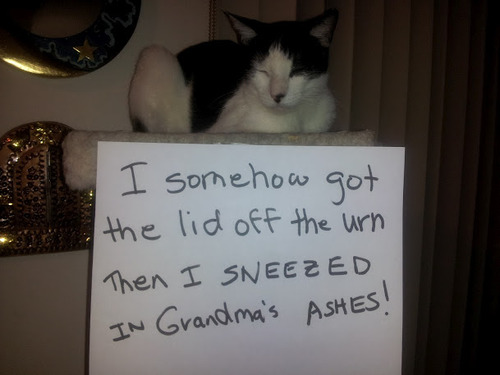 Thought that was Nesquick. I placed in humans milk for a few months...
- Charlie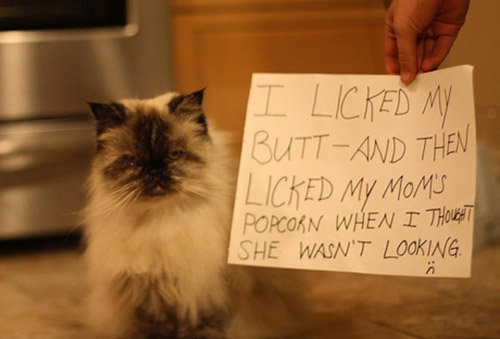 I don't see a problem here. My butt iz cleaner than human's entire body.
- Leona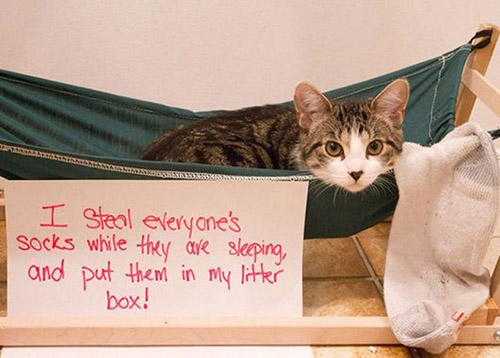 I'm planting a sock army. I will rule them and they will make me king. Human feet beware!
- Sprinkles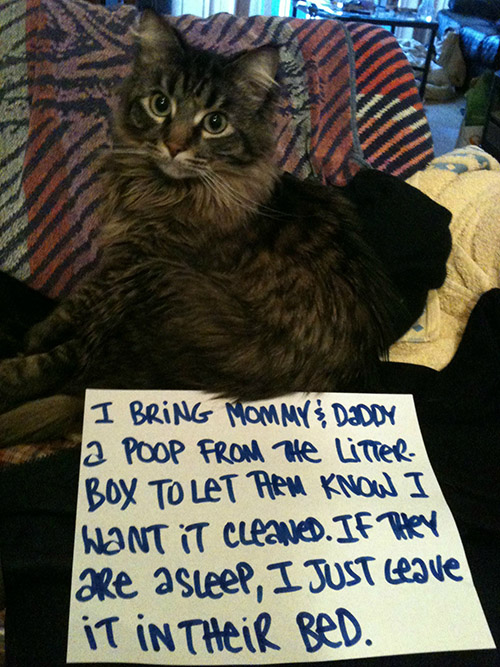 They just don't make humans like they used to, am I right? Sigh.
- Theo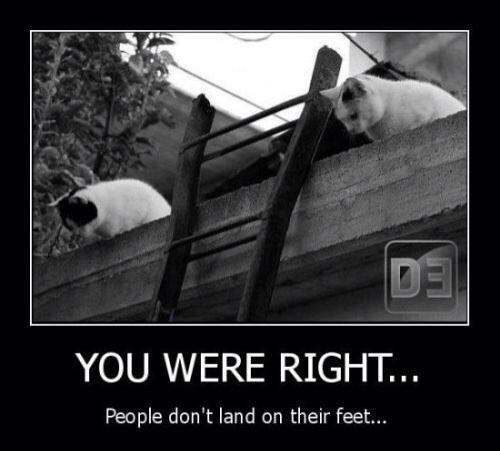 Curiosity didn't kill the cat this time...
- Trouble and Mischief
LIKE US!
Comments
comments powered by

Disqus
LIKE US ON FACEBOOK!