Haz you heard of the CATable? It iz all the rage!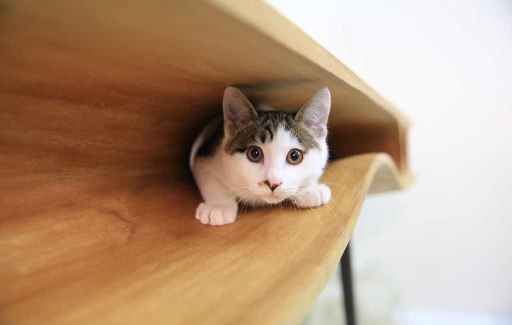 Ah, so this Ruan Hao fellow iz pretty smart. Humans get mad when we steps and sits all over their desk... and lay on their laptop when they iz trying to get "work" done.
So this human from Hong Kong haz designed a new table with passageways and crannies for us to explore and go crazy in... and take naps.
This iz trending everywhere... and iz making cats and humans equally happy. I iz down to try it... this looks pretty awesome actually!

From LLYC Architecture: The designer notes that people who live with cats always have these kind of experiences:
1. Putting away the cat from your lap top was like a sentimental ritual of temporary farewell.
2. A proper sized hole could be so irresistible to cats. Their curiosity would be greatly satisfied through repetitively exploring the unknown path behind the hole.
The design of CATable was a fusion of those experiences, as well a locus where the interaction occurs.It is a table for us ,and a paradise for cats.
Go grab your human's credit card and pick one up for yourself!
LIKE US!
Comments
comments powered by

Disqus
LIKE US ON FACEBOOK!