22 cats who iz totally ready for Easter... or not
I will find this Easter bunny... and I will kill it.
1. Revenge will be mine.

2. So this iz nice and all... but when do I get to kill the bunny?

3. I would totally claw your face right meow if I didn't look so fabulous.

4. No, human. You said I would look like I had a lion's mane. Does this look like a mother f**king lion mane to you?

5. I just... I feel like you want me to claw you?

6. Tonight... your toes and I will haz a nice discussion at the end of your bed.

7. You iz lucky I can pull this off. Otherwise you'd be dead.

8. Those iz not chocolate eggs in your basket, human. MUAHAHAHAH! (...I pooped in the basket if you didn't get what I waz hinting at.)

9. Yep. I won the easter egg hunt fair and square. You can tell those crying human larvae that if they didn't want claws to the face, they should haz never stepped foot into the backyard. #thisaintagame #diva

10. Please... please don't let the doggie see me like this.

11.Go ahead. I dare you to take one... see what happens.

12. Yeah yeah yeah. You think this iz cute? Wait until I see what I did to the bunny in the backyard.

13. Yup.Tonight... you iz going to "trip" down the stairs.

14. I iz going to murder so many bunny rabbits because of this.

15. Peter Cottontail iz officially on my hit list.

16. I will forever remember this day of suffering. I will... WILL haz my revenge.

17. I iz not speaking to you EVER again.

18. This iz my "I can't wait to kill you," face. Ask the doggie. He sees it all the time.

19. Stoopy basket... ruining my fits.

20. Mine. Forevers. Don't even think about it.

21. All I wanted waz to kill a stoopy bunny... and instead the human turned me into one. #betrayed

22. Grumpy cat knows how to celebrate Easter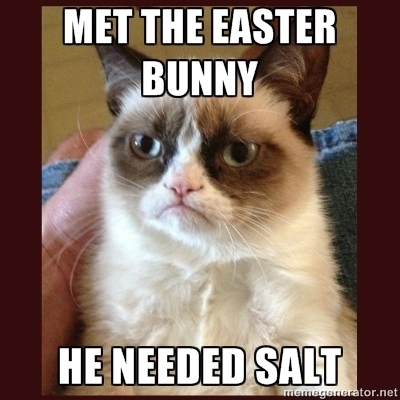 Hope you haz a happy Easter! And... show mercy on us cats... and let us kill a bunny.
LIKE US!
Comments
comments powered by

Disqus
LIKE US ON FACEBOOK!