Cooking with Chef Gus
Welcome to the weekly "Cooking with Gus." I help fellow cats cook up delicious and easy meals!
This week's entrée – roasted bird with a side of mouse tails.
Ah, this iz a favorite in my family, and I'd like to pass it on to you cats. I'll prepare this for a dinner for two, but multiply the portions to the amount of your dinner guests accordingly.
Ingredients:
· 3 birds – doesn't matter the kind: pigeon, blue jay, cardinal, doesn't matter. Why 3? Take the one dead bird and leave it in your human's bed az an offering. We don't want them getting jealous.



·10 dead mice – This might be difficult if you iz in a hurry. But depending on your location, mouse tails and rat tails taste quite similar, so either works. If you live in southern areas, lizard tails are a bit crunchier but with a little spice, they can really pop. Also – save the rest of the mouse for good eatings later! Fridge or human's bed are good storing locations.










· Extra Virgin Olive Oil – make sure human kitchen iz stocked.

· Non- stick frying pan


· 2 sprinkles of salt


· 2 sprinkles of cat nip


· 6 crunchy bugs – roaches or beetles preferred.






Let's begin!
Once the birds and mice are killed in glorious fashion, place one of each into human's bed az noted above.
Next, grease the pan with a spoonful of olive oil. Wait until the oil sizzles, and then drop the two birds into the pan, feathers and all. Let that sit for 2 minutes.
In the meantime, now you can start chopping the 10 mice tails. Use your razor sharp claws and have fun with it! 'What's cooking without fun?' I always say. If human haz done unthinkable and your claws haz been removed, that's okay. It happens, no need to be ashamed. Just grab human butcher knife and swing like crazy.
Be sure after two minutes to flip birds. Now salt the pan with 2 sprinkles, and toss in the mice tails. Stir and sauté that for another minute or so. Mmmm!
Now toss in 1 sprinkle of cat nip for some flavor, and let that sit. Get our 6 crunchy bugs and do what we always do: chew on them repeatedly and spit them out. Toss those into the pan and savor that delicious smell!
Almost done, and wait for the tails to turn a nice crispy brown. Now place on plate for you and your guest but just one more final touch! Decorate the border of the plates with that last sprinkle of cat nip and serve.
Enjoy!
(Oh, and if smoke alarm goes off – hide under bed until human fixes it.)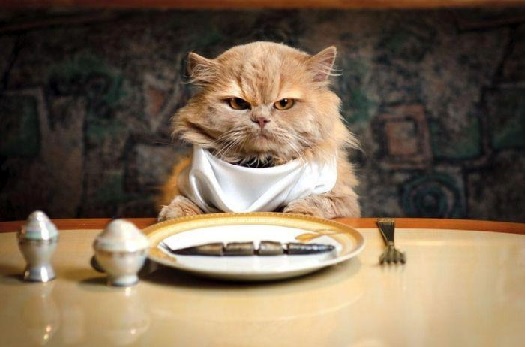 LIKE US!
Comments
comments powered by

Disqus
LIKE US ON FACEBOOK!