Rescued cat helps nurse injured goat back to health
Don't worry little goat... I'll take care of you.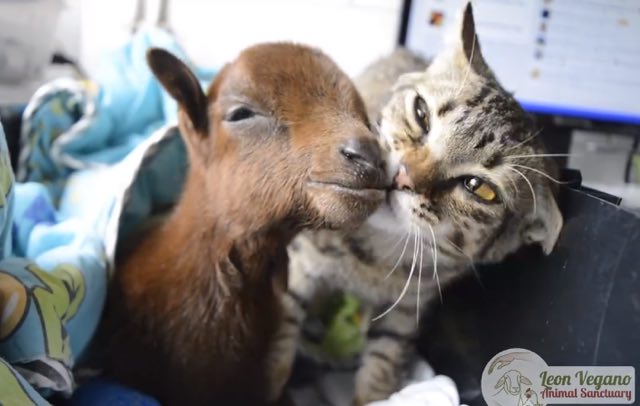 Iker the goat, only a few days old, already had a rough life, and waz born on a meat raising farm in Spain. The little guy somehow broke hiz leg, and the farmer not wanting to spend money on helping him, waz going to kill him.
But then, the Leon Vegano Animal Sanctuary stepped in and teamed up with Mino Valley Farm Sanctuary, and rescued this sweet boy from death.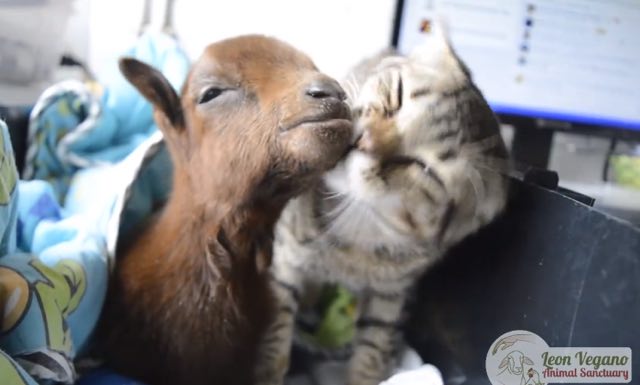 Since Iker iz just a baby and needs plenty of love and care, an unexpected friend came in to help.
Cody, a rescued cat, saw Iker and immediately went to help. Cody snuggled with Iker and climbed into bed with him every night.
Iker liked the company, and the two quickly became friends.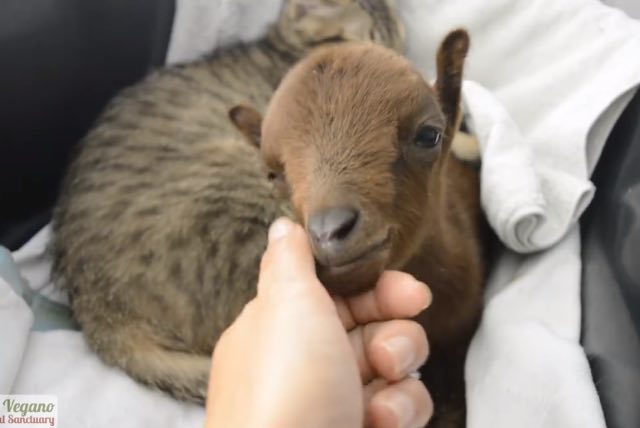 Iker haz since recovered and now living a loving cruel free life!
Watch the adorable video below!
Amistad entre un gato y un cabrito

Iker ha hecho un buen amigo, Cody. Desde que le ha conocido procura no separarse de él. Se echa con él, y le da tantos besos que Iker acaba por gritar para que se lo quitemos de encima. Aquí podeis ver a Iker dejándose querer y a Cody, queriéndole con locura. Tal vez se de cuenta de su estado de salud. Ha llegado muy mal, con fiebre, deshidratado, con dolor y lo peor, apenas quiere comer. Estamos haciendo todo lo posible por sacarle adelante. Por favor mandarle mucha fuerza!Iker es un cabrito de 7 días, rescatado con una pierna rota después de que el ganadero decidiera que le iba a matar por no ser rentable. Cody es un gato que nació en la calle y sufre Herpes Virus Felino y la enfermedad de Shunt. Ambos han vuelto a nacer en Leon Vegano Animal Sanctuary. ¿Nos ayudas a difundir el vídeo de su rescate?:http://on.fb.me/1fa3NXkAyúdanos a seguir salvando animales:► Hazte socio desde 6€ al mes: http://bit.ly/sociaLVAS► Compra un producto de nuestra tienda solidaria: http://bit.ly/1DqGMEq► Haz Teaming con nosotros y dona 1€ al mes: http://bit.ly/1lifs2x► Haz un donativo: Banco SantanderIBAN ES95 0049 4388 3028 9001 5697Paypal: info@leonveganoanimalsanctuary.org¿Quieres ayudarnos a conseguir un nuevo terreno para poder seguir rescatando animales? Escríbenos a info@leonveganoanimalsanctuary.org, tanto si tienes el terreno como si quieres ayudarnos a buscarlo.www.leonveganoanimalsanctuary.org#animalesfelices #santuarioanimal #animalsanctuary #happyanimals #rescateanimal #animalrescue #govegan #stopespecismo

Posted by Leon Vegano Animal Sanctuary on Sunday, June 14, 2015
LIKE US!
Comments
comments powered by

Disqus
LIKE US ON FACEBOOK!