Meet the woman who haz 122 cats... now that's a cat lady!
A woman spends about £90,000 ($141,600) a year looking after 122 abandoned cats.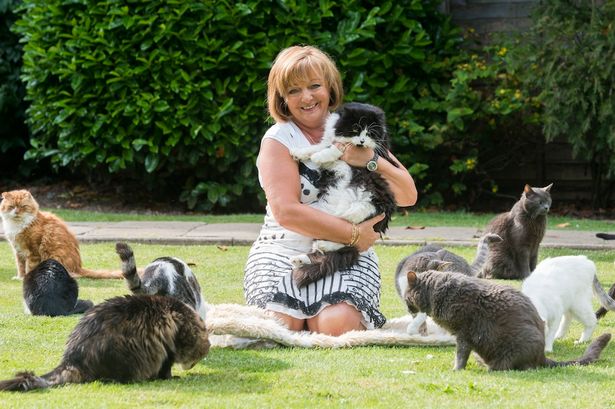 And yes... she does haz a husband! He iz fully supportive!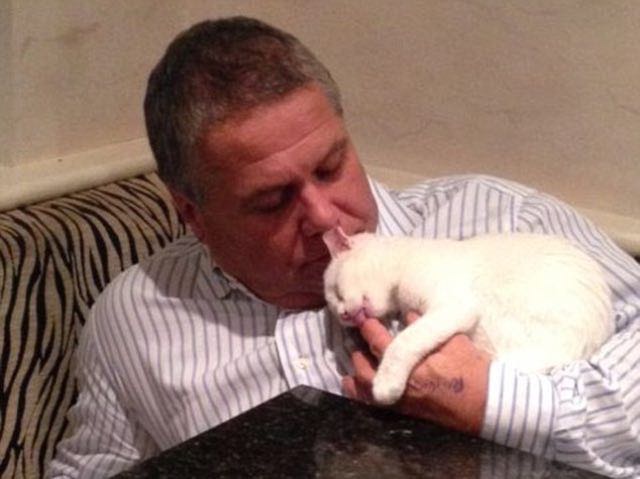 "People always ask if I have a husband... luckily for him he works long hours so misses all the hard work of 6.30am starts"
Tony, the husband, provides nearly half of the expenses to run their cat haven, named Romney House Cat Rescue, that haz been operating for over 20 years. The rest comes from donations, fundraisers, and charities.
The £90,000 covers the cost of food, water, vet bills, and their every need attended to by four live in staff that keep the cats happy and healthy.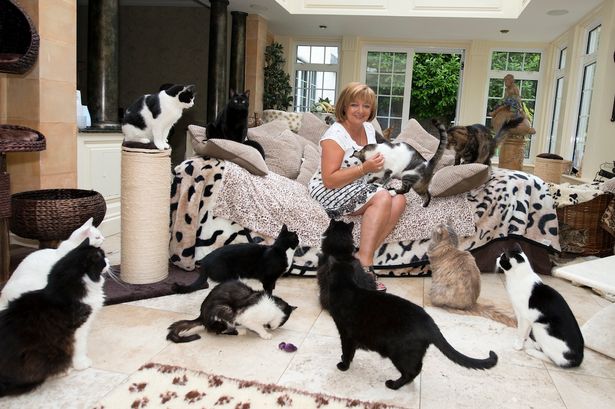 52 of the cats get to live with the loving couple in their 4 bedroom home, while 40 live in the bottom of her garden, and 30 live in a neighboring field. Many of them iz adoptable.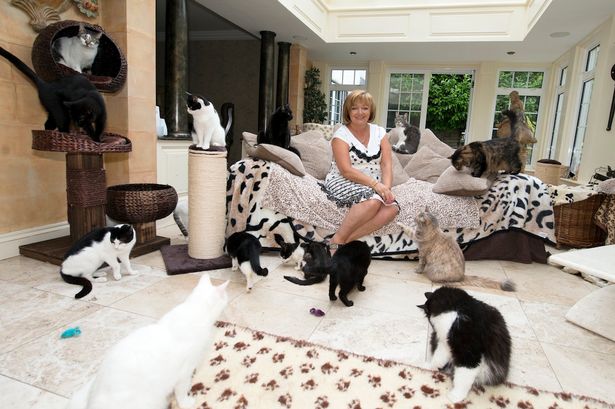 You iz probably thinking, the house must be smelly and dirty with all those cats. I find that offensive, one doggie smells worse than 122 cats. Anywho... they keep it clean from top to bottom.
"It takes about an hour and a half. We hoover and mop every bit of floor and furniture," she told the Mirror. "It's a long, exhausting job. All the time the phone is going with people with cats that need to be rescued."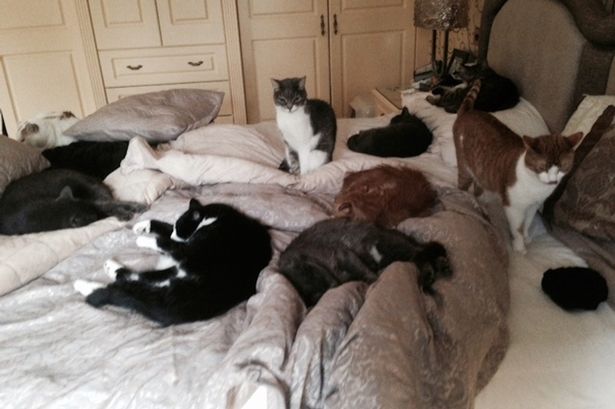 "It's an addiction," she confesses above her love of cats. "It's like I have OCD about cats. I feel like it's my job to look after them all. Every time I get a phone call about an abandoned cat, I can't say 'no'."
"My car number plate has 'mad cat woman' printed on it. You have to be mad to do what I'm doing. What with feeding and vet bills, I'm chasing my tail all the time."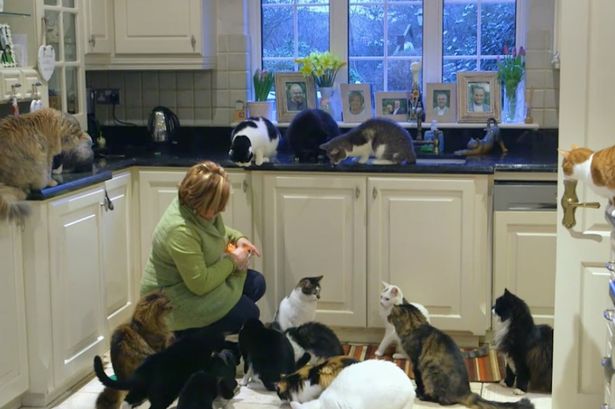 Tony knows it's impossible to limit Silvana's obsession. "I try not to think too much about cats being everywhere," he says. "What I love is that Silvana is very passionate about what she does. Now and then I throw my toys out of the pram. But when you see the results of saving a cat and how she turns it round, you let the other stuff go."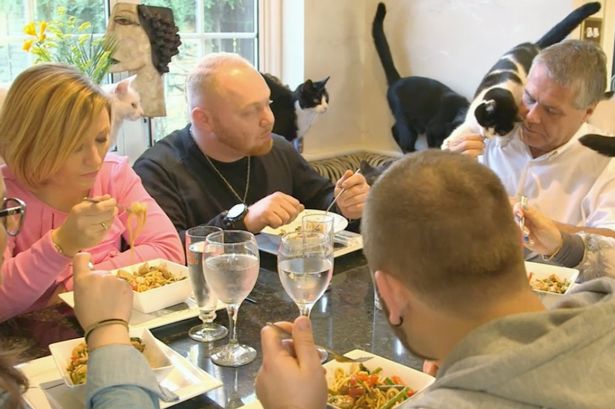 Silvana's two sons Daniel, 30 and Tony Jnr, 27, are used to their mom's ways and admire her.
"When they were teenagers I think it might have been tough for them," she says. "You can't have a sandwich without the cats trying to get involved. Luckily all their friends thought it was great."
But the boys do want her to slow down. "They think I work too hard," she says. "I've also been hospitalised four times after getting blood poisoning from bites and scratches. "But I do it for love. This is my life's work and I feel very lucky to have a family who support what I do."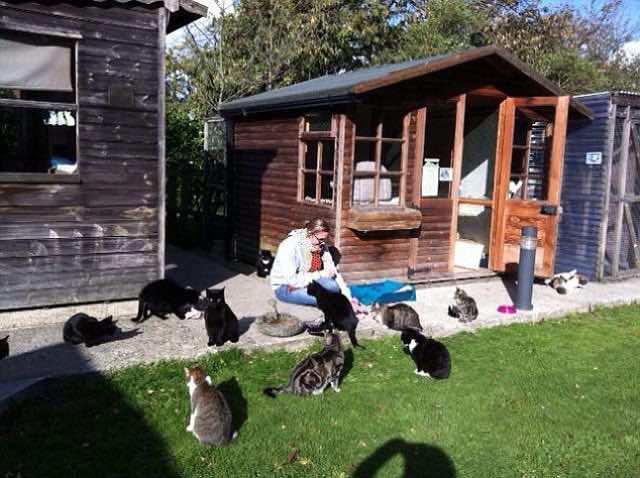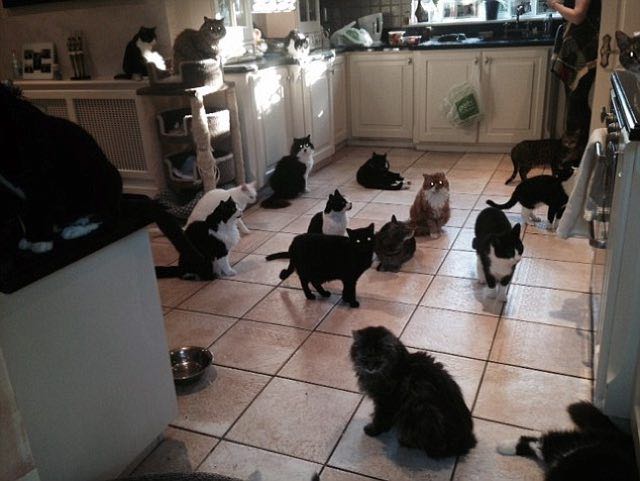 We here at iizcat love what you do too! Keep up the amazing work. There iz a seat reserved for you in heaven when your time iz done here. They'll probably be a few hundred cats patiently waiting.
Hazah!
via mirror
LIKE US!
Comments
comments powered by

Disqus
LIKE US ON FACEBOOK!