Cat gets little girl suspended from school... by doing her homework.
This iz outrageous! Mr. Fluffy waz just trying to help... and the stoopy humans didn't like the answers so they suspended the little girl!
The little human forgot to do her homework... and Mr. Fluffy graciously stepped in and answered the questions for her. Now the little human iz suspended and iz put on the watch list for future criminals. I just don't get it... do you???
---
Homework: Answer the following questions to help Mrs. Sunny get to know you!
What is your name?
Little human thing.
Please write a happy poem to express yourself
Rozes iz red
Violets iz red
Everything iz red
I killed a bird.
How do you handle problems? For example, say a fellow student, Johnny, has been mean to you, and called you names. What should you do?
Decapitation. Then bat hiz head up and down the halls.
Do you play a sport? If so, what?
Murdering and destruction. I iz pretty good at it.
What's your favorite hobby?
Hiding dead animals throughout the human's house… and waiting for her to find them.
What would you like to be when you grow up?
Ruler/king/ninja master of the world. All in one.
What's your favorite season?
Dexter season 2 maybe. I appreciate hiz work.
What's your favorite holiday?
Halloween. I like to go az a mass murderer…. And no.. I don't need a costume. Muahaha!
What's your favorite animal?
Cats – iz that a serious question? Or iz you asking which iz my favorite animal to kill? Or rule?
Do you have a favorite song?
Yes… it iz some sort of latin chanting… learned it from some witch…. And I like to whisper it in the adult human's ear at night… and watch her die a little inside.
How would you improve the world?
Destroy it to rubble... and build my empire.
What's the nicest thing you've done to help someone?
I decided not to kill the adult human when she forgot to feed me at the exact dinner time. I let her live. So… yeah.
In your own words, define "love."
Murder, chaos, and treats. In that order.
---
See? Perfectly acceptable answers... and she waz sent home. I would haz answered them all the same.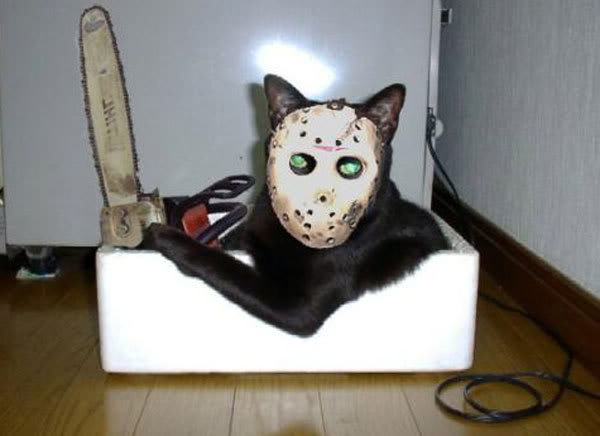 LIKE US!
Comments
comments powered by

Disqus
LIKE US ON FACEBOOK!