18 photos proving that cats and dogs can actually be best friends
Dogs and cats are thought to be sworn enemies... but in reality, that is usually far from the case.
Once a friendship is formed, it's for life. Just look at these adorable photos!
1. Just look at that smile!

2. Cats make the best thinking caps. Just ask this dog.

3. Nice to have a buddy when you're down and out.

4. "You be my pillow and I'll be your blanket."

5. "For now, I'll be the big spoon. When you get bigger - we can switch."

6. Best. Bed. Ever.

7. A head boop for your special friend.

8. This dog really missed his old friend who passed. This rescue kitten helps fill the void.

9. Napping is always better when you have a buddy.

10. Dogs make excellent body guards.

11. Friendships can come in all shapes and sizes.

12. Those special friends where you can both be bored and miserable together... and you wouldn't change a thing.

13. What you get when you let your puppy pick out a buddy.

14. "Don't worry, human. We'll keep your bed nice and warm while you're at work. :)"

15. When a loud storm rages outside, it's best to have a thunder buddy to help you get through it.

16. This blind dog was too scared to move around the house, until a stray cat decided to move in.

17. This husky raised this sickly kitten, and now the two are furever friends.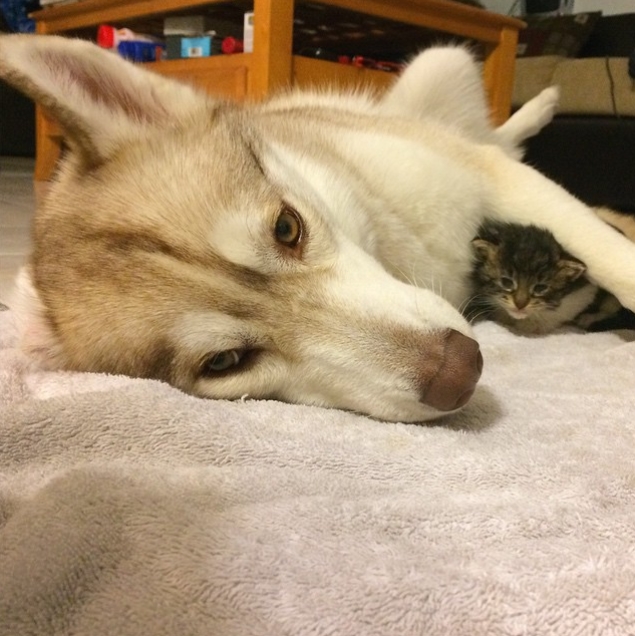 18. This dog has terminal cancer, and the cat cuddles with him every day since he got sick. Friends till the end.

Do you have a dog and cat best friend? Share it with us!
via bored panda
LIKE US!
Comments
comments powered by

Disqus
LIKE US ON FACEBOOK!