Whenever he pulls his cat's leg, the cat has a strange malfunction
We may never figure out all the mysteries that surround our feline buddies... which is part of the reason why we love them so much.
In this video, this cat has a bit of a malfunction when his human pulls his leg.
"What... stop it... why iz my leg doing that!? Iz this some sort of sorcery??"
This kitty is not the only one... apparently their back legs have a mind of their own!
Kitten having trouble..
This cat who almost got into a full out brawl...
Like we said... we may never fully understand the mysteries of our feline friends.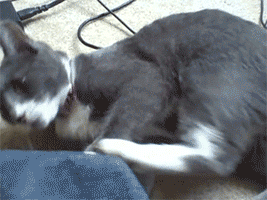 LIKE US!
Comments
comments powered by

Disqus
LIKE US ON FACEBOOK!