Tara the hero cat to throw out the first pitch at a baseball game!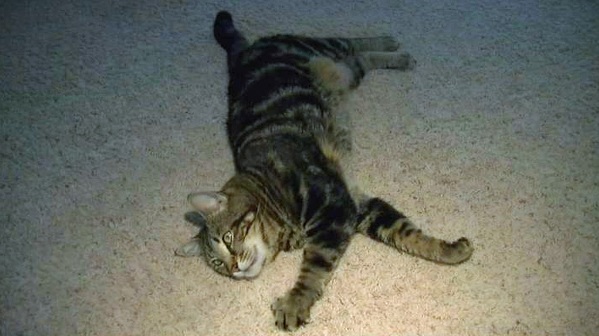 Tara iz part ninja, protector, guardian, superhero, internets army general (yes, she joined forces with us), snuggle master.... and now..... a baseball player? She iz awesome.
Via: ESPN
A 6-year-old cat from Bakersfield, California, rightfully blew up the Internet on Wednesday, when video emerged of the loyal family feline crashing into and chasing off a dog that was attacking one of its humans, 4-year-old Jeremy Triantafilo. (If you haven't seen the video, watch it
here
. Also, where have you been???)
News coverage followed. The cat, named Tara, even appeared with the Triantafilo family on "The Today Show." And her moment is not over. Tara the hero cat will "throw out" the first pitch at Tuesday's home game for the local minor league team, the Bakersfield Blaze.
No word on how exactly this furry gray tabby will pull the pitch off. But since she can scare a vicious dog away, let's go ahead and not underestimate Miss Tara, OK?
Tickets are half-price to anyone who brings an unusued animal toy or unopened animal food. All food and toys will be donated to a local animal charity or shelter.
LIKE US!
Comments
comments powered by

Disqus
LIKE US ON FACEBOOK!