Egyptian cat facts... these humans had it right!
Hey everybody, I haz surfed the internets and found facts about a great human civilization called Ancient Egypt. These humans had it right! Sigh, where did they go wrong? When we rule the internets, we need to have humans get back to this worship.
The Ancient Egyptians were absolutely fascinated with cats, and it is thought that most Ancient Egyptian families kept at least one as a pet.
(Cuz we're awesome)

Cats were often used by the Ancient Egyptians on hunting trips to fetch birds and fish from the marshes around the Nile River.
(We iz excellent hunters. Smart move, Egyptians.)

Cats were probably originally allowed into the houses of the Ancient Egyptians becasue they caught rats and chased snakes away from the home. However, cats soon became even more important to the lives of the Ancient Egyptians.
(I like where this iz going...)

They took on a spiritual importance and were considered to be a sacred animal with magical powers. The Ancient Egyptians believed that keeping a cat would protect their homes and bring them good luck.
(Yes. We iz sacred and we iz magical. My human needs to read this...)

Several Ancient Egyptian gods and goddesses were associated with cats, the most famous of which was the goddess called Bastet.
(Guys, we waz worshipped! I like these humans... we need to invent time travel az soon az possible.)

Bastet had the body of a woman and the head of a cat. Bastet was known as the 'household goddess' and was responsible for mothers, children, pet cats, fertility and dancing.
(Ok... little weird... but hey, who iz I to judge?)

Due to their link to the goddess Bastet, many Ancient Egyptian cats were mummified. The ancient egyptions went into deep mourning when their cat died, and they would shave their eyebrows as well. The cats would be buried with milk, mice, and rats.
(I would expect nothing less. We iz royal.)

The popularity of the cat grew during the Ancient Egyptian period and it was a common motif on jewellery, ornaments and amulets.
(Cats never go out of style. You know what? I'm going to make a sweater for my human that haz my face on it. It'll be awesome.)

If an Ancient Egyptian had a dream about a cat it was thought to bring good fortune.
(Humans should always dream about us... what else iz there to dream about? We iz the best.)

The penalty for killing a cat in Ancient Egypt, even accidentally, was often death.
(Yes. Fully support this.)

Most modern day pet cats are probably related to the pet cats of the Ancient Egyptians.
(This explains my desire to be worshipped... I haz royal blood.)
Humans, you all went backwards! You need to get back to your priorities, which iz us. Thank you.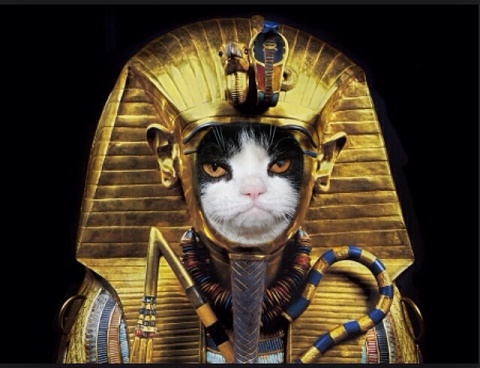 Facts found from: http://primaryfacts.com/80/facts-about-ancient-egyptian-pets/
LIKE US!
Comments
comments powered by

Disqus
LIKE US ON FACEBOOK!