Cat with the most unique and adorable purr finally finds a forever home after 7 years
This might be the cutest purr we've ever heard!
Meet Tribble, a sweet love bug who's purr sounds just like a cricket. Sadly, he was returned twice to the shelter before finding a real forever home.
Tribble was 7 years old when Kimm and her husband adopted him last year (along with a sweet 9-month-old tortie named Turtle). She admits she was hoping to adopt younger cats, but says she didn't really have a choice.
"They chose us, really," Kimm told theShokoShow.
"He was in the first home for three years before his owner died. Was returned to the shelter for a few months before being adopted by a family with four small children. They terrorized him for three or so years and he did not like that. He retaliated which did not please the mother. He was returned again. One of the provisos of us adopting him was that he was going into a calm home. Tribble was their favourite cat in the shelter. He chirps like a cricket and is super friendly. He was also the "test cat" when introducing new dogs into the shelter. If Tribble was cool with them they were then deemed cat-friendly."
Thankfully, Tribble gets along great with her newly adopted sister, Turtle! It wasn't super easy, but after following proper procedures to introduce her two kitties and with a little patience, the two are the best of friends now.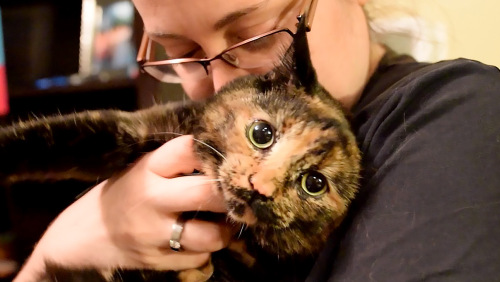 theShokoShow
See the adorable video below!
Just a few things you can take away from Tribble's story.
"Tribble was always a great cat, just not a great cat for everyone
Older cats can be just as social and bonded with you as the kittens you raise yourself
Never underestimate what an older cat can bring to your life.
Children need to be taught how to properly treat and respect cats. They're not dogs, people!"
LIKE US!
Comments
comments powered by

Disqus
LIKE US ON FACEBOOK!