Thanksgiving safety tips for your pets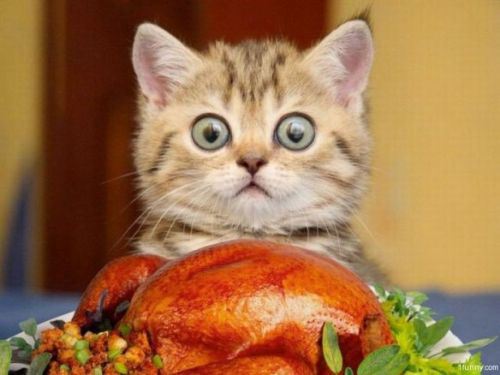 So, it's Thanksgiving, and it's a time to stuff our faces and relax with family and give thanks. But what about the furry members of our family?
Your cat is a carnivore, so you might find him in the kitchen clamoring for some of that delicious-smelling Thanksgiving turkey along with everyone else. Well, thats fine to let your cat have some fun if you're smart about it.
Here's some tips to keep your cat healthy and happy during the holiday.
Talkin' Turkey: If you decide to feed your cat a small bite of turkey, make sure it's boneless and well-cooked. Don't offer her raw or undercooked turkey, which may contain salmonella bacteria. Do not give your pet the left over carcass–the bones can be problematic for the digestive tract. Smaller portions can help with over indulging as well. A safe alternative is to buy turkey flavored tuna/cat food to give your kitty on this special occasion.
No Bread Dough: Don't spoil your cat's holiday by giving him access to raw yeast bread dough. When a cat ingests raw bread dough, the yeast continues to convert the sugars in the dough to carbon dioxide gas and alcohol. This can result in bloated drunken pets, which could become a life-threatening emergency, requiring hospitalization.
Don't Let Them Eat Cake: If you plan to bake Thanksgiving desserts, be sure your cats keep their noses out of the batter, especially if it includes raw eggs—they could contain salmonella bacteria that may lead to food poisoning.
Safe Zone: If your cat gets stressed out easily when company is over, be sure to have a safe zone to take your kitty if he/she gets a little overwhelmed. A quiet room with food, litter, and a place to hide/nap can help them gather themselves.
Keep Your Cat In Doors: With everyone traveling this holiday season, your cat might take refuge in the abundance of cars outside to keep warm. This can cause plenty of health and safety issues of not only getting hit, but hurt by the start of the car engine.
Give Thanks: Just a reminder to give thanks to your feline friend for companionship, endless entertainment, and unconditional love. :)
Have a happy Thanksgiving from the iizcat team!
LIKE US!
Comments
comments powered by

Disqus
LIKE US ON FACEBOOK!