A cat's version of 'Twas the Night Before Christmas
A poem written by our kitty CEO describing the night before Christmas... based on true events...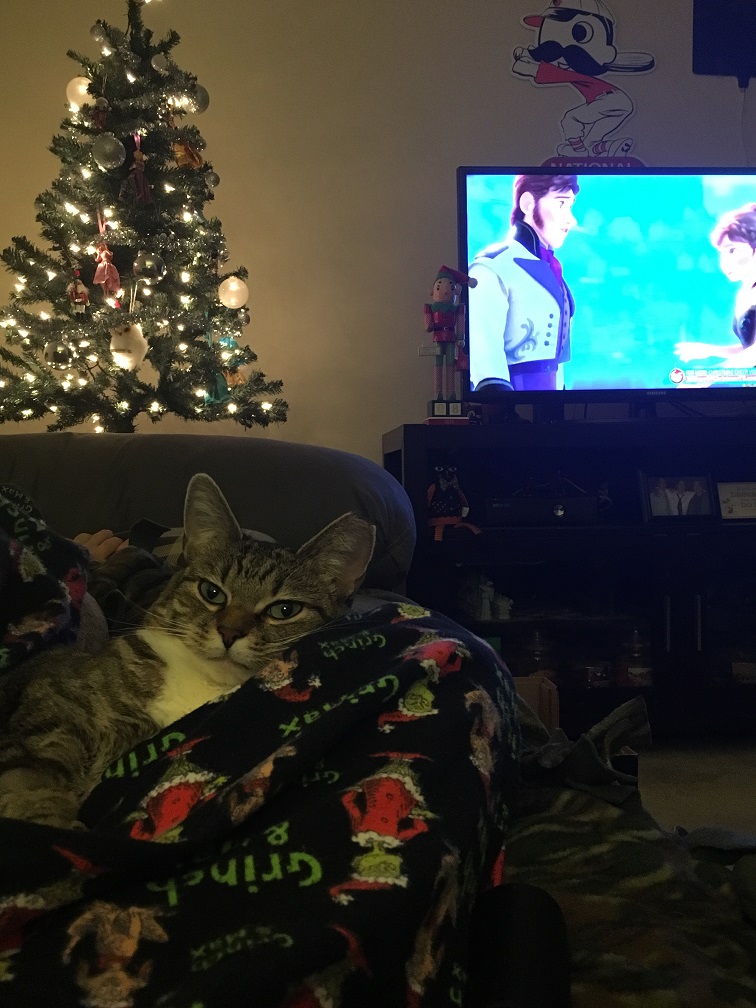 'Twas the night before Christmas, when all through the house
Not a creature was stirring, because I killed the mouse
The stockings were hung by the chimney with care
In hopes that this mythical Santy Claws soon would be there
The human larvae were nestled all snug in their beds
While I walked and meowed, demanding to be fed
And momma human in her 'kerchief, and the other in his cap
I nestled up nice and cozy in a warm human's lap
When out on the lawn there arose such a clatter
I sprang from the human's legs to see what was the matter
Away to the window I flew like a flash
Tore open the shutters and clawed up the sash
The moon shined brightly on the new-fallen snow
I searched for the intruder up above and below
When what to my wondering eyes did appear
But a miniature sleigh and eight mutant deer
With a little human driver as fat as cattle
I sharpened my claws and prepared for battle
More rapid than stoopy squirrels his mutant deer they came
And he whistled, and shouted, and called them by name:
"Now, Dasher! now, Dancer! now Prancer and Vixen!
On, Comet! on, Cupid! on, Donner and Blitzen!
To the top of the porch! to the top of the wall!
Now dash away! dash away! dash away all!"
The sleigh shook and rumbled, and the deer started to fly
I knew this was some dark sorcery and decided that this fat man needed to die
So up to the housetop his evil deer they flew
With the sleigh full of who knows what, and the fat burglar too
And then, in a twinkling, I heard on the roof
The prancing and pawing of each stoopy hoof
As I drew in my head and was turning around
Down the chimney Santy Claws came with a bound
He was dressed all in fur, from his head to his foot
And his clothes were all tarnished with ashes and soot
A big bag full of dark magic he had flung on his back
This round plump burglar looked like he was ready to attack
His eyes—they seemed evil, his face all hairy
His ears and nose pointed, this intruder was a bit scary!
His troll little mouth was drawn up like a bow
And his evil wizard beard was white as the snow
But he was chubby and plump, and I laughed to myself
This was no mighty warrior, but some fat ugly elf
He focused on the tree, as it sparkled and shined
He didn't see me, sneaking up from behind
One paw in front of the other and slowly I sneaked
But I stepped on the stoopy dog toy and boy did it squeak
The fat elf heard me and twisted his head
So I gave him a look that let him know that he was dead
He begged and pleaded, and stood in the corner and pouted
"You broke into the wrong house stoopy! Prepare for death!" I shouted
And with one ninja swipe, I clawed hard at his nose
The fat elf screamed and up the chimney he rose
He ran to his sleigh and screamed for the mutant deer to fly
I scoured up the chimney with blood thirsty eyes
The sleigh took off and the Santy Claws didn't look back
I knew I saved Christmas with my heroic attack
As he drove out of sight, the fat elf cursed and spat
"Never that house again! Or any with a cat! "
Merry Catmass Everyone!
LIKE US!
Comments
comments powered by

Disqus
LIKE US ON FACEBOOK!