Purple abused kitten has now found a new friend to help him heal!
Last week we posted a story of Smurf the kitten who was dropped off at the San Jose animal shelter after surviving life as a chew toy for dog fighters. He was dyed purpled and suffered horrible injuries.
Smurf has never lost his spirit, and is now recovering a bit quicker thanks to a new best friend he made.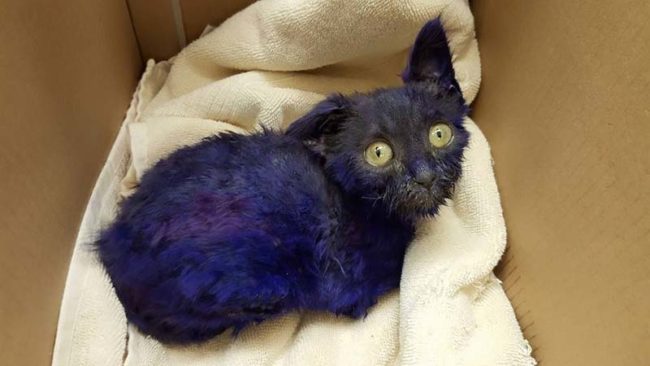 Just days after Smurf was taken in by the Nine Lives Foundation, a rescue center for injured and abused felines in California, the group saved another kitty with serious injuries — a cat named Wanda.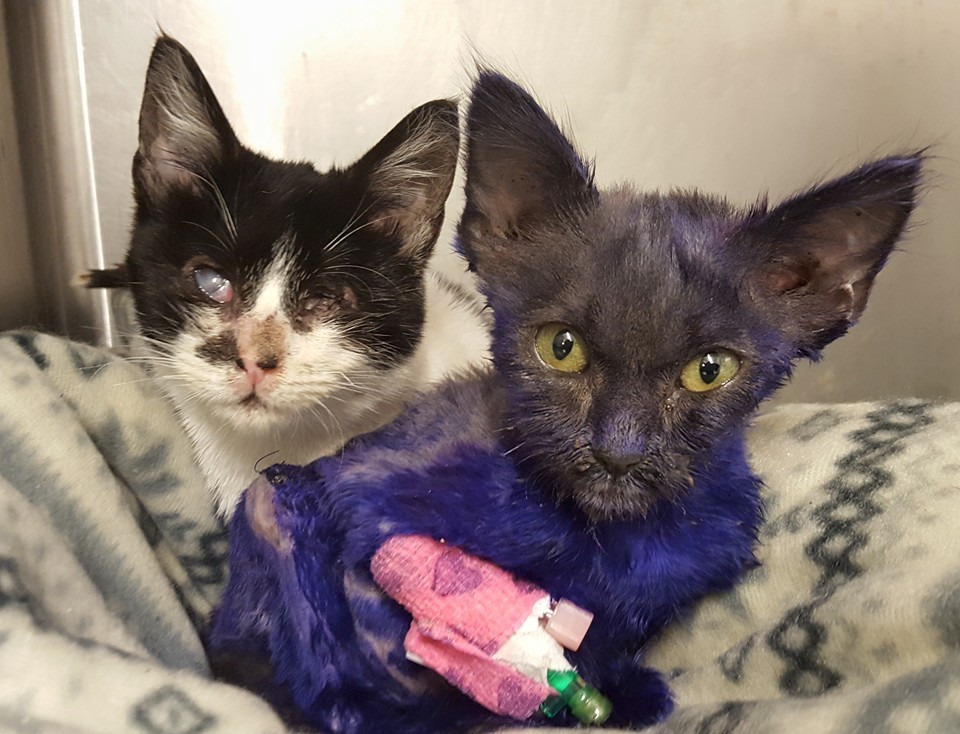 A family found Wanda shivering and starving in a trash can on a cold December night, with her left eye crushed and her right eye suffering from an infection.
"Unable to care for her, they came to us hoping we might help her," Nine Lives Foundation wrote on Facebook.
Wanda was ultimately left completely blind. In the darkness however, she found a companion.
"She was placed in the same cage as SMURF on her very first day and has become bonded with him."
They are now inseparable!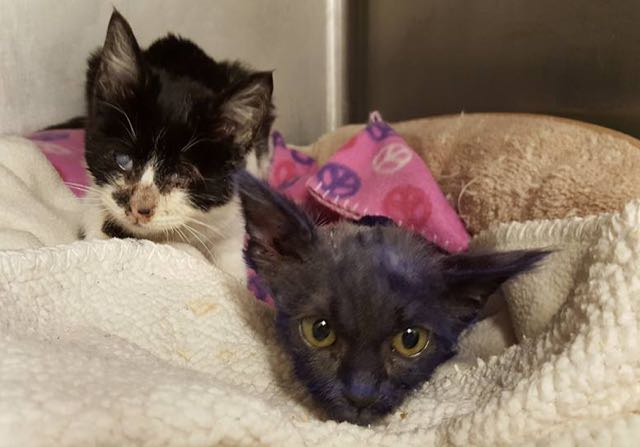 They cuddle so much that Wanda has picked up some of Smurf's purple dye on her fur.
When the day comes, these two will be adopted together! :)
SMURF'S daily update!From all of us at Nine Lives we thank all of you for your generous support of our mission to save kittens like SMURF & WANDA! Your donations of canned food & baby food arrive every day & we are overwhelmed by the love we feel from people all over the country & around the world! SMURF continues to improve & his wounds are healing well! We hope that he and WANDA are able to go to their foster home this week! We will have them return to Nine Lives on weekends as often as possible for visitors! We will keep you posted!Thank you again for all of your support! We promise to give weekly if not daily updates from his foster home!WANDA has taken on a purple hue from snuggling with SMURF! Check out her under belly... :)

Posted by Nine Lives Foundation on Monday, January 4, 2016
The foundation hopes that these two can go to a foster home as soon as this week!
These two little fur balls survived a rough life, and we KNOW that these two will find a warm loving home to grow old in.
Thanks to the Nine Lives Foundation for all the great work they do.
(h/t) the dodo
LIKE US!
Comments
comments powered by

Disqus
LIKE US ON FACEBOOK!