Want to snuggle with a one-of-a-kind plush replica that looks just like your pet? Now you can!
Cuddle Clones is the company for all pet lovers.
"We make soft, adorable, customized stuffed-animal versions of people's pets called Cuddle Clones. All you have to do is submit at least one picture (although several are preferred) and choose a few customization options (eye color, ear position, tail position) and we'll send you your very own Cuddle Clone," they said via their website.
Jennifer Graham, the founder of Cuddle Clones, had the great idea of creating a little stuffed animal of Rufus, her beloved Great Dane.
When Rufus fell ill and passed away four years later, she decided to turn her idea into a great company that brings joy to pet lovers around the world.
Customers can upload photos of their pets on the site, and customize the look they want the dolls to have.
And it's not just cats and dogs they create - they'll do any animal!
Purchasing a Cuddle Clone also helps support and save real animals and pets.
"A portion of each Cuddle Clone purchased goes to pet-related causes to help our furry friends get the care and love they deserve. So you can get a really cool product for yourself or a pet-loving friend and feel warm and fuzzy knowing that your purchase has helped better, and in some cases save, the lives of animals everywhere. Their kind, innocent souls thank you!"
These lifelike figures are a great way to keep our beloved pets close when we otherwise can't.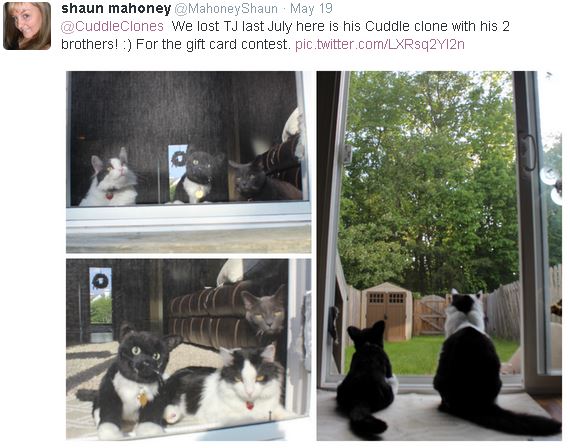 The company not only makes little plush replicas, but custom figurines, granite memorials and other pet accessories.
Pets become a part of our family and they can teach us how to become better people. We absolutely love this company for the joy they bring animal lovers!
Check them out to see if there is something you would like to have or to send someone a touching gift!
(h/t) little things
LIKE US!
Comments
comments powered by

Disqus
LIKE US ON FACEBOOK!