Refugee family and their lost cat finally reunited 4 months later. This is beautiful.
A long journey for this kitty, he's now he's finally safe with his family.
The tiny Turkish Van, called Kunkush, is about 3 years old and came over on a rubber boat with a family (a mother and her five children) from Mosul, Iraq.
They spent three days to cross the border to Turkey, carrying the male cat Kunkush in a basket. In Turkey they walked and hitchhiked – and sometimes they used the bus or train. Kunkush behaved while on the inflatable boat across the occean to Greece, but when they reached shore on the island Lesvos near the end of October, Kunkush got scared and jumped out of the basket. He was gone. The five kids between 9 and 18 were all in tears.
The family looked with the help of volunteers for several hours but had no luck finding him. They were devastated having to go on to camp without him.
He was then found a few days later wandering by a cafe and was picked up by volunteers Michelle Nhin and Amy Shrode.
"It's not cheap for a spot on the dinghy so the family must have loved their cat very much to take him with them," Nhin said.
They, who had no idea where he came from or who his family was, decided to send him to a foster home in Berlin (where many refugee families relocated) where he would spend the next few months being fed, given shelter and medicine. Renamed Dias, everyone who came across him fell in love. They decided that they wanted to try and find his real family.
The volunteers launched a social media campaign to share Dias' story, put out Arabic-translated flyers and created a GoFundMe page to help with veterinary costs.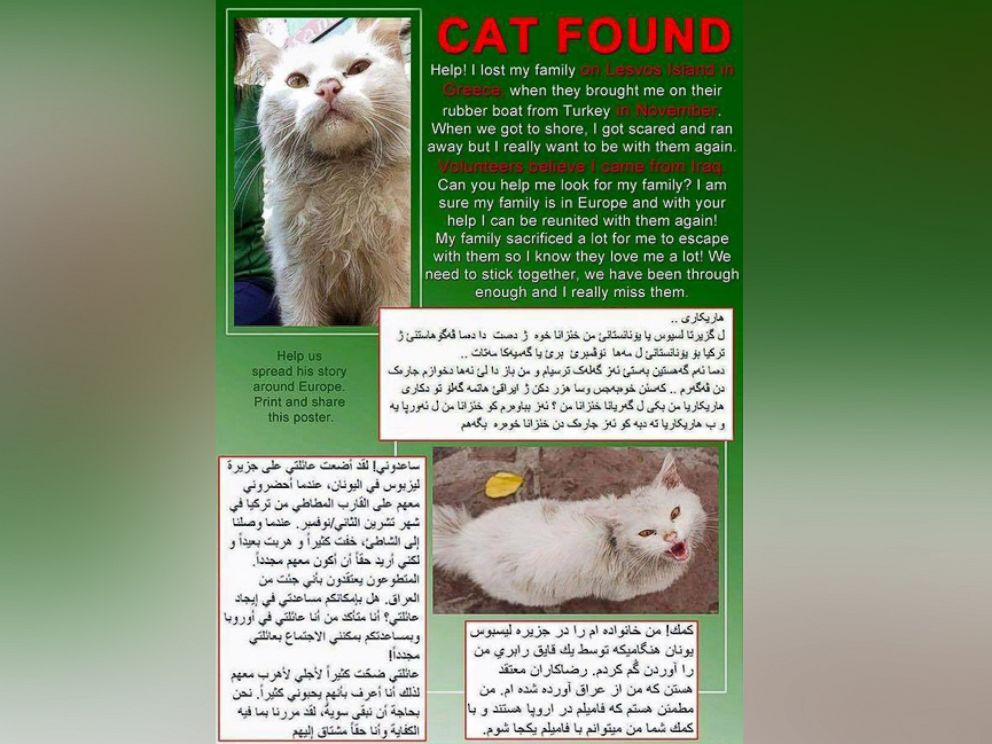 ABC News
Dias's story caught the attention of internation media, such as ABC News and german Focus among others, who have written about the cat missing it's owners.
His family had made their way to Norway, and had given up all hope that they would see their beloved cat again. That was until a miracle happened.
A Norwegian local paper, Trønder-Avisa, found the story and through their search they somehow managed to connect it to the family in the region of the paper.
The foster family was able to skype with Kunkush's lost family, and they immediately broke into tears when they saw that their cat was safe and found. Kunkush recognized the voices coming from the computer and was searching for them. It really was a beautiful moment.
Kunkush on his way to Norway!
After four long months, the family was finally whole again.
This is love.
The world can be a scary place and filled with darkness. But stories like this remind us that we can all come together for a common goal. Many might think that helping one lost kitty find his way home isn't significant nor will it change the world, but it changed the world for Kunkush and his family, and we think that's worth fighting for.
:)
See the video below.
(h/t) reddit
LIKE US!
Comments
comments powered by

Disqus
LIKE US ON FACEBOOK!