Cat burglar obsessed with stealing men's undies and her owner is baffled
Six-year-old Brigit the cat has a history of theft, but her owner admits things have started to get 'really, really weird'.
In two months, six-year-old Tonkinese cat Brigit from Hamilton city brought back 11 pairs of underpants and more than 50 socks.
The thefts have caused her owner Sarah Nathan so much grief that Ms Nathan has taken to social media to help find the cat's victims.
"Now it's getting silly. This is Brigit's haul from the last two months. Every morning we wake up to more. I've put notes in every letterbox in the street. Someone must be missing this stuff. Please share if you know someone who lives in the George St area," she shared on Facebook.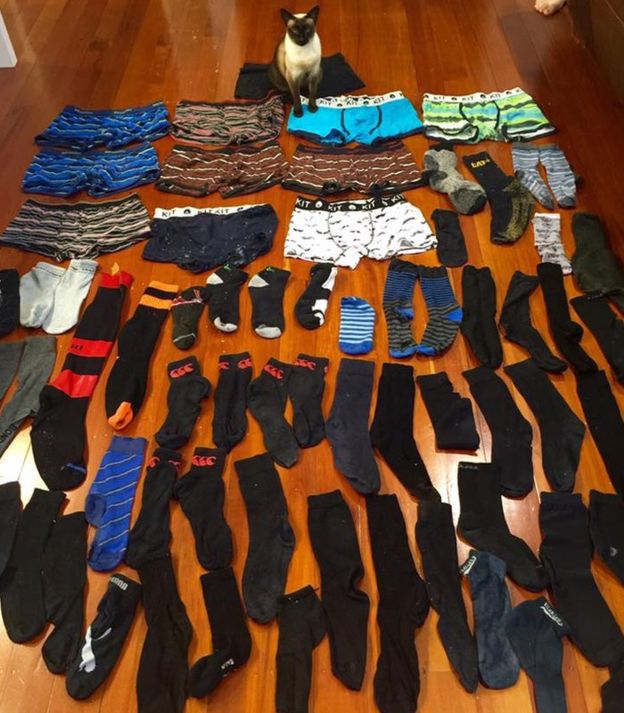 Facebook/SarahNathan
The funny and weird part is her obsession with men's undies!
"It's all men's," Ms Nathan told the NZ Herald.
"It's really, really weird. She's got really specific taste.
In our last house she'd bring home a bit of everything - she'd bring home men's undies, women's undies, togs, she even brought home a hockey shin pad and a jumper.
She was much less discerning - now she's decided menswear is the thing - and it's a very specific kind of underpants that she likes.
It's an absolute obsession. A night does not go by without her bringing things home. I got up this morning and there were another four socks in the house."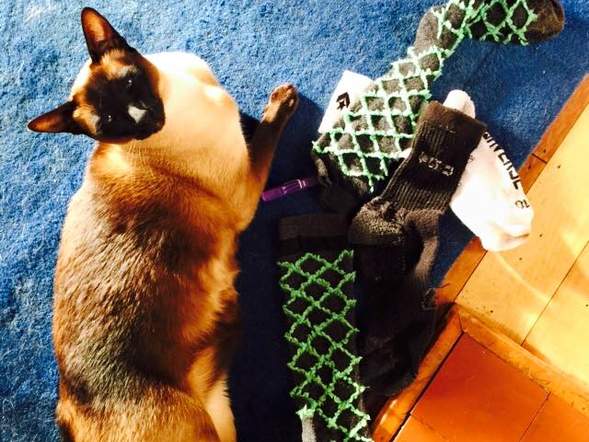 Facebook/SarahNathan
Ms Nathan is hoping to find the unlucky neighbours before she and Brigit move to the countryside.
She hopes she'll finally give up her thieving ways... but we're not so sure about that!
Is your kitty a klepto like Brigit?
Share if this story made you laugh!
LIKE US!
Comments
comments powered by

Disqus
LIKE US ON FACEBOOK!