Local police headquarters responds in the BEST way to a little girl's letter about police cats!
Little Eliza Adamson-Hopper, aged five, asked the question cat lovers across the UK have always wanted to ask police forces: 'Why don't you use moggies on the beat?'
A police station in the UK may get its first "police cat" thanks to a paw-suasive letter from Eliza, who asked her local constabulary to consider using police cats alongside dogs in their crime-fighting efforts.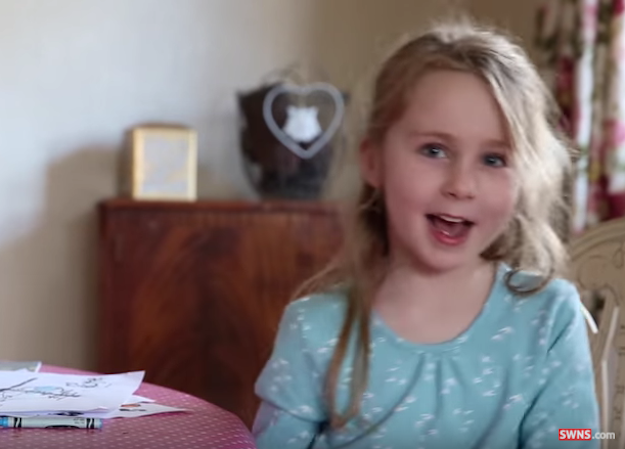 Eliza Adamson-Hopper, who has a cat named Mittens and a dog named Susie, wrote a letter to Durham Constabulary asking it to consider enlisting police cats alongside its dogs to paw out crime.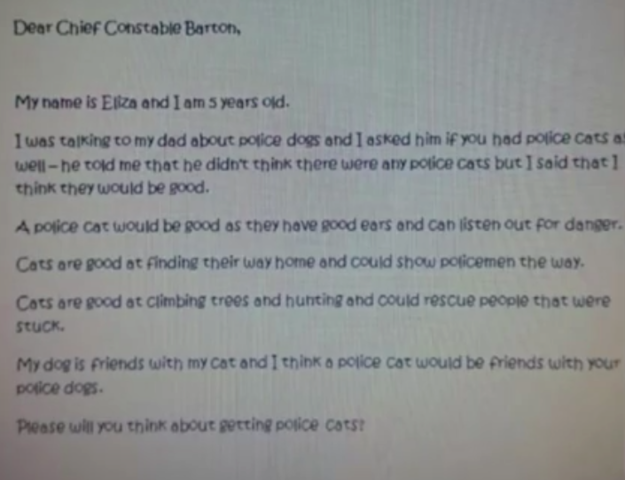 Via Facebook: bbcnewcastle
The letter reads:
Dear Chief Constable Barton,
My name is Eliza and I am 5 years old.
I was talking to my dad about police dogs and I asked him if you had police cats as well - he told me that he didn't think there were any police cats but I said that I think they would be good.
A police cat would be good as they have good ears and can listen out for danger.
Cats are good at finding their way home and could show policemen the way.
Cats are good at climbing trees and hunting and could rescue people that were stuck.
My dog is friends with my cat and I think a police cat would be friends with your police dogs.
Please will you think about getting police cats?
Adorable! And she brings up some good points.
Chief Constable Mike Barton responded to Eliza in a letter, saying he'd bring her "good idea" to the inspector's attention.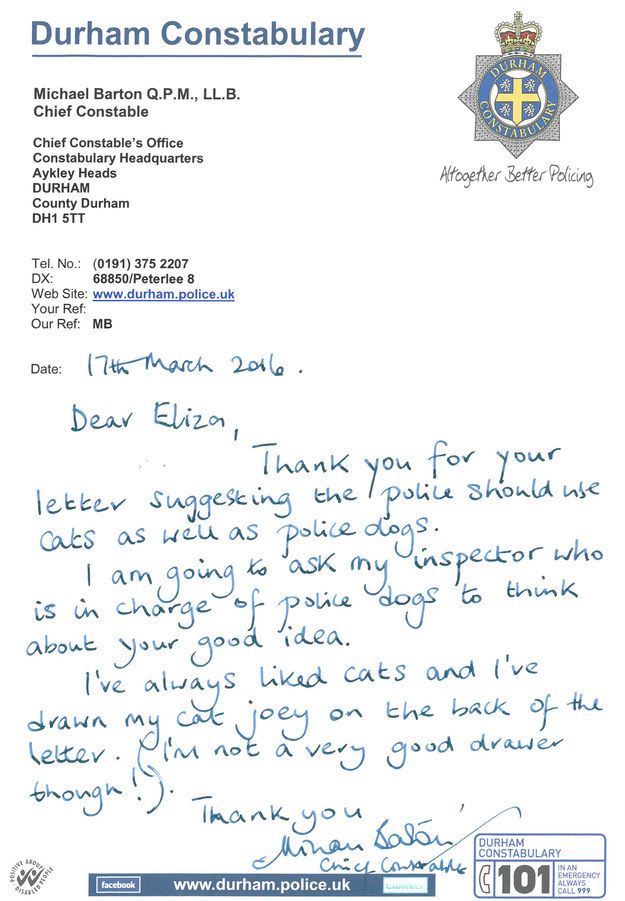 Durham Constabulary/Joanna Bamford

He also included a drawing of his own cat, Joey.
Not only did Eliza get a response from the station, she actually got the constabulary to consider bringing on a feline crimefighter into its ranks.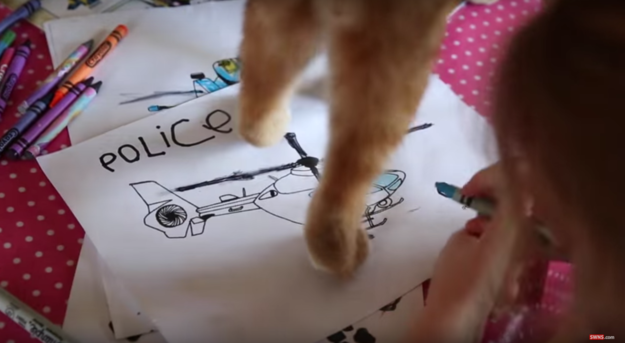 Eliza's mom, social worker Cheryl Adamson, 33, said: "Eliza always has great ideas and questions, and I agree with her - cats should get jobs in the police force too. "
Inspector Richie Allen said in a statement on Thursday that the force is now looking into recruiting its first police cat.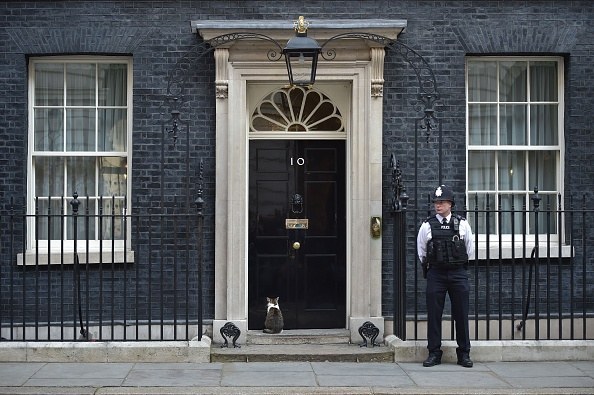 (LEON NEAL/AFP / Getty Images)
The duties and responsibilities have not yet been agreed upon, but the idea is if nothing else they'd recruit a cat to be their mascot which would also promote animal adoption. "Of course if it smells a rat we'll expect it to catch it!" he added.
Watch the video below!
We've seen cats hold special titles before, like this Senior Pest Controller at the Huddersfield Station, but in law enforcement? We're not so sure...
View post on imgur.com
via Buzzfeed
LIKE US!
Comments
comments powered by

Disqus
LIKE US ON FACEBOOK!