Cat's reaction to losing her best friend is both heartbreaking and beautiful (Gallery)
I can't stop sobbing... this is truly heartbreaking and beautiful.
Charlie the dog was a senior fellow overlooked in the shelter system. He was "big, clumsy, had health issues, and nobody wanted him," according to a beautiful comic by his human. But those facts didn't mean much. Charlie's (new) humans took him home, loved him, and adopted a kitten to keep him company.
Scout the kitty and Charlie became best friends. More than friends actually, they became inseparable.
Sadly, Charlie got very sick - cancer - and was put down in his home with close friends and family where he received lots of kisses and hugs. The last goodbye was, of course, saved for Scout.
See their story below.
"[W]e're definitely going to get a new doggy family member soon. we're in the beginning stages, but still being cautious to make sure we nurse our grief from this devastating loss. our charlie dog was just the greatest guy ever. he even let scout pretend nurse from him when she was a baby because she needed a mommy. he was such a good boy," their mom shared on reddit.
She adds that Scout behaves differently than she once had. Where before she only had eyes for Charlie, she now follows her human around and greets her when she comes home. "[S]he never did these things before," she writes, "i know she's asking me where he is, and telling me how much she misses him."
As time passed, Scout seemed to heal, and she is able to pass on a little of her love to the people in her life. Rest in peace, Charlie. You'll never be forgotten, especially by your little (kitten) sister.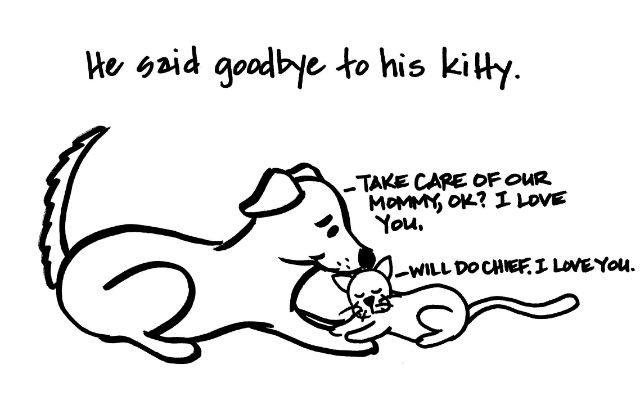 Cancer sucks. It's hard losing a best friend.
LIKE US!
Comments
comments powered by

Disqus
LIKE US ON FACEBOOK!