Abandoned pit bull was afraid of humans until he got some help from his kitty buddies
When rescuers at the Bill Foundation got a call about a homeless Pit Bull living on an abandoned lot, they headed out to help.
They found him sitting by himself near the Coachella desert, where he'd been surviving for months.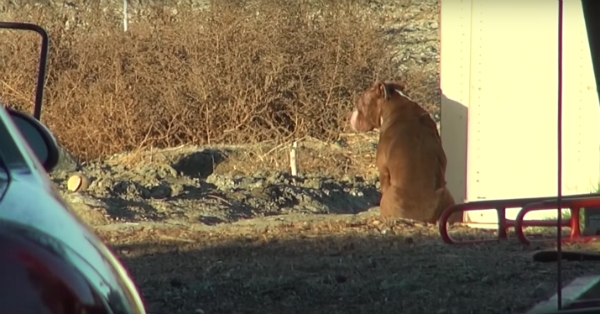 Everytime the rescuers tried to get close to the dog, the poor guy ran away with his tail between his legs.
As rescuers approached him with morsels of food, the frightened Pit Bull shook with fear until some of his fur friends arrived.
In a lucky turn of events, the resident's cats showed up to happily feast on the food held out by rescuers. With a little help from his feline friends, this Pittie figured if his cat friends could trust these humans, he could to.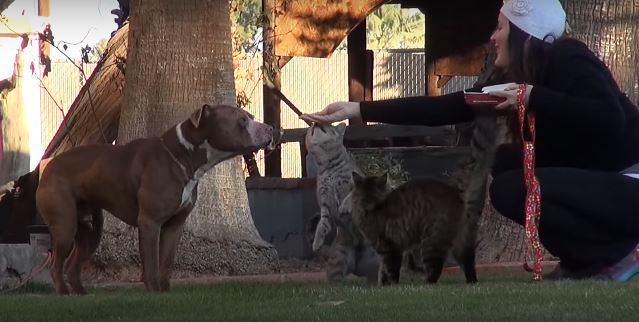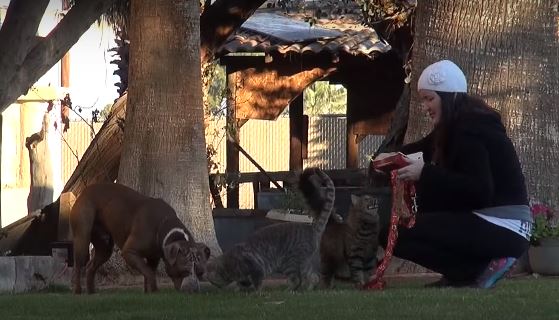 "Don't worry, doggie. These humans want to help you."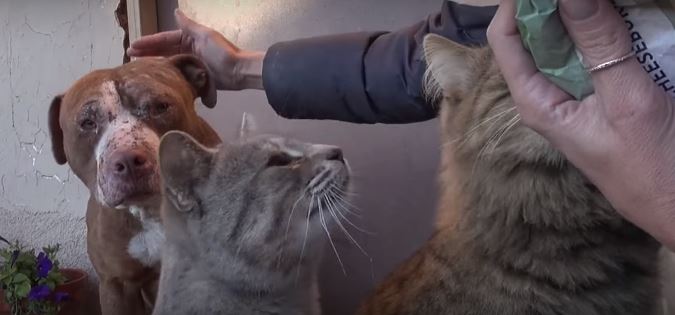 Three hours after first being spotted, he was on his way to Animal Wellness Centers in Los Angeles.
Veterinarians at the center found the pup suffering from "highly resistant bacterial infection, as well as ringworm." Realizing the long journey to recovery ahead of them, rescuer Annie Hart named the dog Gideon, "for warrior – because I felt that he needed everything to help him win this fight."
Week by week, as his physical wounds healed, Gideon's true nature started to shine through.
The once fearful, dejected and heartbreakingly crestfallen pup was gone, and in his place was a smiling goofball who just wanted to plant kisses on any willing human.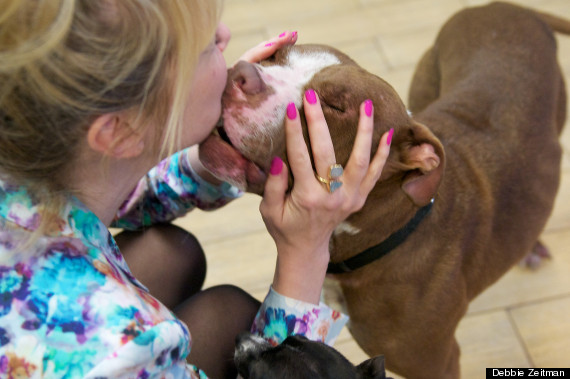 Gideon was fostered by Angie Starry, who was surprised to see how much of a people dog the Pittie was. Attempts to reach his former owner by calling the registered number on his microchip were met with a "We don't want him anymore," but Gideon's recovery in the home of a kind human helped him heal and move past the neglect he had suffered.
"As rescuers, we see this all the time," said Hart to the LA Times. "Many dogs who have been abused or forgotten grow to trust the hand of their rescuer, rising up from the ashes, learning to love again."
Watch the incredible story below!
via Bark Post
LIKE US!
Comments
comments powered by

Disqus
LIKE US ON FACEBOOK!