Found on the side of the road, everyone thought this cat was dead... but not this truck driver (Gallery)
The man and the cat never gave up, and now they'll live happily ever after!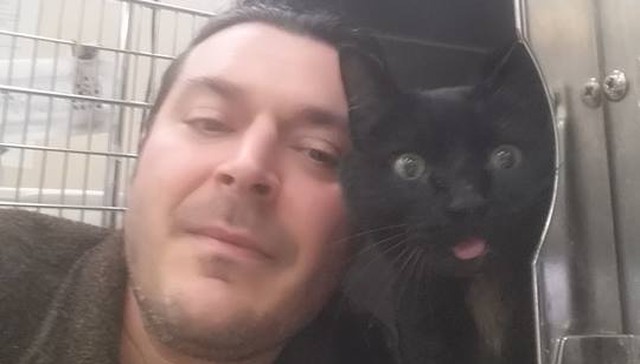 Dennis McDonald
On the morning of March 10, a black cat lay motionless, facedown in a puddle, on the side of a road in British Columbia, Canada.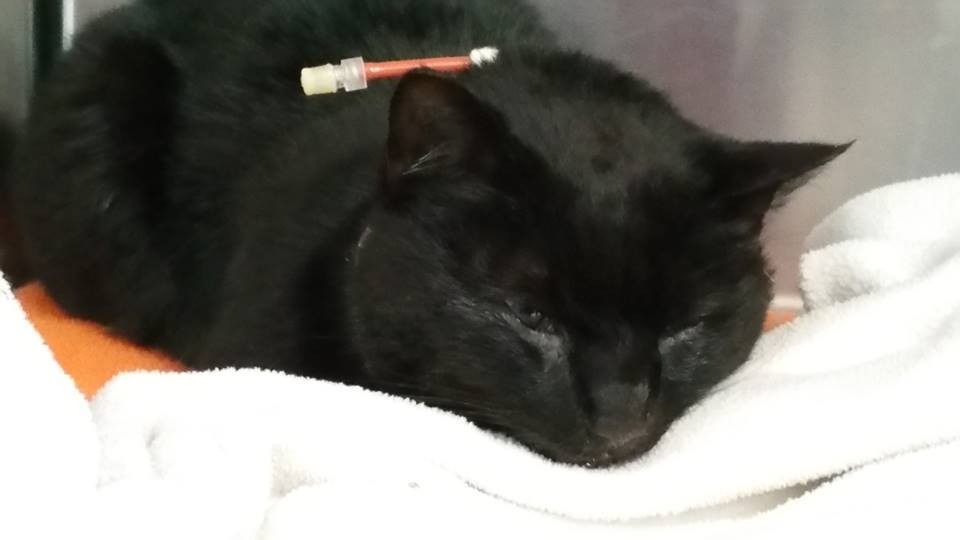 Dennis McDonald
The weather was pretty rough, with ta orrential downpour and hurricane like conditions. This poor black tabby was in pain — he had been run over by a car and his face was badly maimed. To the outside world and other vehicles driving past, the cat was already considered dead.
But one man's instinct told him otherwise.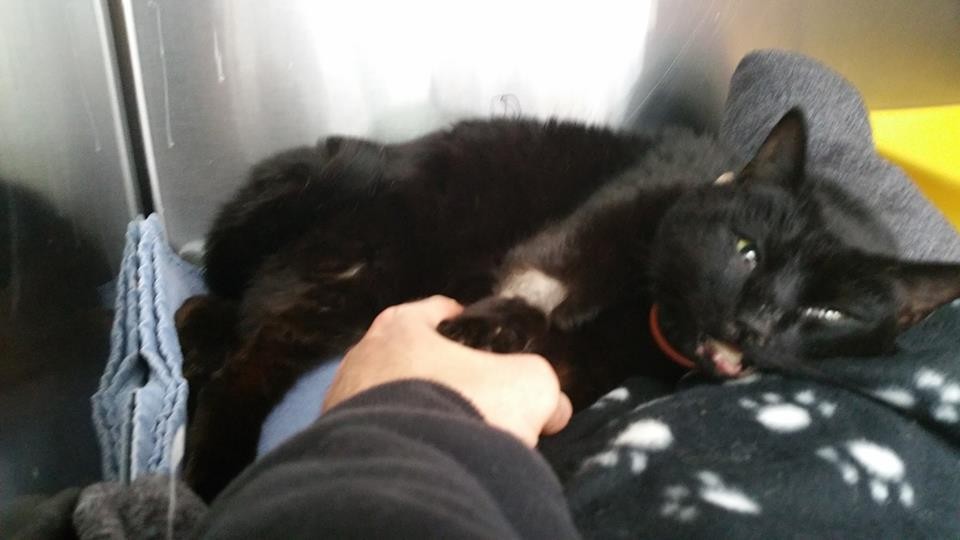 Dennis McDonald
"You almost hit a dead cat," the passenger of Dennis McDonald, a 45-year-old truck driver, said to him. The two had just driven past the cat in McDonald's 5-ton rig.
"I look quickly at the passenger mirror and honestly, something hit me," McDonald, who already owned two cats, told The Dodo. "Tears started to well up [in my eyes] and I said, 'I don't believe that he's dead. I'm turning around.' I knew I couldn't carry on with my day if I hadn't gone back."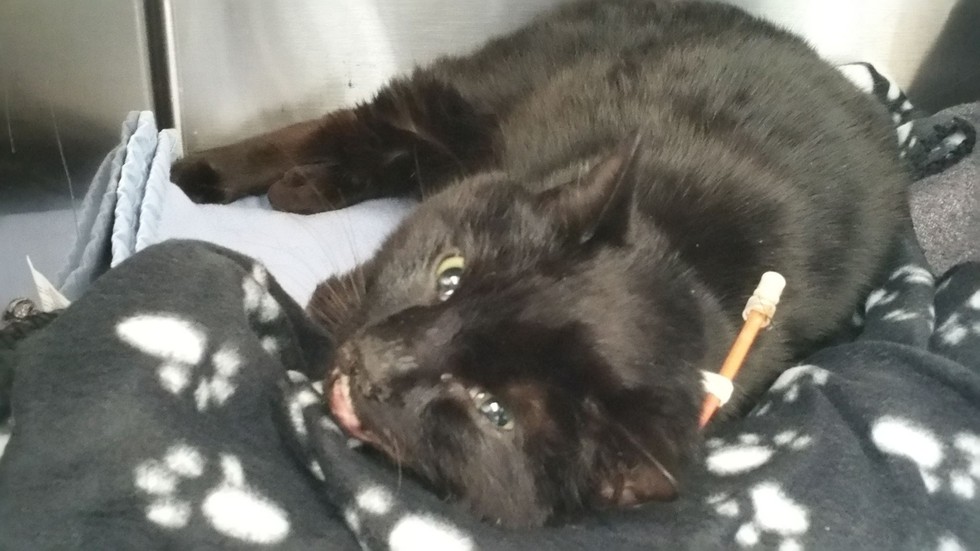 Dennis McDonald
McDonald's intuition and sheer empathy for an animal — one he wasn't even certain was alive — were what led to the 3-year-old cat's chance at survival.
By the time McDonald turned around and stepped out of his truck to save the cat, another motorist had stopped to check on the animal too. The cat was in obvious rough shape, possibly with a broken neck or back, but he was still alive. The motorist offered McDonald a box to transport him.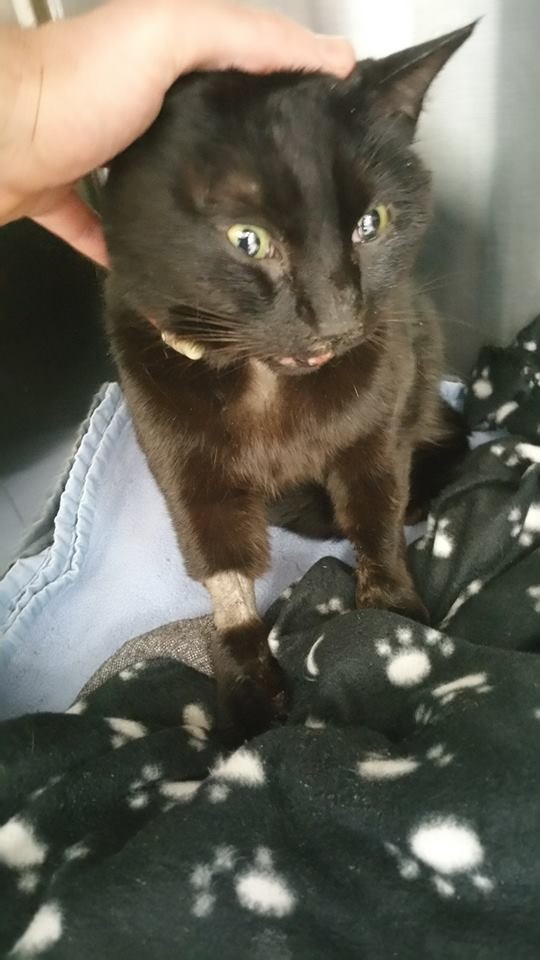 Dennis McDonald
"I took the length of my arm and put it under [the cat] to support him entirely and managed to get him in the box and back to the truck," McDonald said. He immediately drove to the Burnaby SPCA to drop the cat off to hopefully receive the help he needed to continue living.
"On the way out the door I told them, without hesitation, that if the owners don't step up, I'd like to have first opportunity to adopt him," McDonald said, adding if "by miracle" the cat managed to pull through his extensive injuries.
The cat, who McDonald named BB-8 after the "Star Wars" robot, had to have his jaw wired shut, in addition to suffering from a collapsed nose and fractures to his skull.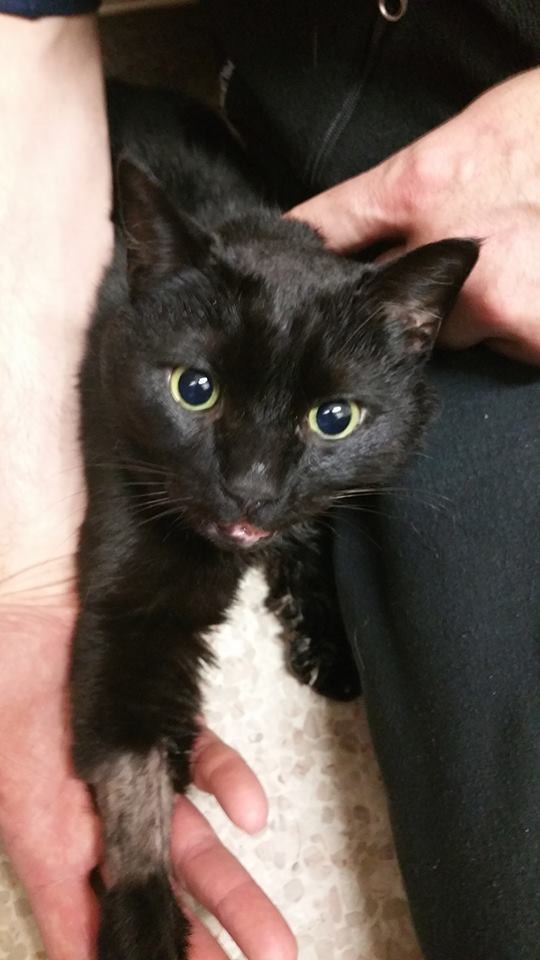 Dennis McDonald
Thanks to generous donations, BB-8 went under numerous surgeries to save his life.
For three weeks after his extensive dental surgery, BB-8 had to wear an acrylic bite splint. But during the continued pain and discomfort the cat must have felt, McDonald always made certain to visit him, bringing much-needed comfort.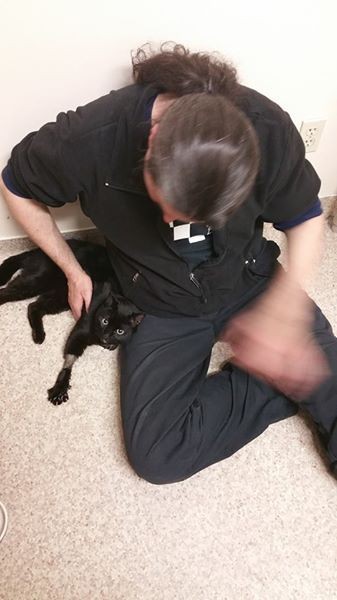 Dennis McDonald
BB-8 had an ear tattoo that led to contact information for his original owner.
According to McDonald, she hadn't seen BB-8 in a year. "She was in a place where she couldn't do anything for him, so she surrendered him to the the vet and me. That broke my heart into a million little pieces."
As it turns out, BB-8's original owner gave him away to a neighbor, who then lost him, leading to the dire predicament McDonald found him in.
But today, BB-8 is doing more than fine. He's expected to make a full recovery without any long-term health issues.
Even better news, Mcdonald decided to adopt him and give him a furever home!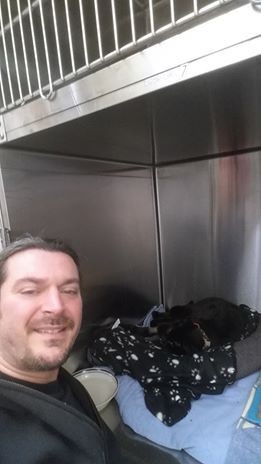 Dennis McDonald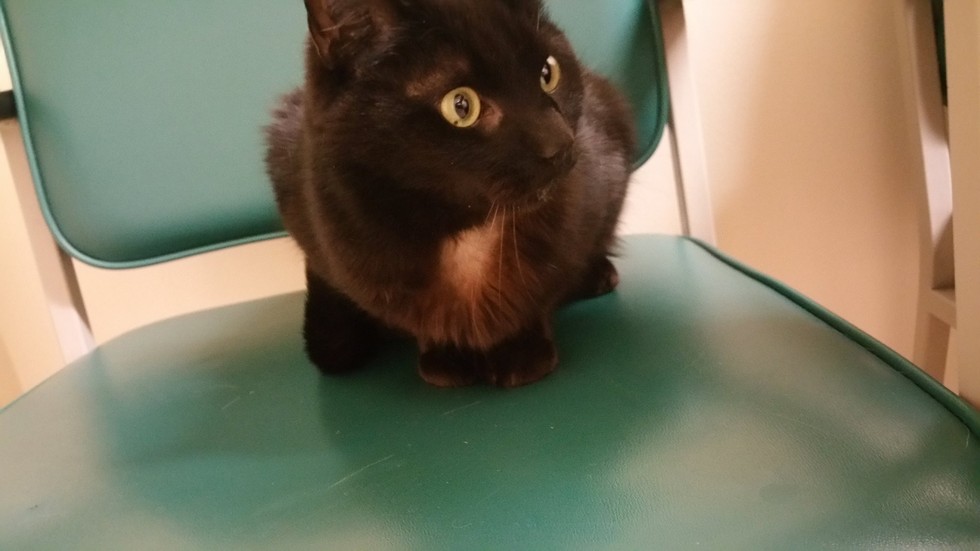 Dennis McDonald
BB-8 is currently still healing at the vet, but once he's ready to leave with McDonald, he'll gain a new rescue brother and sister named Lucy and Ricky.
McDonald likes to think that Lucy and BB-8 were separated at birth, given their physical similarities and the fact that they're both the same age.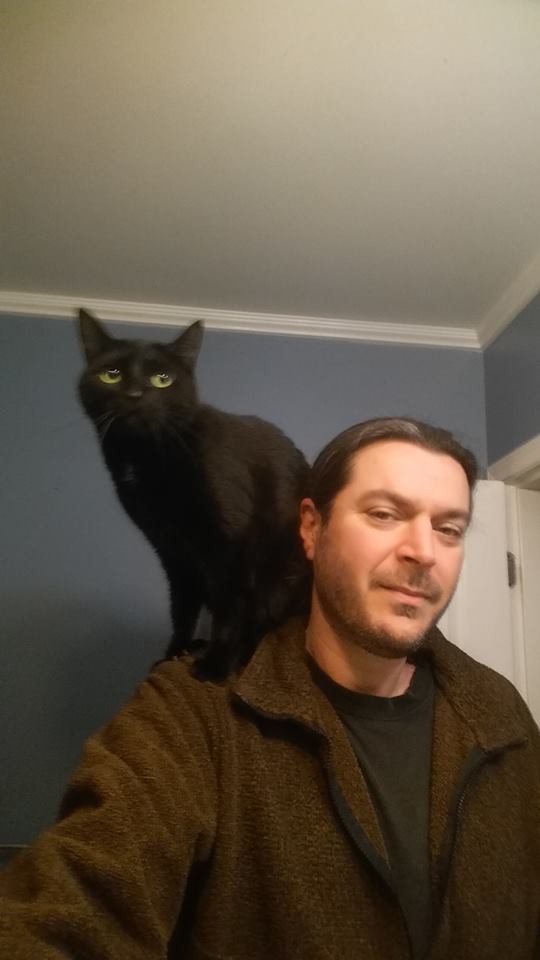 Dennis McDonald
McDonald was impressed with the black cat's resilience.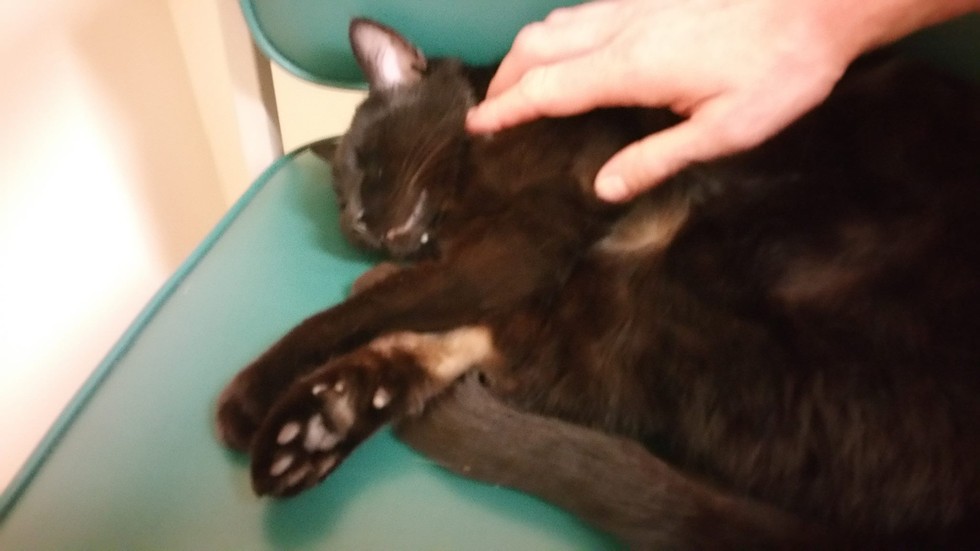 Dennis McDonald
"He is the most affectionate and grateful," McDonald said. "Truly humbled at this guy's ability to move forward and put the pain behind him and focus on the love."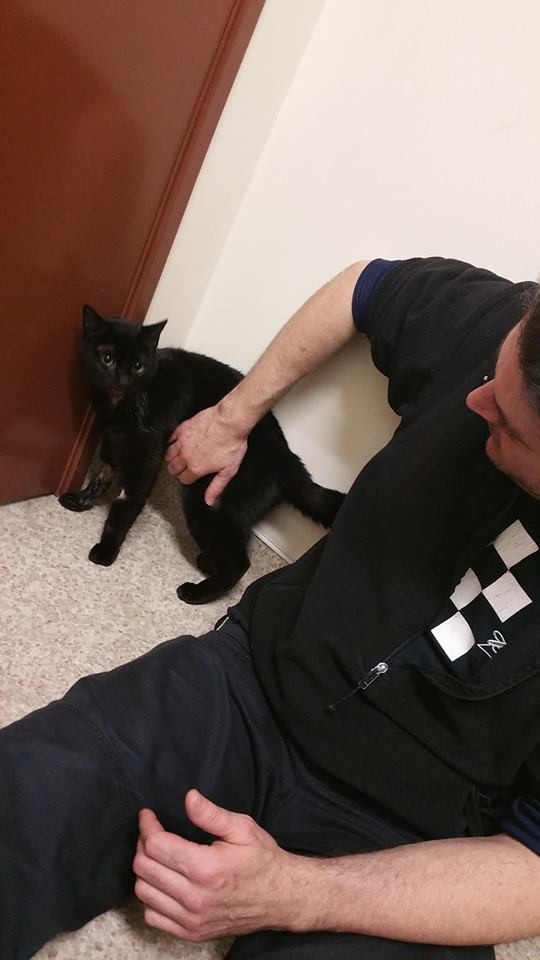 Dennis McDonald
Not only did this cat get a second chance at life, but he also got a furever home to grow old in.
:)
via the dodo
LIKE US!
Comments
comments powered by

Disqus
LIKE US ON FACEBOOK!