Extremely rare 'werewolf' kitten born in South Africa finds the purrfect home
This unique looking werewolf cat was rescued in Cape Town. This is truly a rare discovery!
Meet Eyona the werewolf kitten!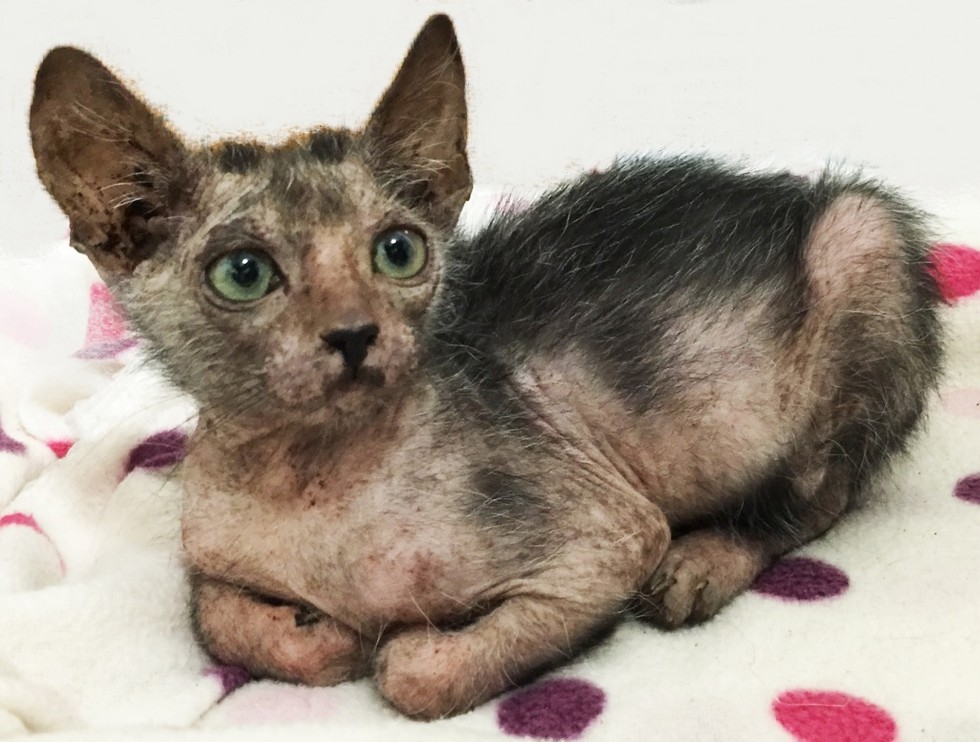 via Tracy Gilpin of TEARS Animal Rescue
Eyona was found thanks to TEARS Animal Rescue's Feral Cat Project.
Eyona is a Lykoi kitten, which is sometimes referred to as a "werewolf cat." This extremely rare cat breed (only 1 in 35 in the world!) comes from a naturally occurring gene in feral cats that results in this werewolf look.
Lykoi have unique hair patterns. The cats molt, and at times can become almost completely bald like a Sphynx. They have no undercoat, and lack hair around the eyes, nose and muzzle. They are, however, perfectly healthy cats despite their mutation.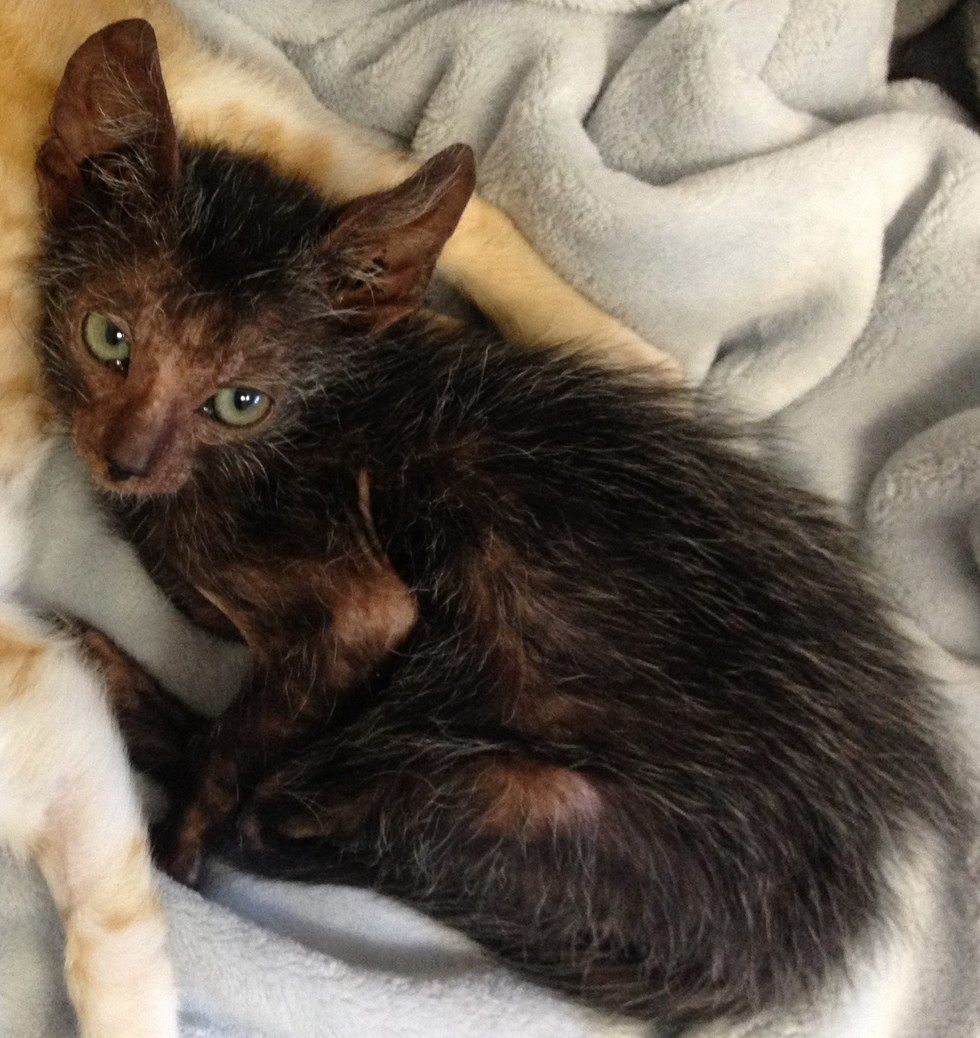 via Tracy Gilpin of TEARS Animal Rescue
According to Tears Animal Rescue, "The cat, found under a bush, is the only natural-born Lykoi on record in [South Africa] and one of just 35 in the world, making this one of the most exciting discoveries in the [South African] animal world in recent years."
They named the kitten Eyona, a South African name that means "The One."
Eyona is actually one of six kittens, but the only werewolf in the bunch.
"A tabby cat had given birth to six kittens in one of the flower beds in the gardens. She was fed and monitored for four weeks before plans were made to trap mom and kittens and bring them in for sterilisation and treatment," Tracy Gilpin of TEARS told Love Meow.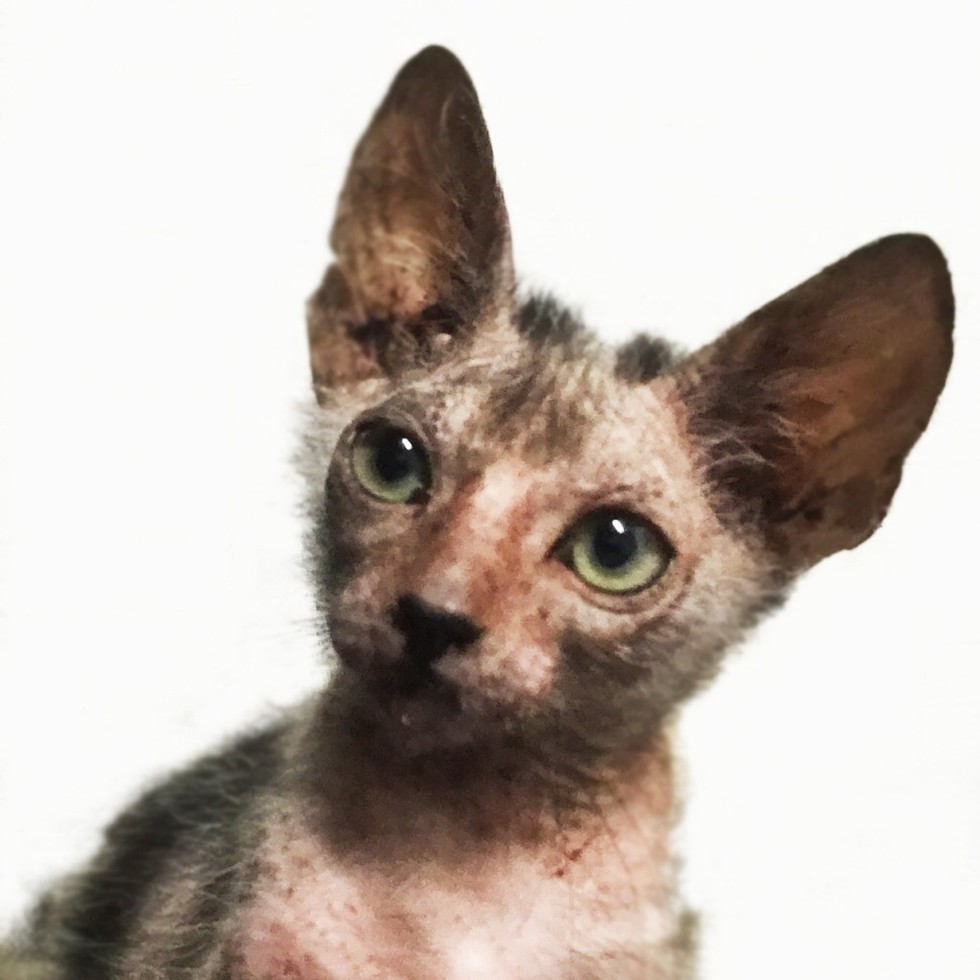 via Tracy Gilpin of TEARS Animal Rescue
Sadly, mom ran off but the kittens were all rescued.
At first, vets thought Eyona was sick or had some sort of disease before figuring out she was a rare Lykoi kitten.
Not only are their looks strange, their behavior is more dog-like than cat.
"I like to compare the Lykoi to hunting dogs. They are extremely loyal to their owners (slaves), very scent motivated (yes, many cats are...but these guys go almost "on point" when they get a whiff of something!), and very intelligent. They are aware of EVERYTHING going on around them. They can be clingy at times, but generally if you are too busy to snuggle they will take "no" as an answer and will go amuse themselves...as long as they are close enough to keep an eye on you!" LykoiCats.com reported.
Eyona is now living in the purrfect home.
"Eyona is living in the home of one of TEARS' most trusted feral cat experts. He has lots of other cats for company and is developing at his own pace. Just last week he began to sleep on the bed and his favourite toy is a large soft toy spider."
Watch the video below!
LIKE US!
Comments
comments powered by

Disqus
LIKE US ON FACEBOOK!