Great quotes about cats! All iz true...
Just some awesome quotes about us from famous humans and cats. I haz found them all very true...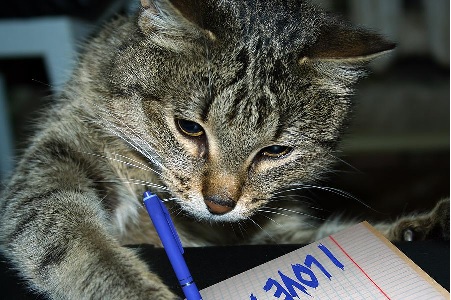 "Women and cats will do as they please, and men and dogs should relax and get used to the idea."
― Robert A. Heinlein

"If cats looked like frogs we'd realize what nasty, cruel little bastards they are. Style. That's what people remember."
― Terry Pratchett, Lords and Ladies

"The only escape from the miseries of life are music and cats..."
― Albert Schweitzer

"Owners of dogs will have noticed that, if you provide them with food and water and shelter and affection, they will think you are god. Whereas owners of cats are compelled to realize that, if you provide them with food and water and shelter and affection, they draw the conclusion thatthey are gods."
― Christopher Hitchens, The Portable Atheist: Essential Readings for the Nonbeliever

"What's your name,' Coraline asked the cat. 'Look, I'm Coraline. Okay?'
'Cats don't have names,' it said.
'No?' said Coraline.
'No,' said the cat. 'Now you people have names. That's because you don't know who you are. We know who we are, so we don't need names."
― Neil Gaiman, Coraline

"If animals could speak, the dog would be a blundering outspoken fellow; but the cat would have the rare grace of never saying a word too much."
― Mark Twain

"What greater gift than the love of a cat."
― Charles Dickens

"Of all God's creatures, there is only one that cannot be made slave of the leash. That one is the cat. If man could be crossed with the cat it would improve the man, but it would deteriorate the cat."
― Mark Twain

"Authors like cats because they are such quiet, lovable, wise creatures, and cats like authors for the same reasons."
― Robertson Davies

"Cats can work out mathematically the exact place to sit that will cause most inconvenience."
― Pam Brown

"I thought maybe she'd whisk us off by magic, or at least hail a taxi. Instead, Bast borrowed a silver Lexus convertible.
"Oh, yes," she purred. "I like this one! Come along, children."
"But this isn't yours," I pointed out.
"My dear, I'm a cat. Everything I see is mine." She touched the ignition and the keyhole sparked. The engine began to purr. [No, Sadie. Not like a cat, like an engine.]"
― Rick Riordan, The Red Pyramid

"I'm a cat. We aren't required to make sense."
― Seanan McGuire, A Local Habitation

"I have lived with several Zen masters -- all of them cats."
― Eckhart Tolle, The Power of Now: A Guide to Spiritual Enlightenment

"Throw a stick, and the servile dog wheezes and pants and stumbles to bring it to you. Do the same before a cat, and he will eye you with coolly polite and somewhat bored amusement. And just as inferior people prefer the inferior animal which scampers excitedly because someone else wants something, so do superior people respect the superior animal which lives its own life and knows that the puerile stick-throwings of alien bipeds are none of its business and beneath its notice. The dog barks and begs and tumbles to amuse you when you crack the whip. That pleases a meekness-loving peasant who relishes a stimulus to his self importance. The cat, on the other hand, charms you into playing for its benefit when it wishes to be amused; making you rush about the room with a paper on a string when it feels like exercise, but refusing all your attempts to make it play when it is not in the humour. That is personality and individuality and self-respect -- the calm mastery of a being whose life is its own and not yours -- and the superior person recognises and appreciates this because he too is a free soul whose position is assured, and whose only law is his own heritage and aesthetic sense."
― H.P. Lovecraft

"I have studied many philosophers and many cats. The wisdom of cats is infinitely superior."
― Hippolyte Taine

"The problem with cats is that they get the same exact look whether they see a moth or an ax-murderer."
― Paula Poundstone

"Cheshire Puss,' she began, rather timidly, as she did not at all know whether it would like the name: however, it only grinned a little wider. 'Come, it's pleased so far,' thought Alice, and she went on. 'Would you tell me, please, which way I ought to go from here?'

'That depends a good deal on where you want to get to,' said the Cat.

'I don't much care where—' said Alice.

'Then it doesn't matter which way you go,' said the Cat.

'—so long as I get SOMEWHERE,' Alice added as an explanation.

'Oh, you're sure to do that,' said the Cat, 'if you only walk long enough."
― Lewis Carroll, Alice's Adventures in Wonderland & Through the Looking-Glass

"Rousseau pounced. Men who dislike cats were tyrannical: "They do not like cats because the cat is free and will never consent to become a slave."
― Robert Zaretsky, The Philosophers' Quarrel: Rousseau, Hume, and the Limits of Human Understanding

"Maurice watched them argue again. Humans, eh? Think they're lords of creation. Not like us cats. We know we are. Ever see a cat feed a human? Case proven."
― Terry Pratchett, The Amazing Maurice and His Educated Rodents

"Cats never listen. They're dependable that way; when Rome burned, the emperor's cats still expected to be fed on time."
― Seanan McGuire, Rosemary and Rue
See more cat quotes here: http://www.goodreads.com/quotes/tag/cats?page=1

LIKE US!
Comments
comments powered by

Disqus
LIKE US ON FACEBOOK!