Say goodbye to these cats because they've entered... the cat dimension
Cats are magical beings that most likely come from another planet.
One of their special powers is their ability to jump through dimensions... as we all know they do not abide by the laws of physics.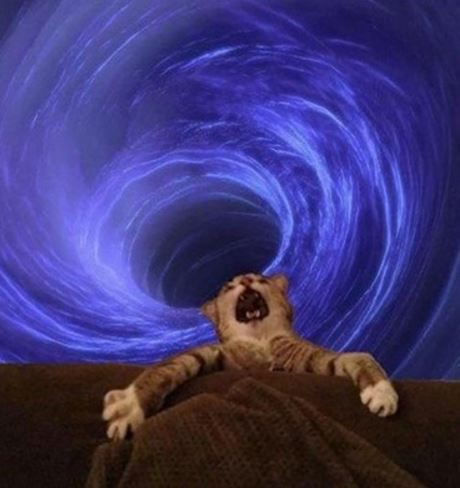 When a cat disappears right in front of our eyes or leaps into what we can only measure as 100 times faster than the speed of light.. that is when they enter... the cat dimension!
"The cat dimension is a space accessible to all cats. It is coterminous with all space time and is always just out of sight of all humans. Certain other animals can also enter it, though such occurrences are rarer. You can always tell a cat is leaving for the cat dimension when it runs off at full speed. This is usually preceded by contact with water or a loud noise, though sometimes there is no reason at all. They just felt like it. They're cats after all," courtesy of reddit.
Here are a few of our favorite brave felines traveling through time and space.
1. See you on the other side, human.
View post on imgur.com
2. As interesting as that gray snake creature thing is, I must go.
...kitten got just a little too excited! lol
3. Cat-napped into the cat dimension.
View post on imgur.com
4. Come with me human! Grab my paw and... too late.
5. Not every cat wants to go to the cat dimension... but resistance is futile.
View post on imgur.com
6. Cat going down with his ship...
View post on imgur.com
7. We have lift off.
View post on imgur.com
8. Going into the cat dimension... or Narnia... we're not too sure actually.
Has your kitty ever gone into the cat dimension right before your eyes???
Share and let us know!
LIKE US!
Comments
comments powered by

Disqus
LIKE US ON FACEBOOK!