Kitten survives 300 mile trip in pilot's car bumper. Now likes to sleep in his helmet.
Meet Tigger – the kitten who survived a 300-mile journey hiding inside the bumper of a Navy helicopter pilot's car!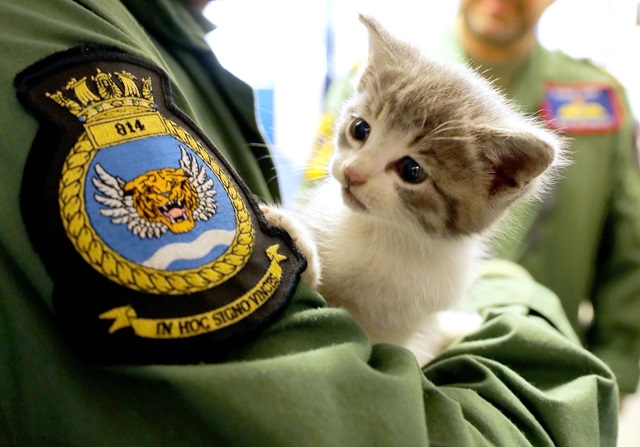 via Royal Navy
The cat endured a day's journey from Birmingham Airport to the Royal Naval Air Station Culdrose near Helston in Cornwall clinging to the rear bumper of Lieutenant Nick Grimmer's BMW.
Nick had no idea, until the next day he heard very quiet meowing coming from his car. He immediately went to investigate.
"I'd landed at Birmingham after a holiday and travelled via Bristol and Bath before arriving in Cornwall quite late," said Nick, who flies submarine–hunting Merlin helicopters for a living with 814 Naval Air Squadron – known as the Flying Tigers.
"I looked in the boot, under the bonnet and climbed all over and under it and still couldn't find what was making the noise."
"I called up some of our air engineers who came and helped me to start dismantling my pride and joy. On taking off the rear bumper we were greeted by a tiny tiger-striped kitten."
"He must have had a long journey but remarkably is unharmed. I am never late for work and was left with no option but to take my new friend in with me."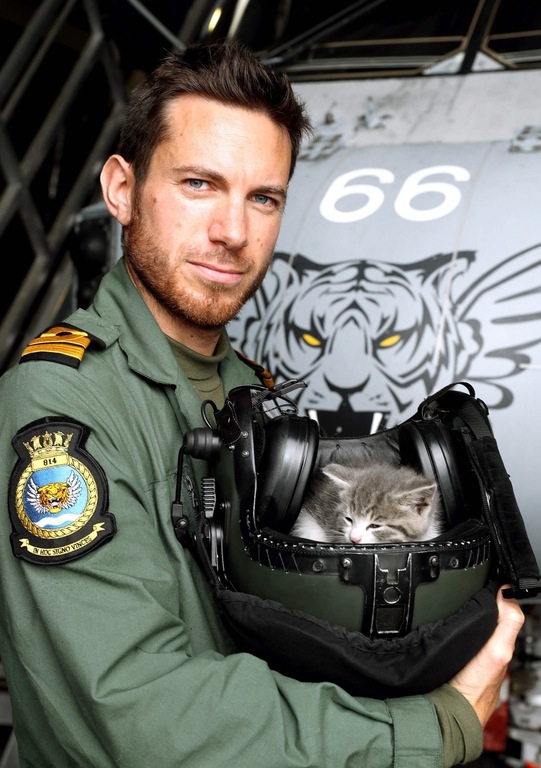 via Royal Navy
"The place he has felt most comfortable is in my flying helmet, which is the only place he is able to sleep."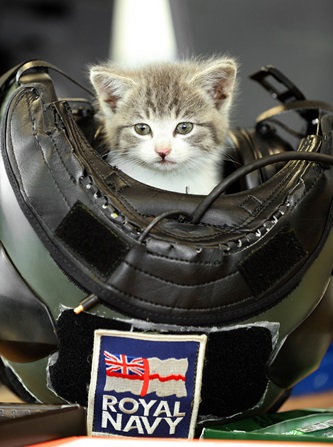 via Royal Navy
The squadron immediately named the kitten Tigger because he has similar markings to their multi-million-pound grey and white helicopters.
As of now, they are looking after the kitten while efforts are made to trace Tigger's owners.
Commander Brendan Spoors, Commanding Officer of the Flying Tigers said, "We are more than happy to adopt 'Tigger' as a mascot; after all it's a tradition for Royal Naval units to have a ships cat! Tigger must have an owner somewhere between here and Birmingham and we are keen to locate them. I instructed my team to launch 'Operation Tiger Kitten'. With the help of social media they are hoping to be 'mission complete' by the end of the week."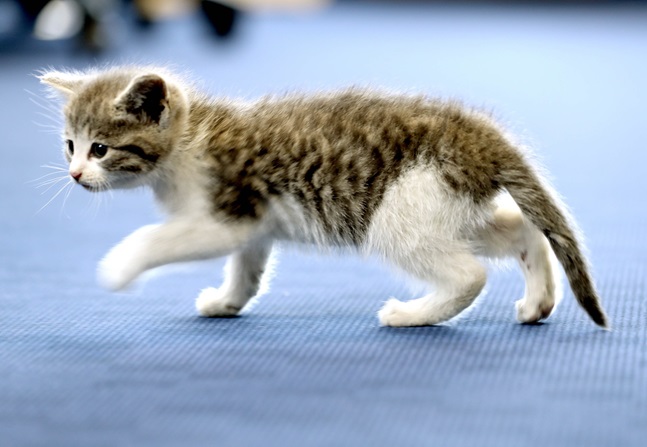 via Royal Navy
Many on social media have offered to take him home in the original owners never come to be, or the Royal Navy wouldn't mind making Tigger their mascot!
Maybe the pilot will even let Tigger take the helmet with him. Either way, this kitten showed he's a survivor and will be in a loving home soon enough.
:)
Share this rescue story!
via Royal Navy
LIKE US!
Comments
comments powered by

Disqus
LIKE US ON FACEBOOK!