Cat wine is here so you never have to drink alone again!
Ever been binge watching Netflix alone with your cat, sipping on some boxed wine, and wonder 'I wish Fluffy Princess could share a glass with me...' ?
All the time right? Well, alcohol is extremely dangerous to pets, so obviously that was out of the question... until now!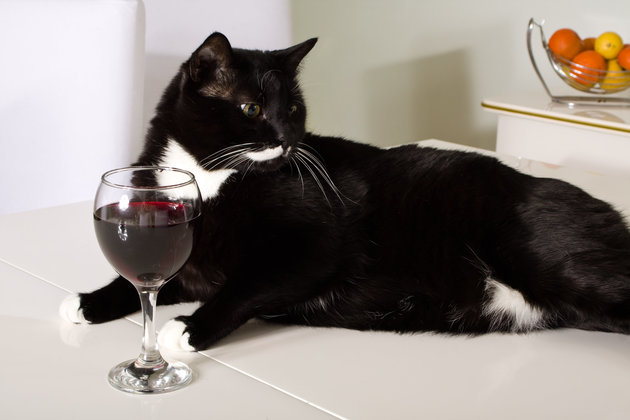 BRANISLAV OSTOJIC VIA GETTY IMAGES
Apollo Peak, a Denver-based company, makes drinks for cats that look like wine, but bear little resemblance to the stuff ingredient-wise. In varieties like Pinot Meow and MosCATo, Apollo Peak wine is made with organic catnip and water and colored with organic beet juice (the "white" varieties are colored with golden beets).
"It's made like a tea," Apollo Peak founder Brandon Zavala told The Huffington Post. "But since we got it to look so much like a wine, we want it to be perceived as a wine by the consumer — that way they can feel as though they are having a glass of wine with their pet."
"It's kind of a weird story," he said. "It started out as a joke, slapping a label on a regular wine bottle."
But then he realized that cat parents might love the idea. He did some research and made a product thats cat friendly and perfectly healthy to lap up.
Zavala says his product is approved by local veterinarians. "They're totally cool with it," he said. "They love it."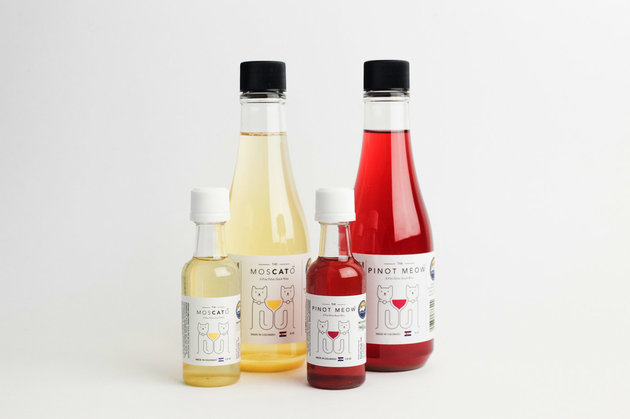 Apollo Peak
"Beet juice is not toxic to kitties (or dogs for that matter), but as always check with your vet before giving something like this," Veterinarian Katy Nelson of The Pet Show told HuffPost in an email. "Beet juice has been known to change the color of urine, so especially for diabetic cats or kitties with urinary problems that you monitor their urine, it could cause false positives on their tests."
Apollo Peak "wine" is already available at some stores locally in Colorado — and online. He added they'd be at CatConLA later this month.
This is a totally unique way to have your kitty enjoy the finer things in life. And make you feel less alone watching netflix in the dark and ordering a pizza for one. :)
via Huffington Post
LIKE US!
Comments
comments powered by

Disqus
LIKE US ON FACEBOOK!