25 of the strangest/funniest things cats have done within the iizcat community!
Cats are weird... like... seriously weird.
So we decided to ask YOU to share some of the strangest/funniest stories of your feline friends.
Here are some of our favorites!
1.
Whenever I take a shower, go to bed, go out, or disappear for a prolonged period of time, my cat will grab my stuffed animals and carry them around the house while singing a song of sorrow because she thinks I've either left her forever or I'm dead. So I always wake up or come home to stuffed animals spread everywhere. One time I left for five minutes just to go to the bathroom and she went at it again. Though once I say her name it goes from long sorrowful meows to a chipper short 'mew' then she runs to find me and then is back to normal. I don't get her.
- via Samantha Popham
2.
My oldest has a white toy mouse. Also happens, I had a very old pair of shoestrings I decided the cats (I have three) might play with. Did my oldest ever! He picks up his friend "mouse" AND a shoestring and carries them in his mouth as he "Talks" to them. He carries them to the bed, carries them to the front door when we are gone, carries them to the food bowls, the back door, to my chair or hubbys chair in the living room. Over the years he has obtained several more old shoestrings and will "line" them near end to end when we are gone from the front door to our bedroom or to our chairs in the living room. He will carry his friend "mouse" and shoestring from the living room to the bedroom "talking" the entire time, drop them, wait a minute pick "mouse" back up and carry him off only to pick up another shoestring and carry him back again "talking" the whole time!
- Mary Marie Martin-Henderson
3.
Hops on the counter and moves the bread loaves to get to the hotdog buns. Takes it down, hides with it in the cabinet biting every other one, then he knocks it out of the cabinet, and pushes it over to where the bread is so it looks like it fell off the counter. This would be believable except for all the bite marks on alternating buns.
- Lili Chon
4.
my cats lick screen doors and windows, as well as canvas bags. Not just a quick lick here and there but good, solid 15 minute lick sessions. (@fluffcatattack on instagram)
- Shelly Ann Kleckner
5.
Clarise wait in the bathroom for me to get dried off from my shower and when I flip my hair over to dry it, she licks the water drops off of the tips. Weirdo.
- Phoebe von Fluffypants
6.
My little Zoe puts her cat toys in my purse that I find when I get to work. This has happened too often for me to think this is a coincidence.
- Victoria Sage
7.
Stanley could not be trusted anywhere near a veggie tray...he would plant himself on the table and gobble as many olives as he could!!!!
- Christi Fennell
8.
Our baby, Molly, loves cardboard boxes! Her daddy pulls her around on the tile floors in the box, like she is on an amusement park ride! She loves it!!!! She meows and bonks him until he goes towards her special box!
- Katie Leister
9.
Trying to attack the water drops running down her head. She drinks from the tub faucet and the water builds up on her head. Sometimes she shakes most of it off (like a dog) but more often than not, she thinks it's trying to get her.
- Brion Hall
10.
We found Josie in a dumpster at my husbands job. Being the weirdest cat we ever owned, she will actually jump on the trampoline with my daughter, and do laps around it. Every time we try and take her off, she just continues to go round and round and round. Keep in mind she is obese, so her fat jiggles when she runs ;)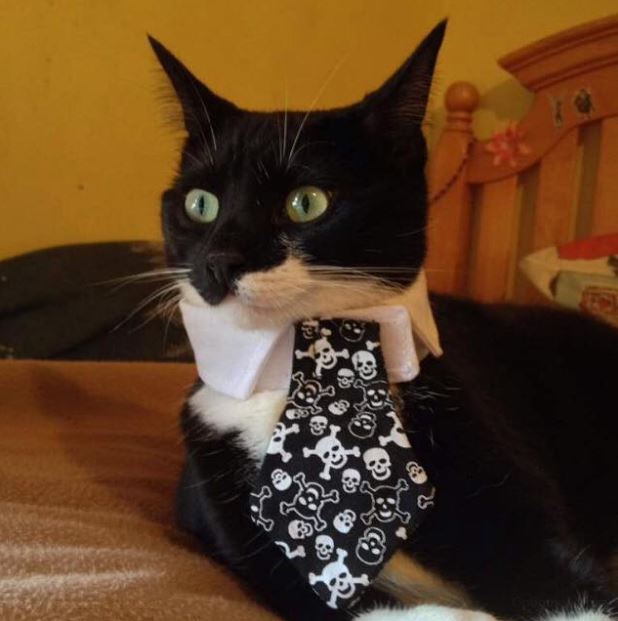 - Kathy Deecken
11.
My daughters cat, Delilah eats the corner off the coffee table and the corners off any books that are on the table. She will also eat the bookmarks and pull them out of the magazine . She thinks she is a dog.
- Laura Young Wotring
12.
Ninja rolls around on things until he falls off. Tables, the sofa, his brother, the window ledge. He then looks at everyone like it was their fault.
- Jen N'Owl Giblin
13.
My cat will dig through a basket of laundry fresh from the dryer looking for a dryer sheet. She then runs away with it and licks it until we wrestle it away from her.
- Amanda Burton
14.
My Dallas loves it when we repeatedly pop him on the butt from side to side. He flattens his chest and head to the floor and raises his butt up in the air. When we stop he meows loudly and headbutts us until we do it again. Goofball... None of the other cats like it at all!
- Michelle Gaudette
15.
He's so odd. Garfy enjoys walking on a leash, he sings along with me when I sing and he let's me dress him up in baby clothes lol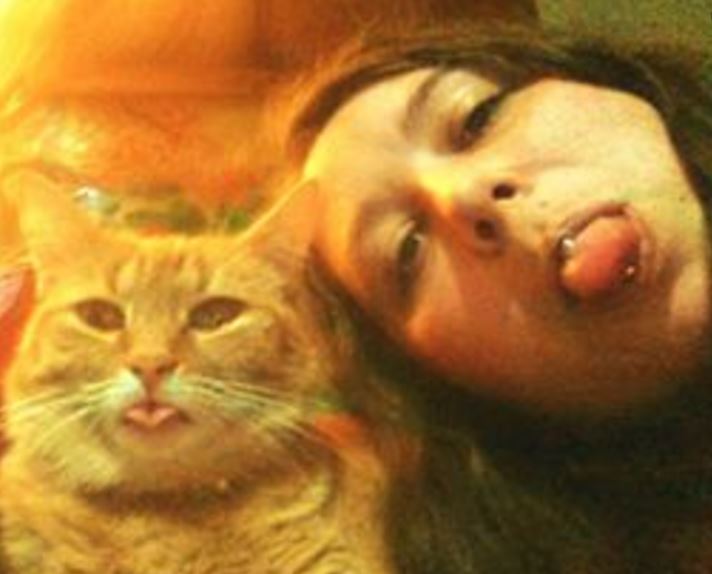 - Gillian Moody
16.
Stealing an entire piece of pizza, licking the sugar off my donut's, sitting on my pancakes and one kitty used to get into my jewelry box every morning and bring me a necklace and sit it on my pillow. Really!
- Debbie Gregory-Tawney
17.
My cat liked to chase her tail, but instead of running in circles, she'd role somersaults. It was entertaining.
- Clayton Whitehurst
18.
Climbing the screen door from behind the sliding glass door.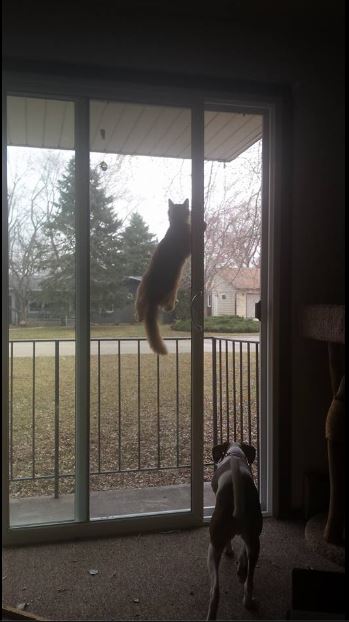 - Katelynn Berkevich
19.
I was getting romantic in the bedroom with my husband and my ragdoll jinx grabbed the condoms and took off with all the shiny gold trailing him out the door. Funniest thing was watching my husband chase the cat down the hall. We privately called our cat the 'condom goblin' after that.
- Melinda Henderson
20.
My cat was sniffing a mouse, trying to figure out how to approach it. The mouse sneezed on her. The cat walked away, sat down on the other side of the room, and stared distrustfully at the mouse. To this day, she will not go near another mouse.
- Hannah Cunningham
21.
Shaggy liked to help out with car projects. I was crammed up under the dashboard pulling wire for a door speaker and couldn't figure out why the wires kept falling out of the conduit. After a good 10 minutes of frustration, I crawl out and, lo and behold, there's Shaggy Troubles pulling on the other end of the line!
- Joel Naticchioni
22.
Penelope hates Ricola! Made our "mess corner" even messier. She pulled almost all of the cough drops out of the brand new bag so that she could sit in it.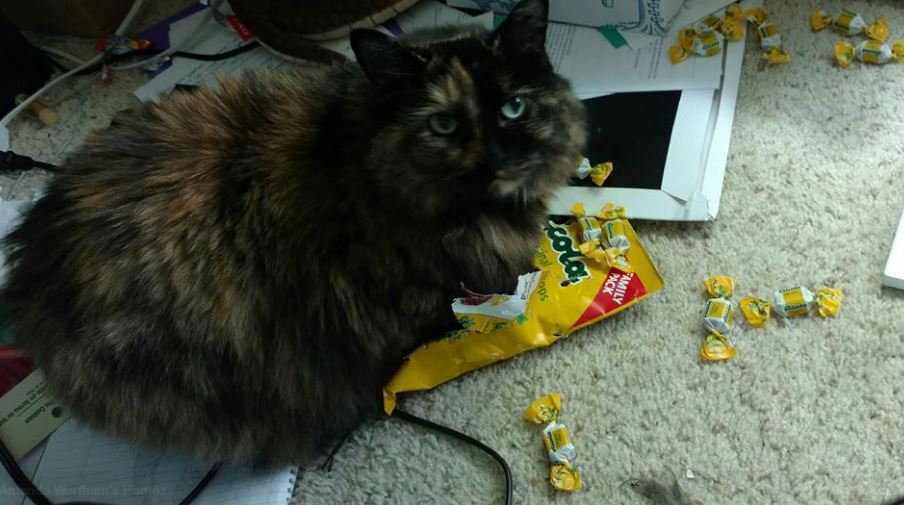 - Amanda Wortham
23.
My cat is obsessed with the printer. He sits on top of it and stares at the paper coming out. Then attacks the paper and destroys it. I cannot print anything with him in the room.
- Rachel Gilchrist Heard
24.
My cat Samson loves to carry bananas around, often leaving them as presents for me outside of my bedroom or under my bed.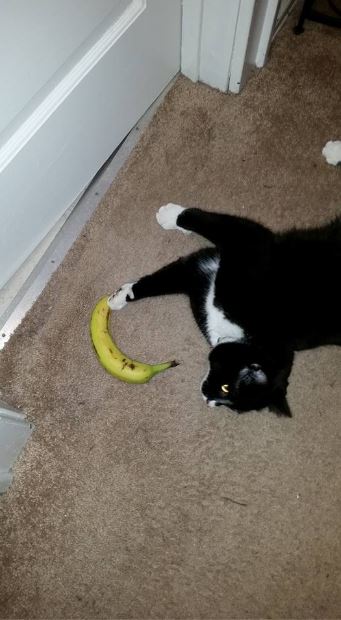 - Colleen Kendzierski
25.
I have a "special" cat. He spends his days talking to himself and gets self conscious if he sees you notice. He'll then whisper while waiting for you to look away-- upon which he'll go back to his regular babbling.
He enjoys stealing children's toys. You will find his collection IN the couch. When I say "in" I do not mean behind or under cushions. No. He has ripped a hole in the bottom of the couch where he will burrow in and hide toys. If you sit on it while he is in the middle of hiding his loot he'll meow and make you think you sat on him-- he's just fine.
He also likes to nibble on your thighs while you use the restroom, all while staring straight at you.
He constantly loses his stuffed catnip mouse, at night, and will howl until he finds it. He will then drool all over it and then throw it in your bed. You will assume he has brought you a dead, bloodied, mouse until you turn on the light. I could go on and on... I could write a book on how weird this cat is.
- Rochelle Heinze
See more great stories below!
LIKE US!
Comments
comments powered by

Disqus
LIKE US ON FACEBOOK!