Memorial held for beloved neighborhood cat, whole neighborhood shows up!
Jasper the cat's paws touched all of their hearts.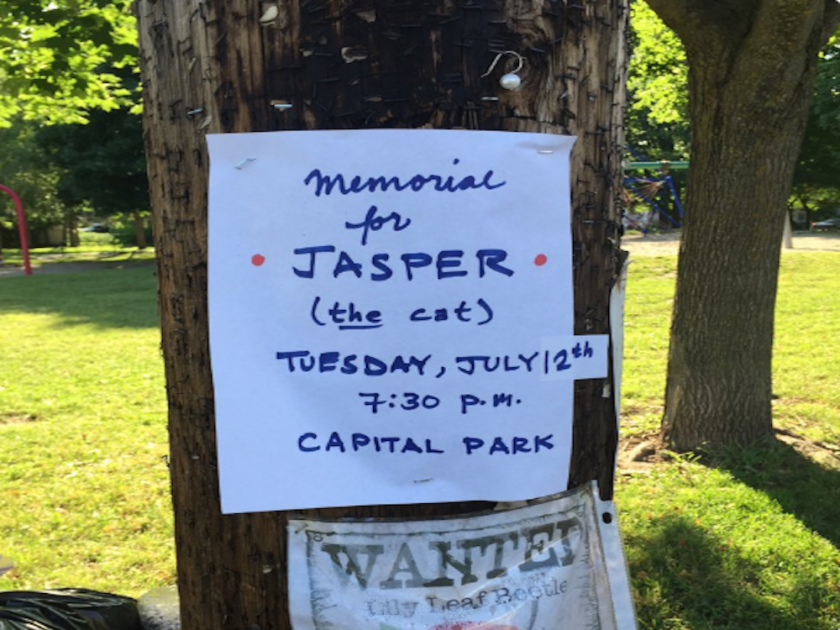 And at 20 years old, Jasper the kitty passed away.
"The 40 people at the memorial for the cat are aware that it's the most Glebe thing ever. But Jasper was 20 years old and the coolest," David Reevely shared on twitter.
"He was found as a stray by Highway 5 a long time ago."
"Jasper the cat was fed at at least four houses. And by craft services for a TV series shot in the Glebe for a bit."
"He went out at Pretoria pet hospital with his face in a can of Tuna Supreme. We should all be so lucky."
"One woman told a story about moving into her place 10 years ago, knowing nobody in Ottawa. Jasper walked in the open door and hung out."
"Three housemates in their 20s often saw him lying in their planters. They called him Plant Cat."
"(Much of this was news to his "owners," Henry and Jenny. They owned him inasmuch as they paid his vet bills.)"
"The main thing about Jasper was he didn't give a damn about threats. He crossed streets slowly. He slapped dogs."
"His ashes are now in a box engraved with his name, buried under a tree in the park he haunted, marked with a white cross and a photograph."
"I didn't know he was a Christian until tonight," one neighbour remarked."
"After Jasper was buried, his owners distributed little cups and went around with bubbly. The neighbourhood toasted him. -30-"
"I didn't go to the Jasper memorial intending to be a reporter, BTW, so I tweeted from memory after. It was just very sweet and touching."
"They let the children present take turns spading earth onto his little box. Mine knew Jasper from the park and did their bit."
"(A couple of weeks ago he nosed around them as they dug in the sand by the swings. Just wandered over like, hey, what're you guys doing?)"
"My five-year-old was good at the memorial. When we got home, he burst into tears."
"Jasper was a first-rate cat and it's neat that a whole neighbourhood got to share him. -30- for real."
RIP Jasper, you will be missed.
via ottawacitizen
LIKE US!
Comments
comments powered by

Disqus
LIKE US ON FACEBOOK!