Here's why you should NEVER take a selfie with a tiger (or any big cats)
It's appalling what people will do for money. And sadly plenty of the time we support such people without seeing what they are hiding behind closed doors.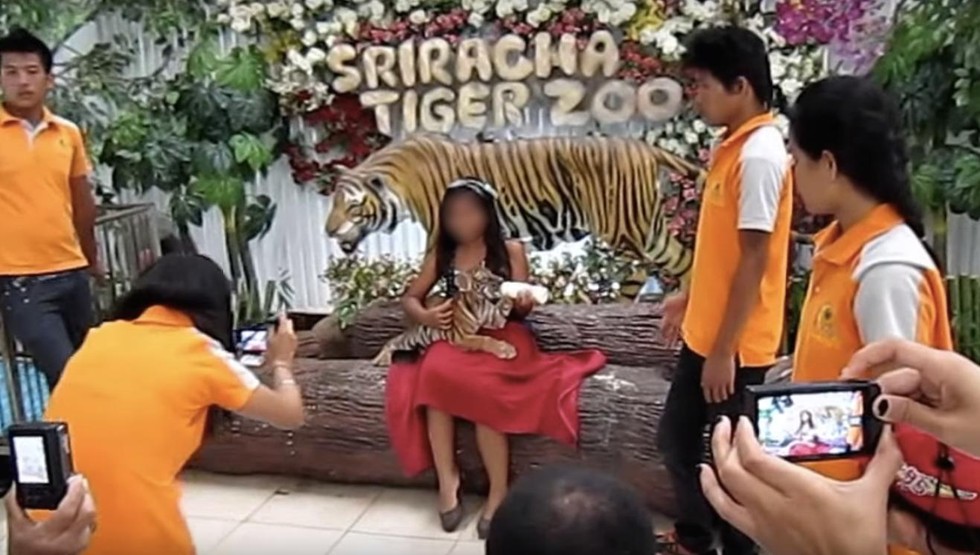 It's a familiar and popular scene in the Thai tourism industry where anyone can handle baby tigers and take photos and hold them. Bottle-fed by tourists, the cubs are so cute and docile that it would be easy to assume nothing is wrong — but in reality they're often placed in tiny cages with no enrichment when they're not in front of a camera. They're also torn from their mothers when they're just weeks old, allowing her to resume "speed-breeding," producing even more cubs for people to photograph.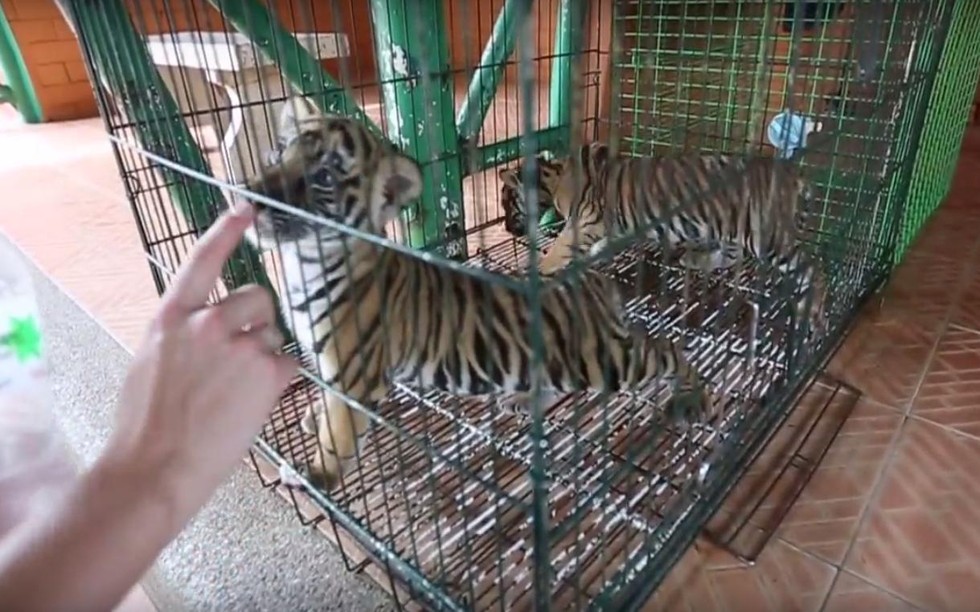 "These majestic and endangered predators are bred, used and abused to create entertainment for tourists and boost the profits of wildlife attractions, travel companies and sometimes illegal trade," says a new report released on Monday by World Animal Protection (WAP).
Investigators visited 17 entertainment venues in Thailand over the course of a year and found some disturbing behavior displayed from the tigers.
And, most disturbingly, the report suggests that the breeding of all these tiger cubs may be contributing to the illegal trafficking of tiger body parts. More than 10 percent of the tigers exhibited some form of stereotypic behavior — such as pacing or tail biting — as a way to cope with the stress of captivity.
Investigators expect that number is actually much higher, though, as the tigers were observed during the day but would likely be more active at night.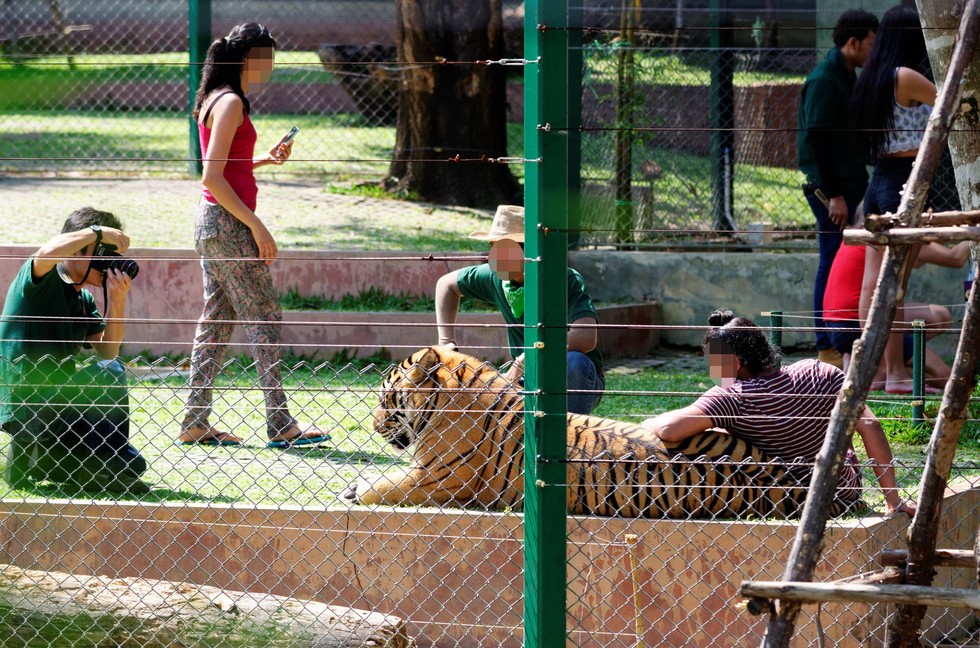 Even worse, the report suggests that the breeding of all these tiger cubs may be contributing to the illegal trafficking of tiger body parts.
The number of tigers claimed to be owned by such venues were actually much less, and many tigers were "missing." One facility, for example, reported that it owned 90 tigers, while only 42 were seen on the property. Another said it had 350, but only 130 were found there. Of the 17 facilities featured in the report, there were 830 tigers reported, but only 535 seen by WAP.
Where are the missing tigers?
Further, even the famous Tiger Temple, once thought to be a sanctuary-type facility and protector of the tigers, where adult tigers lived in peace with the monks who took care of them, allegedly had been engaging in disgusting illegal trafficking.
In June, authorities confiscated the temple's 147 tigers amid allegations of illegal wildlife trafficking, though the temple denied any wrongdoing.
"The 2016 Tiger Temple case revelations highlight how captive tigers may be not only legally bred for tourism, but also bred for the illegal trade in body parts," the report reads, noting that officials found 70 tiger cubs in glass jars and in freezers, as well as tiger skins and amulets made from tiger bones, teeth and fur.
"The Temple also failed to account for three missing government registered tigers," WAP says. "The Tiger Temple and its suspected breeding practices for tiger body parts may not be an isolated case."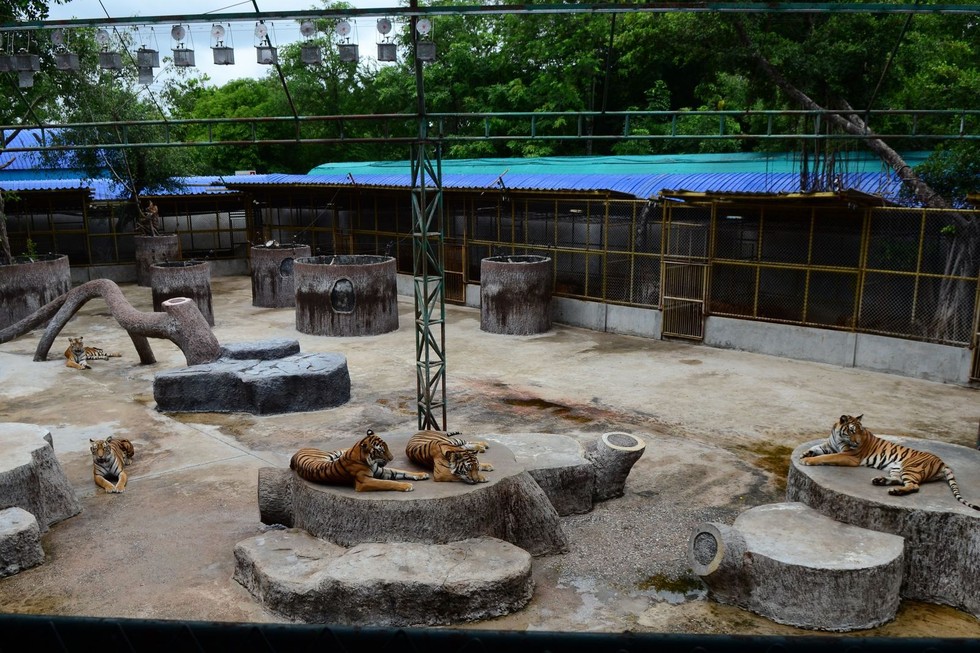 WAP's report also highlighted welfare concerns for the hundreds of tigers used in Thailand's tourism trade. It zoomed in on the Sriracha Tiger Zoo.
The WAP report alleges that tigers there are starved if they make a "mistake," and are reprimanded with whips or bamboo sticks. One tiger was so thin, his hips and ribs were visible, the report claims.
"A number of times during performances, the tigers appeared stressed and fearful of their handler," WAP writes.
"One of the main attractions at Sriracha is tiger cub feeding where between 10 and 20 tiger cubs are kept all day in small cages in a room," it continues. "Hundreds of visitors daily approach the cages or pay for selfies with the cubs or feed them with milk bottles."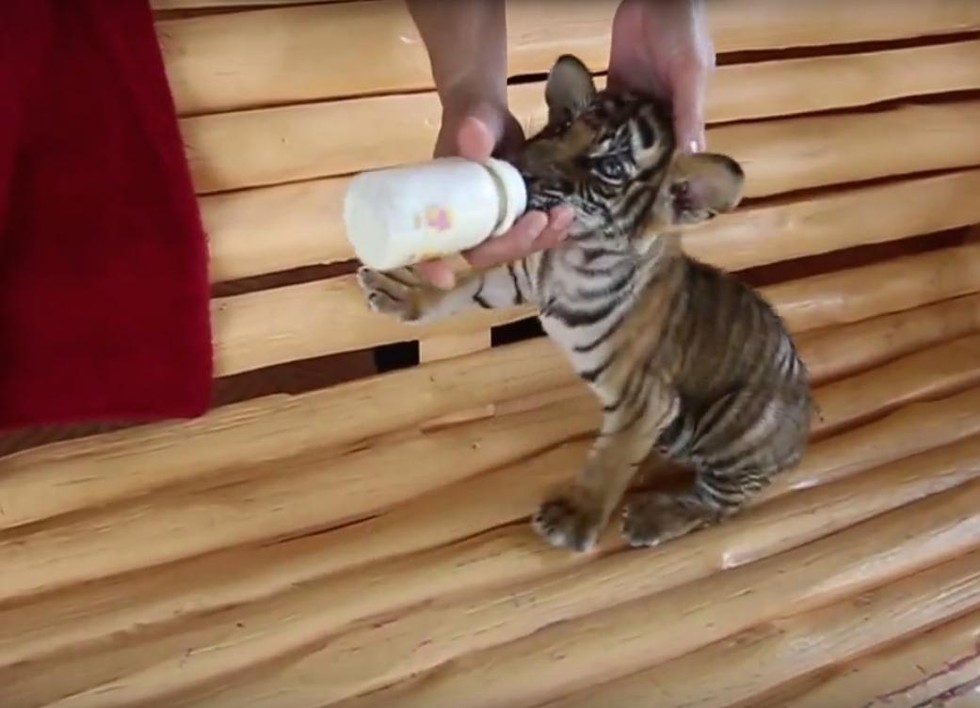 WAP also writes that, oddly, the Sriracha zoo claims that tigers are native to Africa (rather than Asia): "Here, visitors are encouraged to photograph a tiger in an 'African' landscape. The tiger is pushed and prodded with a bamboo stick wielded by a Tarzan-style trainer until the animal sits on a stool."
So what can we do to help?
"If you can hug, ride or take a selfie with a wild animal, chances are cruelty is involved — so don't do it," Jan Schmidt-Burbach, a WAP senior wildlife and veterinary adviser based in Bangkok, told The Dodo earlier this month.
You can also investigate TripAdvisor ratings when considering whether a venue is a legitimate sanctuary, but pay attention to negative reviews, too. With enough positive reviews, any facility — no matter how bad — can be awarded a "Certificate of Excellence."
According to the WAP report, research suggests that around 80 percent of people who leave a review on TripAdvisor are completely unaware of any welfare issues in animal tourism.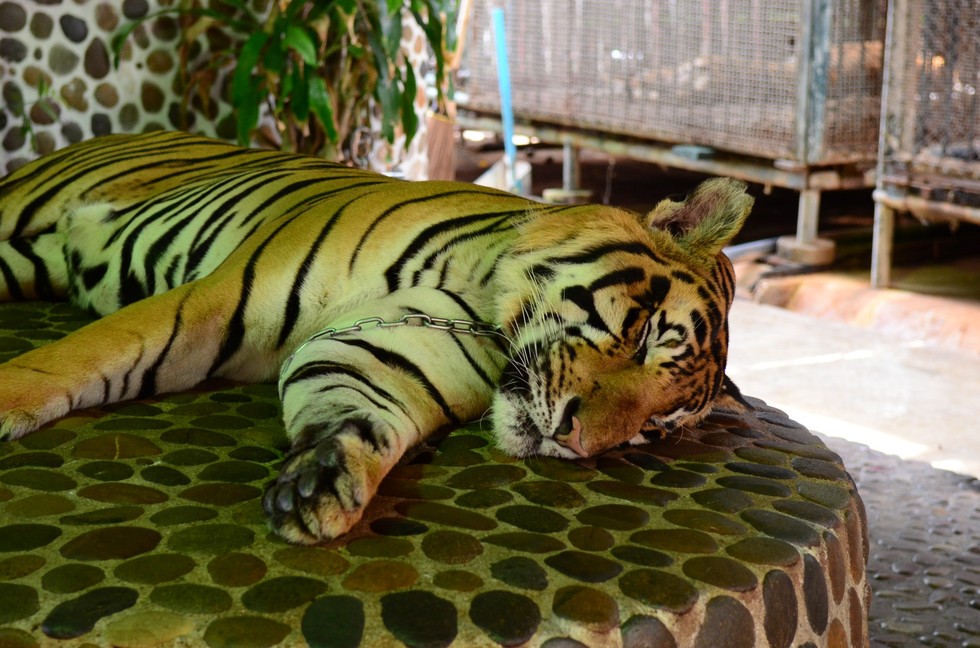 "We're asking tourists to think about the welfare of the tigers, and we're calling on the travel industry to stop promoting and profiting from tiger cruelty," Julie Middelkoop, head of the Wildlife – Not Entertainers campaign at WAP, says in a press release. "If you can get up close to, hug, or have a selfie with a tiger, the attraction is cruel. Don't go."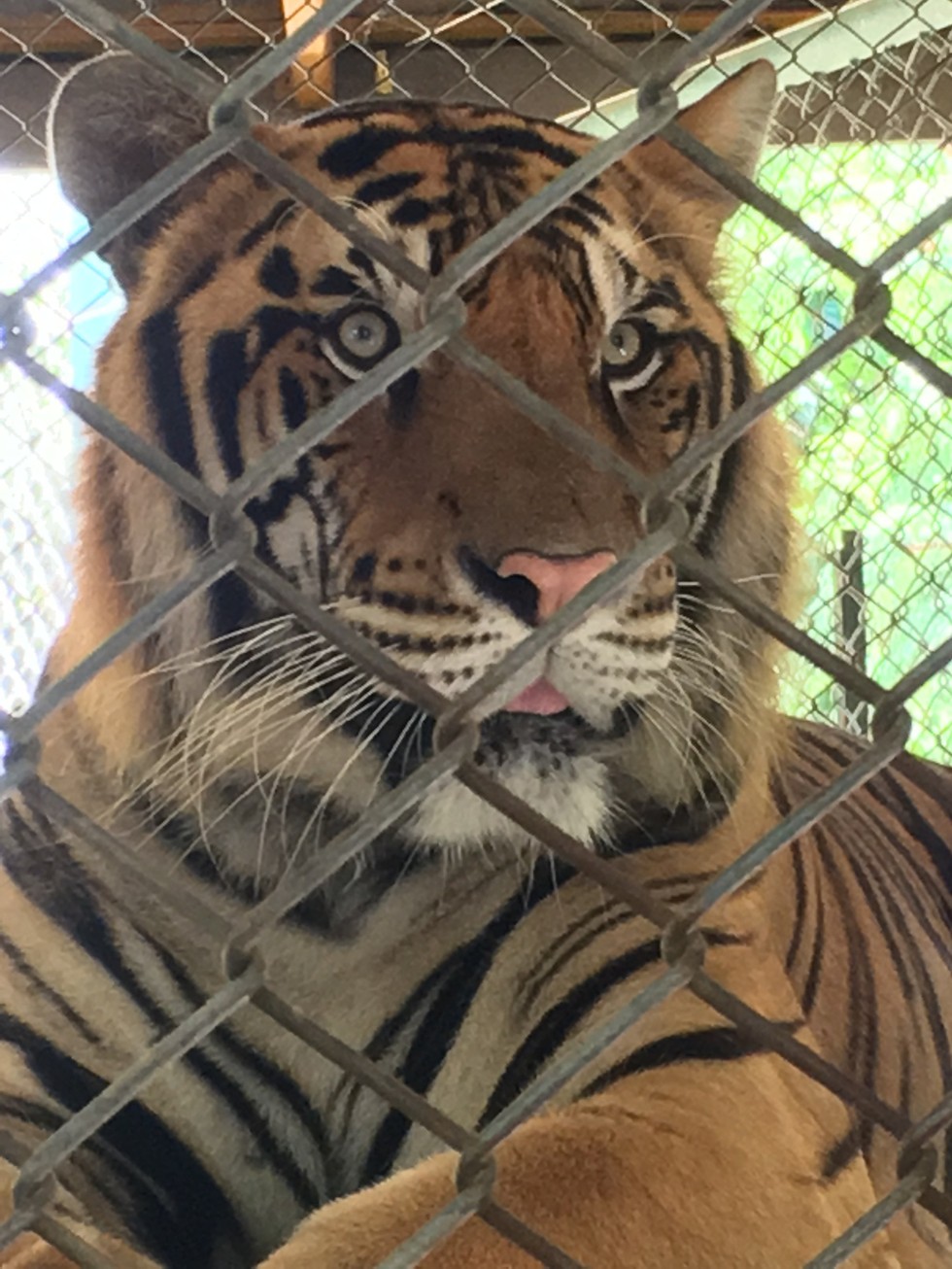 You can sign a petition here to ask TripAdvisor to stop promoting wildlife entertainment venues.
You can donate to World Animal Protection here.
via The Dodo
LIKE US!
Comments
comments powered by

Disqus
LIKE US ON FACEBOOK!