Bobcat found resting on top of giant cactus... how in the world did he get up there??
He's found himself in a rather prickly situation...
A bobcat was found hanging out on top of a giant 50 ft cactus in Arizona after fending off an angry mountain lion.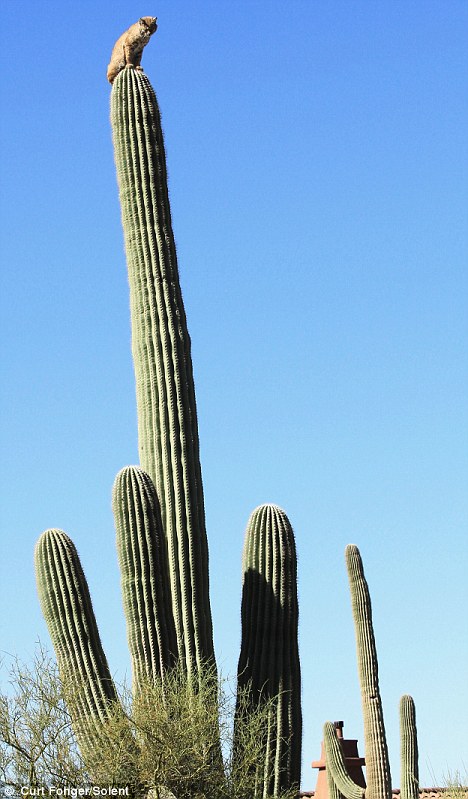 The mountain lion decided that climbing the giant cactus wasn't worth the effort, and after circling the base a few times, it gave up and returned from where it came from.
The drama unfolded on the Giant Saguaro Cactus in Arizona's Sonoran Desert. It is an enormous plant with two-inch spikes and is thought to be up to 300-years-old.
Photographer Curt Fonger, 69, captured what happened on film.
He said: "A friend called me at 7am saying one of his workers had seen a bobcat being chased by a mountain lion."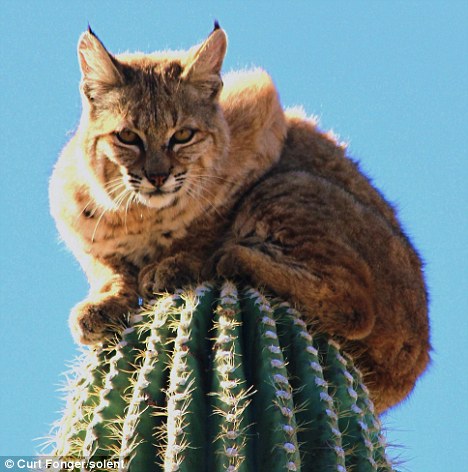 "It ran across the road in front of his car and climbed up a large saguaro cactus at the roadside, with the lion hot on its tail.
The lion didn't pursue the bobcat up the cactus but circled the base. It looked up at the bobcat, growled several times, then turned around and trotted back up from where it had come.
The mountain lion probably had cubs, the bobcat had intruded on its territory and she gave chase to warn the bobcat not to come close to her young family.
I was astonished that the bobcat was on such a high prickly perch.
In fact, the beautiful creature seemed quite content and was lying on top of the cactus. It only stood up when I got it's attention."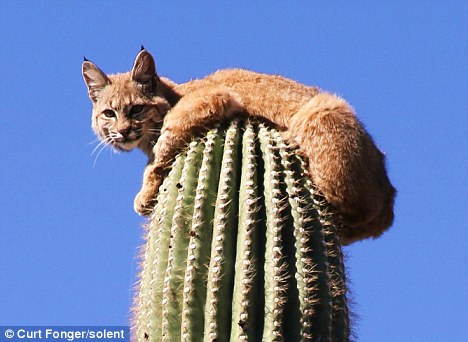 After a few hours making sure the mountain lion was indeed gone, the bobcat climbed back down with ease and ran off.
"When he came down he looked around and then trotted back towards the Superstition Mountains.
Although it may be common for a bobcat to escape one of it's major predators, it is very uncommon to have witnessed such an event first hand.
I personally examined the base of the giant cactus after the bobcat had left. 'There was no hair or blood - only claw marks.
Its a successful story of a bobcat avoided being eaten by a mountain lion with a happy ending of it's successful exit back into the desert."
Bobcats are no strangers to cacti - and have been known to do things like this before and escape with no injuries.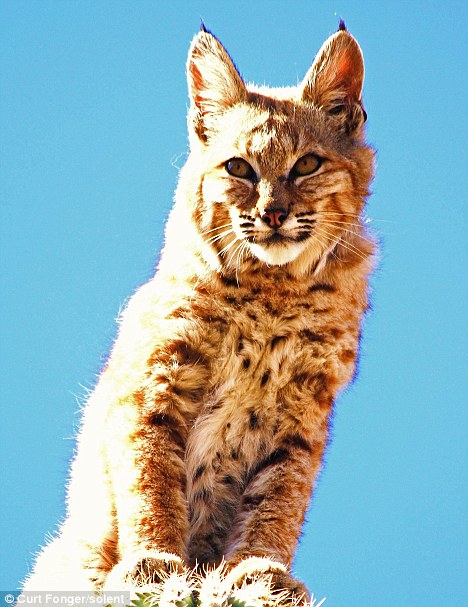 The giant cactus pictured however is extremely rare. Just one in 1,000 seeds germinate and it then takes up to ten years to grow one inch.
That is one serious cat perch!
Share this awesome story!
via Daily Mail
LIKE US!
Comments
comments powered by

Disqus
LIKE US ON FACEBOOK!