21 cats who are PUMPED for the NFL season
Are you ready for some footballlllll?
Because these cats are!
1. This little panther supporting the Panthers
2. This cat hoping for home field advantage for dem 'Boys
3. This cat who calls himself the "Legion of Boom" whenever he sneak attacks the dog
4. This cat who supports the Arizona Cardinals but also realizes he hates cardinals
5. Baltimore cat ready for the smash mouth football of the AFC North
6. Steelers cat who won't stop bringing up super bowls
7. This Raiders fan ready for the silver and black's return to glory
8. This Jets fan who's all business
9. This cat who just found out about Cleveland's DAWG POUND
11. And this cat who's now a Patriot's fan thanks to Gronk's cuddles
12. This stray who really wanted to watch the Packers-Chiefs game
13. This cat who's sick of the Patriots always winning and trying to block a field goal
14. This little Packer's fan who's just in it for the cheese
15. This kitten who's just in it for the snacks
16. This cat who remembered the Bears have to play Aaron Rodgers twice a year
17. This Bills fan waiting for Tom Brady to retire
19. This Texans fan who can't wait to watch JJ Watt demolish his enemies
20. This Washington fan hoping Kirk Cousins can lead them to the promised land
21. This cat demonstrating how to properly swat down a football (cats make the best shutdown corners)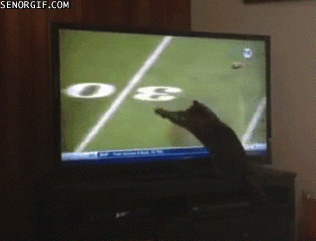 Are you ready for some football?? Share the cute!
If you have your fur friends representing your favorite team, share them with us!
Related Story: Dear kitten: regarding the big game
LIKE US!
Comments
comments powered by

Disqus
LIKE US ON FACEBOOK!