5 Tips to Removing Fleas from Your Cat
Cats are equally prone to fleas as dogs. The fact that they groom themselves doesn't really mean that they can get rid of the fleas themselves. This is why as the owner; you'll have to actively perform some tasks to ensure that your cat won't be bothered by pests. Here are some tips from Annie Anderson of MeowKai, that should help:
Environment Clean Up
The great thing about cats is that they're indoor pets – which mean that it's unlikely for them to roll on the ground. Many fleas lay their eggs on the soil with active dogs eventually having these fleas on their fur. Cats don't have this problem BUT there are other sources of fleas indoors. Here are some notable places that should be cleaned to keep your cat flea-free.
* Carpet – the carpet is one of the most common places where fleas can rest and lay their eggs if needed. It's a good idea to clean your carpet often to make sure that there's nothing living underneath it. Vacuum as often as possible and steam clean the surfaces every now and then for a thorough clean. You'll also benefit from this because consistent cleaning prevents the setting of dust mites and gives your carpet a longer life span.
* Cat Bedding – wash the cat bedding as often as possible to prevent fleas from settling in the area. Ideally, you should wash it once a week to get the stench out and any other dirt or grime your cat might have dragged in. Do NOT wash the cat bedding together with your own stuff. Instead, wash it later or even hand wash it to make sure that the dirt does not blend with your own. Your cat may not like the fact that their bed gets a brand new smell each week but they will get used to it.
* Sofa and Everywhere Else – wash and clean every other surface where your cat likes to hang out. The sofa, the chair, and your bed are prime places.
* Flea Trap – you can also create a flea trap that attracts fleas and keeps them trapped in soapy water where they eventually die. The trap is a combination of dish soap, warm water, and night light combined in a shallow dish. Just place them wherever you think fleas are most likely to be present and leave it on during the night. In the morning, you will be surprised at how many fleas would be floating on the surface.

On Pet Flea Control
You can also use flea control methods directly on your cat. There are several techniques that you can use, depending on what is most effective or easiest for you.
* Flea Collar – start with something simple by attaching a flea collar to your cat. Flea collars have to be changed on a routine basis, but they do provide preliminary protection for your pet. For the most part, flea collars are a preventive measure which means that before putting it on place; you have to make sure that your cat is already free of fleas.
* Flea Drops – you can also use flea drops that would seep into the cat's skin and prevent fleas from making their home in your pet's fur. These often have a month long effect and would prevent not just fleas but also tick from settling. Again, they are preventive measures and best used when your cat is already free of fleas.
* Medication and Tablets – you can also give your cat tablets specially made to get rid of fleas. These tablets work by doing something to the cat's skin and blood so that fleas are repulsed by the smell, thereby ensuring that they do not make their home in between the fur. Note though that flea medications and tablets should only be given upon approval by the doctor. Cat medication and dog medication are two completely different things so you can't use one for the other unless written on the medicine.
Cat Bath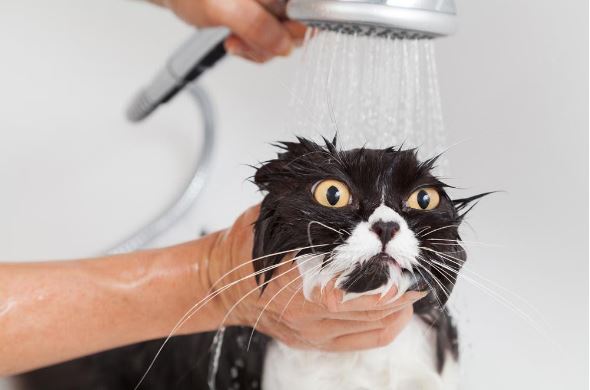 Cats in general hate baths but if you've managed to introduce them to water early on, these felines would adjust. A bath would be an excellent way of making sure that your pet would remain flea-free plus, it keeps your pet clean of general dirt and smell. Although most cats clean themselves on a routine basis, there's nothing quite like giving your pet feline a thorough bath – especially if you let your cat sleep in your bed. To boost the effects of the bath, use a shampoo that's specially formulated for cats. You can also use apple cider vinegar to get rid of the fleas.
Nematodes
This technique is fairly unique and perfect for cat owners who live in a relatively moist climate. Nematodes are parasites that target other parasites – namely insects like fleas and ticks. They're not harmful to cats, dogs, and humans so you can place them around the house safely. Just start pouring a small amount in certain entrances of your home as recommended by the manufacturer. These will act as a defense line against fleas that would try to get in. They can be purchased through your typical pet store.
Consistent Checking
Unfortunately, fleas aren't something that can be cured with just one method. It's important that you continuously check your cat for fleas, even if your cat doesn't go out or doesn't socialize with other animals. Fleas have a way of finding hosts which is why it's still likely for felines to have after a month or so later. Fortunately, fleas are easy to spot since they leave black powder traces on your cat's fur. Scratching isn't always a solid sign of flea in your cat, but it does tell you if it's time to check.
A cat free of fleas is certainly healthier if not happier. Considering how some fleas and ticks are carriers of disease, it makes sense to keep your feline safe from ticks so that you too can avoid tick-borne conditions like Lyme Disease. That's really all a cat needs: a clean kitty litter, a loaded automatic cat feeder, and a fur free of any fleas. Once you provide all those three, you can leave your pet safely home and be assured of their continued contentment throughout the day.
Did you find this helpful? Share and let us know!
Related Stories:
How to get your cat to stop scratching your furniture
How to make a self scratcher for cats
You're setting up your litter box all wrong!
Guest post from Andie Anderson:

Annie is the founder of MeowKai, where she and her associates write about cat behavior, health issues, and tips and tricks on how to get your cat to behave! It concentrates on creating the best life for you and your cat so you can enjoy each other's company and build that trust that is so important between pet and human.
LIKE US!
Comments
comments powered by

Disqus
LIKE US ON FACEBOOK!