Scaredy cat jumps on police officer's shoulders and stays there while she looks for suspect
When human police officer, Sarah Kewin, went to go investigate a burglary, she stumbled upon an unexpected guest.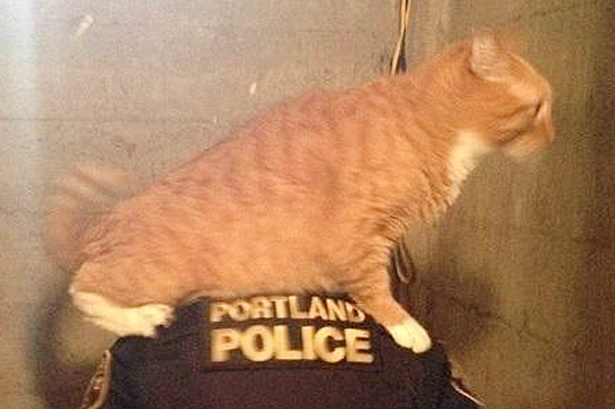 There waz some broken glass on the floor, and the human decided to pick the cat up so he wouldn't cut hiz paws. Well, the cat decided to climb on top of the human's shoulders and remain there az the humans continued to search the rest of the house.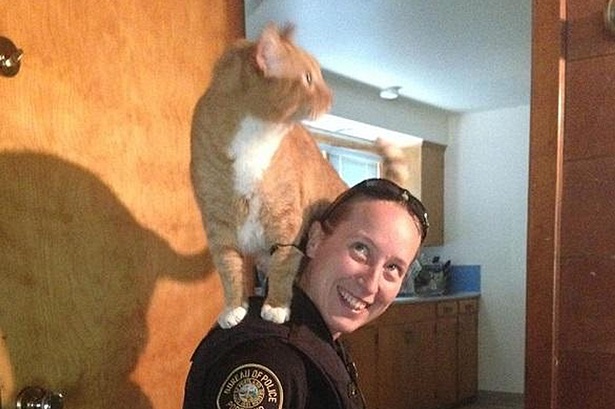 The police iz still investigating, and everyone got a good laugh at the "scaredy" cat.
Well, just so happens that I haz found that cat, and got him to tell hiz story to me.
"Yeah... so I waz just minding my business... you know... grooming myself, staring at the wall, debating whether to nap or to kill something... when all of a sudden I hear this bang! I waz like... woah.... some freak iz trying to get in here. My human waz not home, so I hid under the bed and prepared myself for battle. It waz only a matter of minutes before the intruder entered the bedroom... he slowly approached... and hiz feet went to the edge of the bed.... and then I went for it. With a high pitch battle cry and the power of Thor pumping through my claws... I swung down my hammer fist and clenched deep into hiz foots! He screamed so loud and the fear in hiz eyes brought a smile to my face... he then booked it out of there to never be seen again. I iz awesome. So when the police finally came, the human officer picked me up and naturally I thought this waz a moment from the movies... when they hoist the hero up onto their shoulders and shout hoorah! and some parade follows with confetti and stuffs. But there waz no parade... no confetti... no one to tell me I iz an awesome kitty. Sigh... humans iz stupid."
And there you haz it folks... humans iz stupid.
Original story from Mirror... additional cat interview from yours truly.
LIKE US!
Comments
comments powered by

Disqus
LIKE US ON FACEBOOK!