These two cats playing with their first KitNipBox will make your day
Our kitty bosses got their paws on a KitNipBox and in their words… "Total Awesomeness!" (Scroll down for the code for 12% off!)
Minnie (our brown striped tabby – and CEO) and Sylvia (our three legged tortie President) seriously enjoyed this pretty awesome box. These two, who… are frenemies at best (getting better though – they love each other but will never admit it) actually came together to investigate with only one mini paw smack at each other's heads…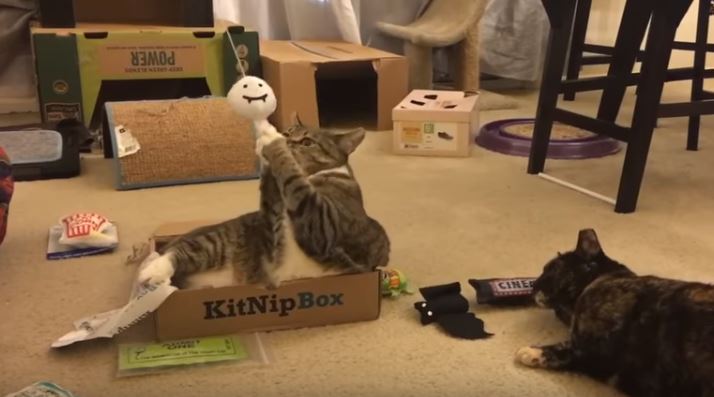 Anywho, KitNip Boxes contain high-quality cat toys, all-natural treats, and other fun, healthy cat products. They are a monthly subscription service which brings a box filled with gifts for your kitty right to your doorstep. Even better, a portion of their proceeds is donated to animal welfare causes.
They usually come with an adorable theme, and we were lucky to receive a movie themed KitNip Box.
Here's what our kitty bosses got to play with/investigate.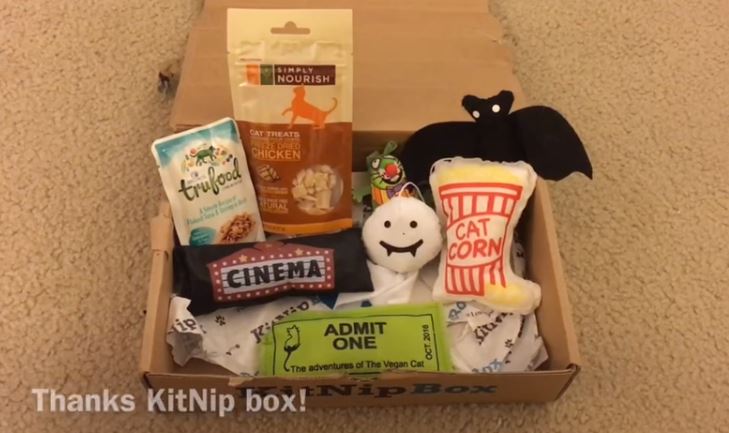 Handmade Movie Ticket – unique toy stuffed with organic catnip and purrmits your fury friends to enter the theater! (Minnie's favorite)
Safemade Popcorn – when your kitties try sneaking into your movie stash, toss them this fun crinkly toy!
Marquee Kicker – Grade A leaf and flower catnip in this super potent kicker
Safemade Catnip Bat – Spooky bat with floppy wings and a plush stuffed body (Currently in Sylvia's cat bed)
Leap Ghost Dangler – a bouncing ghastly ghost for your cats to hunt (Minnie is a regular ghostbuster)
Flower/Chic Mouse – a mouse stuffed with high grade organic cat nip (Has currently disappeared… we expect Sylvia has taken it and hidden it in her private stash)
Simply Nourish Freexe Dried Treats – Deboned chicken mean that our cats (who are super picky with treats) leapt off the couch for.
Wellness Complements – a delicious, nutritious meal addition in a tasty broth!
The box itself – of course, the box itself was a hit. Both enjoyed trying to fit their fur butts inside. #ififitsisits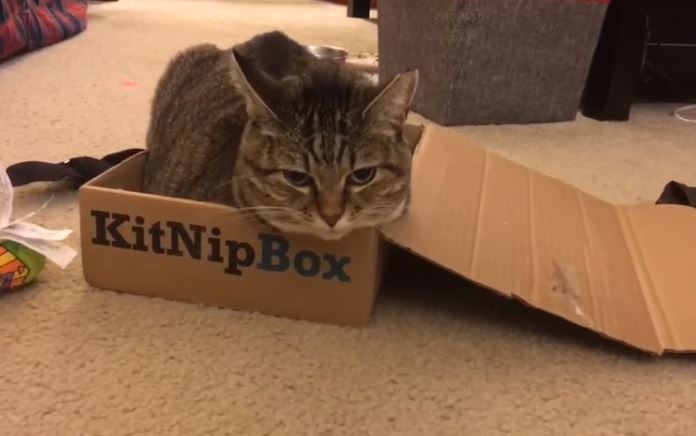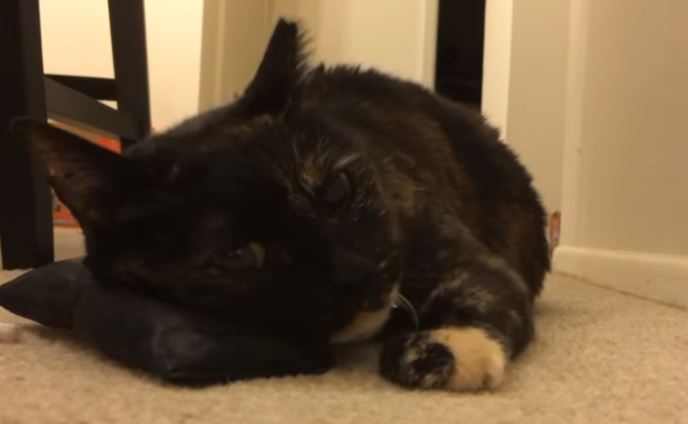 Don't take our word for it, watch these two go crazy in the video below!
Get your very own KitNipBox by visiting their website and check out their Facebook!
Use the code IIZCAT for 12% off your first month!
Share the cute!
Related Story: 23 cats who might have a catnip problem...
LIKE US!
Comments
comments powered by

Disqus
LIKE US ON FACEBOOK!