How to properly play with your cat
If you have an overactive cat chances are that you aren't playing with him or her enough. Play time is a great way for your cat to exercise, relieve stress, and to bond with you.
Here are some tips to properly play with your cat.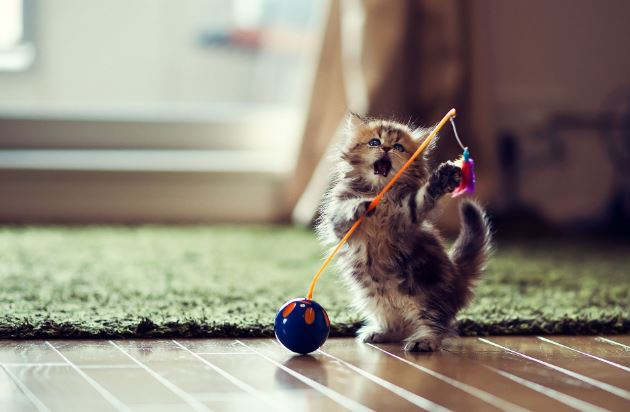 1. Remember your cat is a killer
Your cat wants to hunt. They want to kill. They are our adorable little murder machines.
That means they want something interactive to play with - something to chase and test their skills out on. Interactive toys work wonders to get your cat engaged. These include wand toys with string or furry critters attached to them. Try to make the toy look like a frightened critter.
It runs away from the fierce kitty; it hides around the corner, it ducks under the rug, it freezes. Don't overdo it; subtle moves are quite effective. Vary the speed and direction of the toy. Bonus: set out boxes and tunnels that both cat and "mouse" can strategically use for cover.
2. Keep a rotating array of toys on hand
Just like humans, we get bored with our stuff. Cats need options just like us.
Some good cat toys you can buy: wand toys, balls with bells in them, catnip mice, and crinkly catnip things. Some great toys you already have at home: wads of paper, straws, and plastic rings from milk or juice containers
3. Let kitty set the pace
You can't force a cat into playing, but you can try different approaches to see what generates interest.
If your cat is taking a nap or tucked away, they might not be in the mood to deal with a dangly string in their face. Match the action intensity to your cat's interest.
If your cat is really wanting attention, grab their favorite toy and watch them go!
4. Let kitty win
Don't make it too easy; let your cat enjoy the pursuit. But when he comes in for the Big Pounce, let them score a direct hit and savor the thrill of victory.
5. Play time routine
Your cat needs attention and exercise every day. Once you start playing with your kitty more, you can start to read when your cat is ready to play.
Everyday after work and just before bed are great starts. This also helps your cat learn when its time to play - and when its time to let you sleep (as in 3AM to a very chatty kitty who wants attention.)
6. Plenty of praise
After your cat gets that "kill", remember to give them plenty of praise and treats.
Make the victory a little sweeter with a nice treat and tell them what a good hunter they are.
Heres a video to watch to help out below:
Remember play time is supposed to be fun! Fun for them and fun for us! :)
(h/t) About Home
Related Stories:
Cats are much happier and healthier when they have to work for their food
LIKE US!
Comments
comments powered by

Disqus
LIKE US ON FACEBOOK!