8 signs that your cat might be in pain
Sadly, our fur babies can't simply tell us when they're not feeling well. "Hey, human. My tummy really hurts. Let's go to the vet." That likely won't ever happen... unless those talking collars become a thing.
So here are some signs to look for that your kitty might be in pain.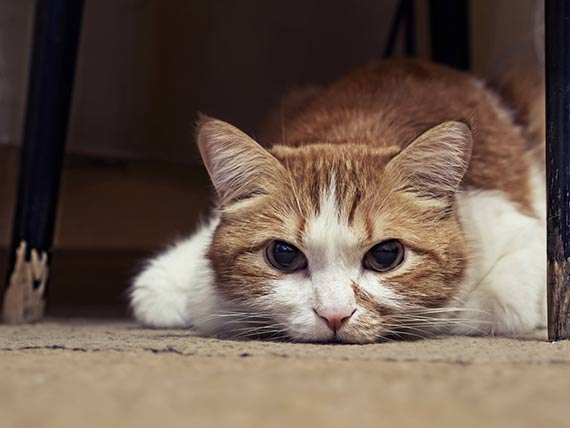 1. Increased vocalization
This might be the most obvious - your cat is vocally trying to call for your help. More meows and more hollering.
2. Dilated pupils for extended periods of time
Dilated pupils can indeed indicate pain. Look closely into your kitty's eyes. If the dark centers seem to be a lot wider than usual, the little one may be in a lot of discomfort at the moment.
3. Hiding
Cats love to hide and play, but what we're talking about is hiding and a reluctance to move from that hiding place. They are trying to heal themselves and know that they are vulnerable.
4. Abrupt change in behavior
If your normally friendly cat starts becoming short-tempered, don't write it off as kitty just being in a bad mood. Cats are creatures of routine and a change in behavior can be a warning sign of something medically wrong. Lack of playing, distancing oneself, and becoming more defensive are signs to look out for.
5. Lack of appetite
Food is the way to your kitty's heart. A lack of appetite is not a good sign.
6. Change in litter box habits
Bathroom habits are pretty routine. A change in those habits could mean your cat is experiencing discomfort or pain.
Urinating and defecating outside of the litter box, going more often than usual or less often, straining when using the litter box are all signs to look out for.
7. Excessive grooming/licking of particular area of the body
Cats will try to self heal themselves and licking/grooming is natural to clean a wound. If you see your kitty constantly licking an area - that area most likely is giving them discomfort.
8. Growling and groaning
Obviously when your cat is growling or groaning, that's not because he/she is happy.
Growling and groaning can be from fear, anxiety, and or pain.

Any sign that your cat isn't acting like him or herself, it's a good time to take your cat into the vet for a check up. Waiting it out can potentially turn a small issue into a life threatening one. Like we said, a cat is not going to verbally tell you they're not feeling well, so be observant and keep an eye on your fur baby.
Share this info with your friends!
Related: 10 signs your cat might have cancer
(h/t) PetMD and Cat Behavior Associates
LIKE US!
Comments
comments powered by

Disqus
LIKE US ON FACEBOOK!