When she met her future husband, he told her he wasn't really into cats... but boy was he wrong (Gallery)
Erika has always loved cats and rescued three adorable fur babies. Erika has always loved cats and rescued three adorable fur babies through out the years. Then she met her future husband, and at first he said he wasn't into cats.
But cats have a way of opening our hearts.
Meet William, Luey, and Inara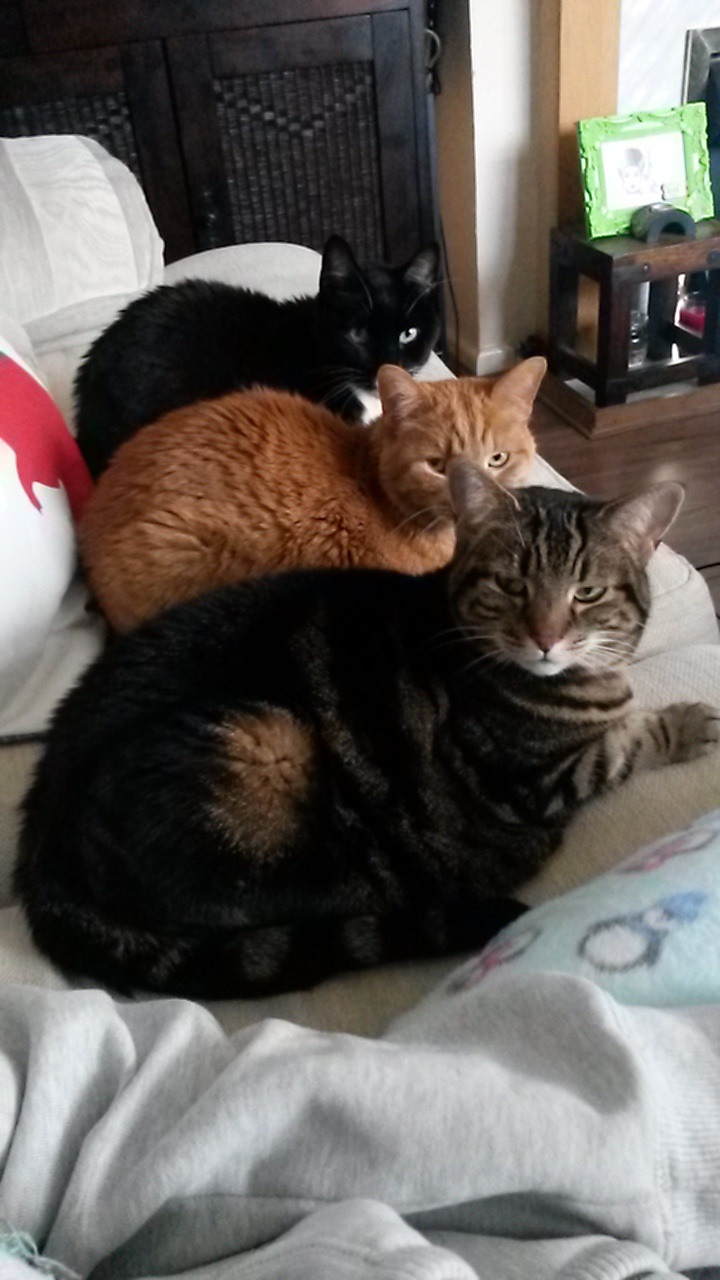 courtesy of Erika Baewer
"My cat's names are William (black & white tux, 13), Luey (red American tabby, 13), and Inara (brown tabby, 9). William and Luey came into my life 12 years ago while I was volunteering at a cat shelter called Touched by a Paw in Whitewater, Wisconsin, USA," Erika shared with iizcat.
"Someone had dumped William on a farm, left him in a box with no food or water in 90*F heat. When the call came to us the farm's owner, I went out to retrieve him and found the saddest looking kitten, too weak from starvation and heat exhaustion to even lift his head. After nearly 2 weeks at the vet, William was finally released back to the shelter for further care."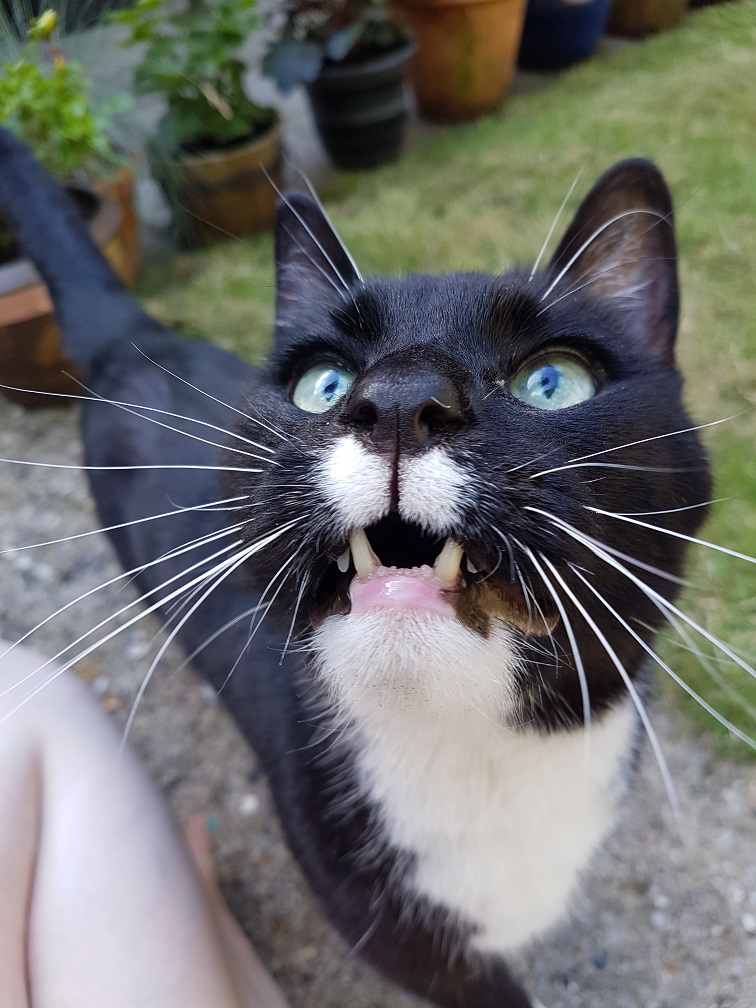 courtesy of Erika Baewer
"When I picked him up, he would not stop meowing or clinging to me, he was so obviously claiming me as his human! I filled out the adoption paperwork the day he was back, but it would be a long while before I could take him home."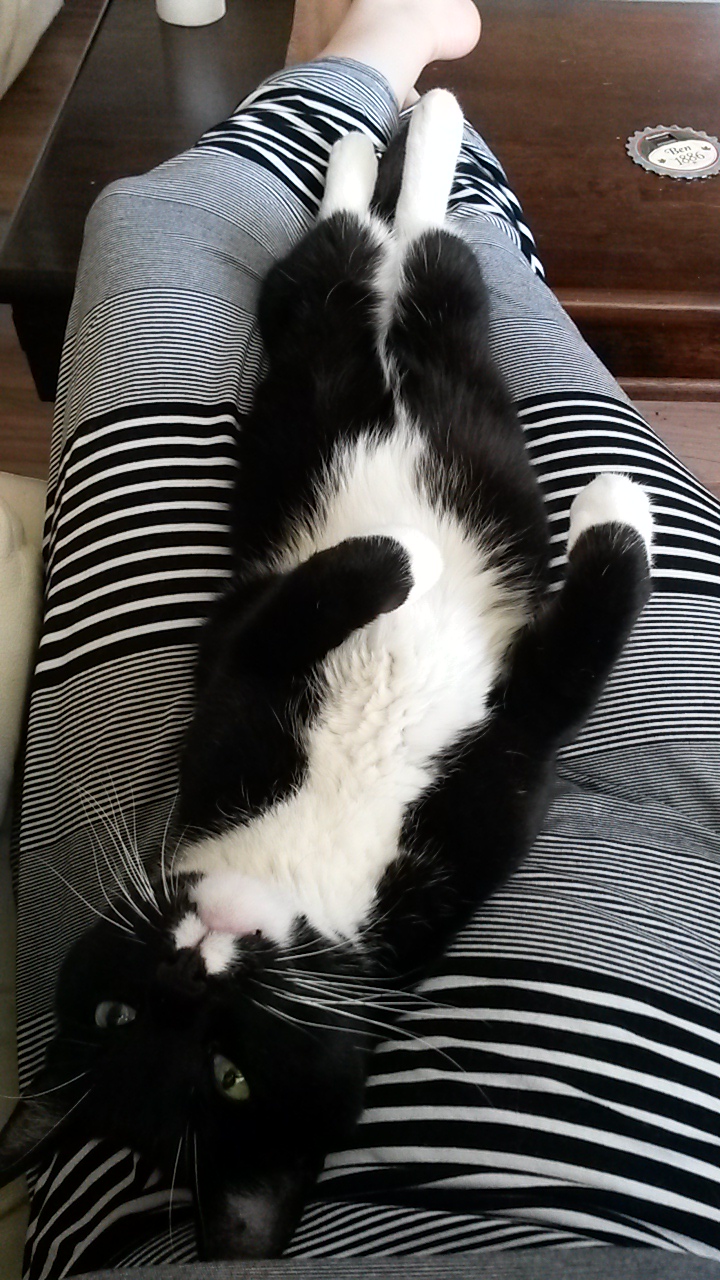 courtesy of Erika Baewer
It was during that time I knew I would have to find a playmate for William; that's when Luey came into my life."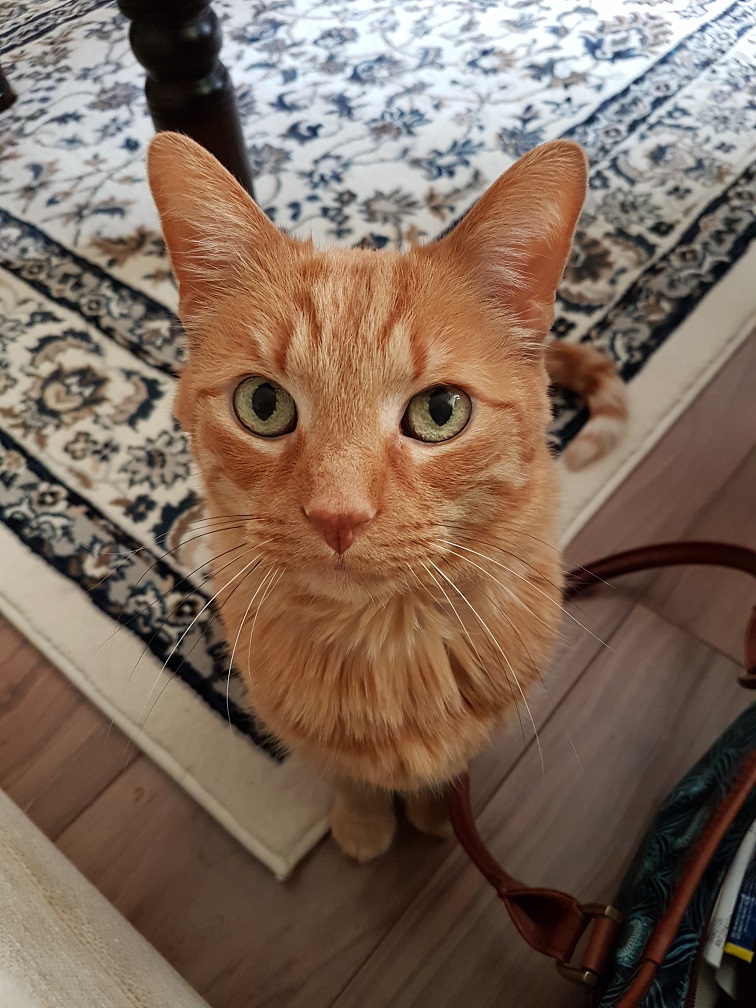 courtesy of Erika Baewer
"Luey had been adopted out twice previously and was on his 3rd stint at the shelter. The first couple had adopted him, but then broke up shortly after and dumped him back at TBAP. The second lady adopted him but got fed up with the fact that he would "sleep all day and make too much noise at night"."
"Their loss was certainly my gain as the first time I picked Luey up, he gave me a whopping great kiss and started purring like a maniac. Call me a softie, but who could resist that kind of kitty-lovin'?"
Fast forward to 2007, Erika had moved to Hertfordshire, UK and taken her boys with her. She was volunteering for the Cat Protection League when she met her third cat, Inara.
She was fostering Inara and her two siblings, and when her siblings were adopted out together, Inara was left all alone.
"Sadly, no one seemed to want to give a home to 1 little girl kitten on her own. After having been looked over for nearly a year, I decided to keep her and officially add her to the family."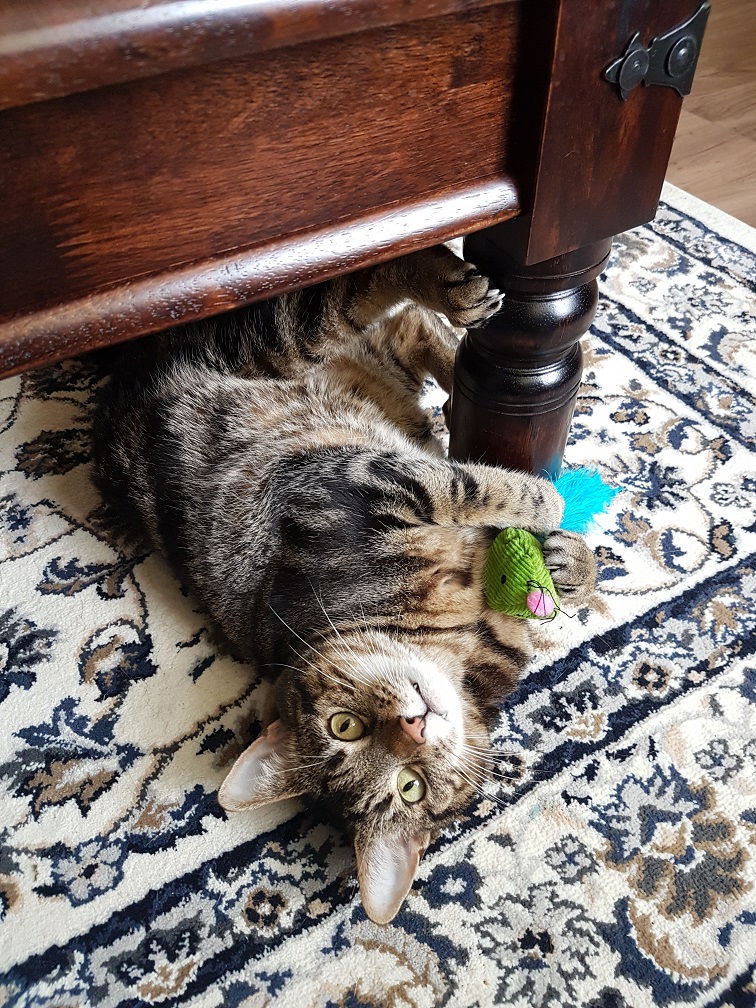 courtesy of Erika Baewer
"Her presence really rounded us out; William is the hysterical, anxiety-ridden, attention seeker who caterwauls all day long and starts drooling with excitement if you so much as look at him.
Luey is often referred to as the "ginger ninja", and wouldn't think twice about tripping you down the stairs, pushing your glass off a table, or sleeping on your face. On the other hand, I'm fairly confident his purrs are actually louder than a motor boat, he never seem so be able to give us enough kisses, and it's physically impossible to sit down anywhere in our home for longer than a millisecond before he magically appears on your lap.
Inara, our sweet princess, typically hides from anyone other than me or my husband. But once she gets to know you, it'll be impossible for you to get rid of her. She is the fiercest snuggling machine I have ever encountered; she doesn't ask for cuddles, she demands them."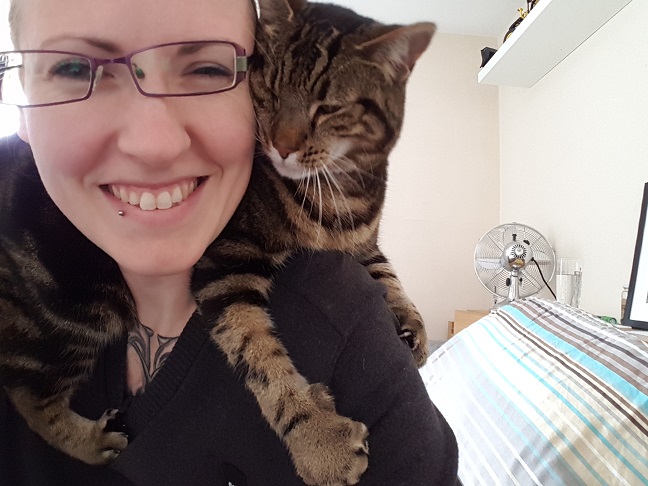 courtesy of Erika Baewer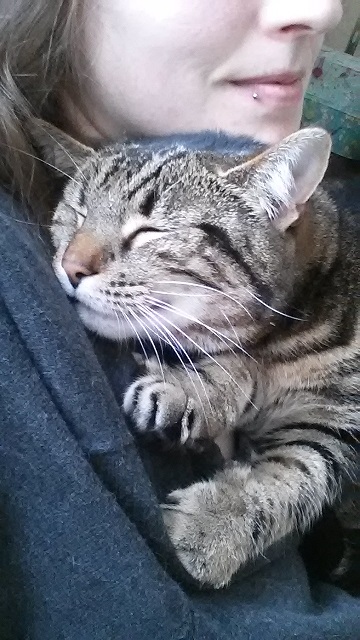 courtesy of Erika Baewer
She then started dating her future husband in 2011 when they met as coworkers at a print management company two years prior.
"When we first got together, Ben claimed to "not like cats" and really hadn't had much experience with pets. That changed the second he met my fur babies."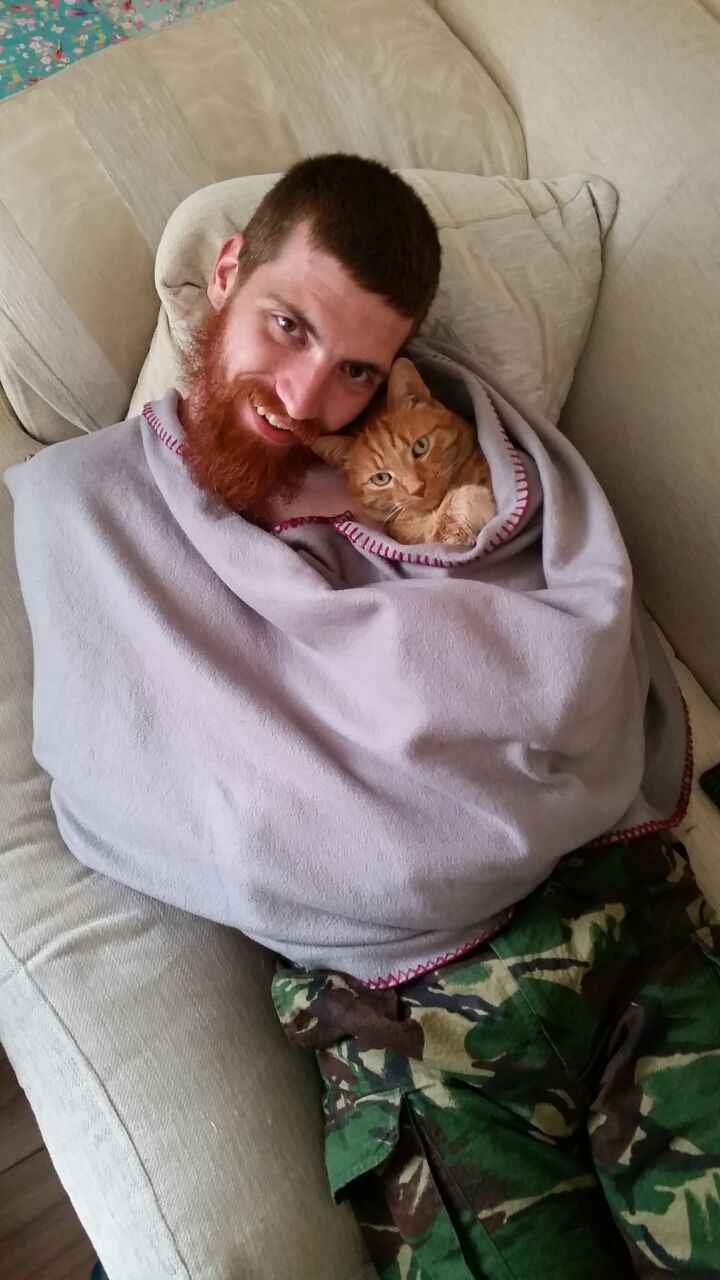 courtesy of Erika Baewer
"He was cooing to Inara, playing on the floor with William and cuddling with Luey."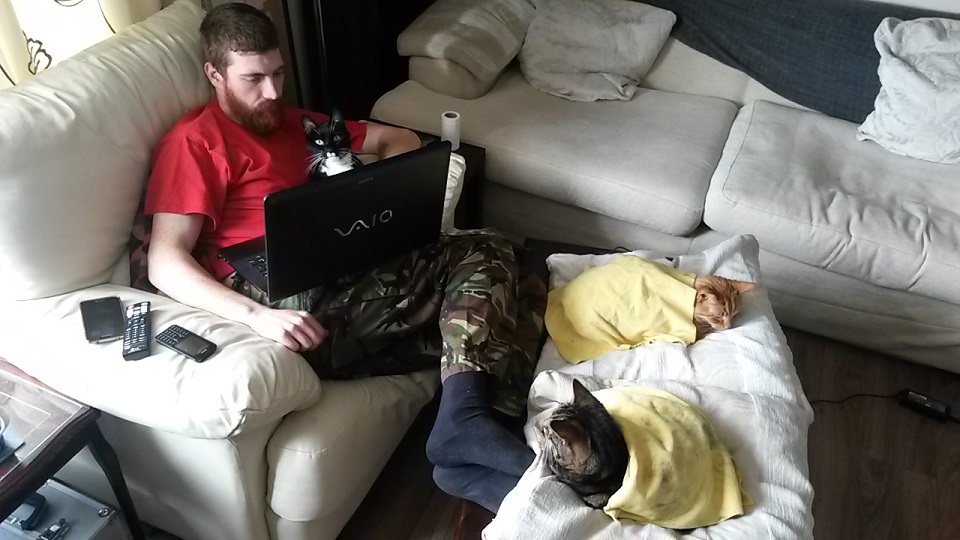 courtesy of Erika Baewer
Dinner time!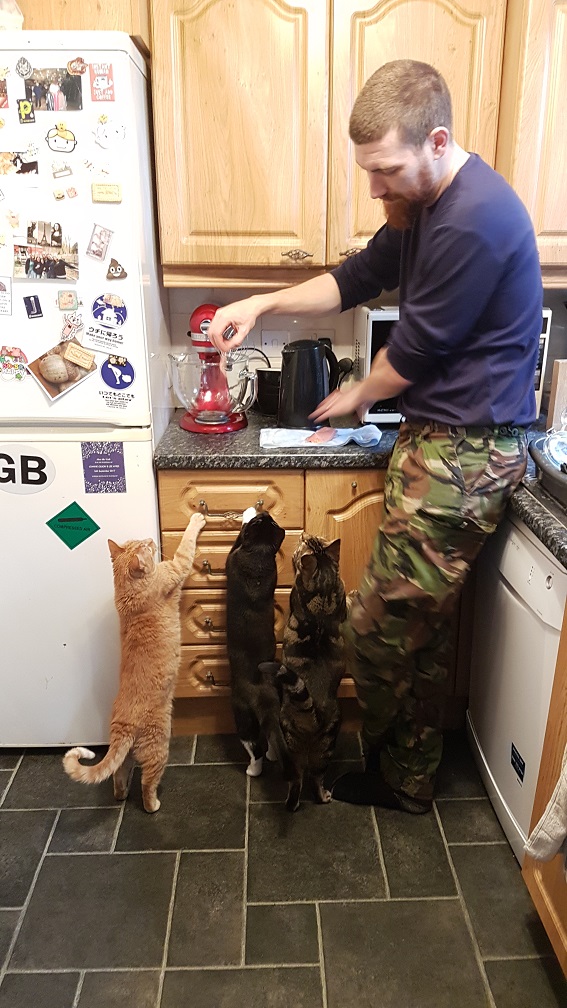 courtesy of Erika Baewer
"The 5 of us have become such a close-knit family that when Ben and I got engaged in 2014, we knew we wanted the cats to be a part of our day."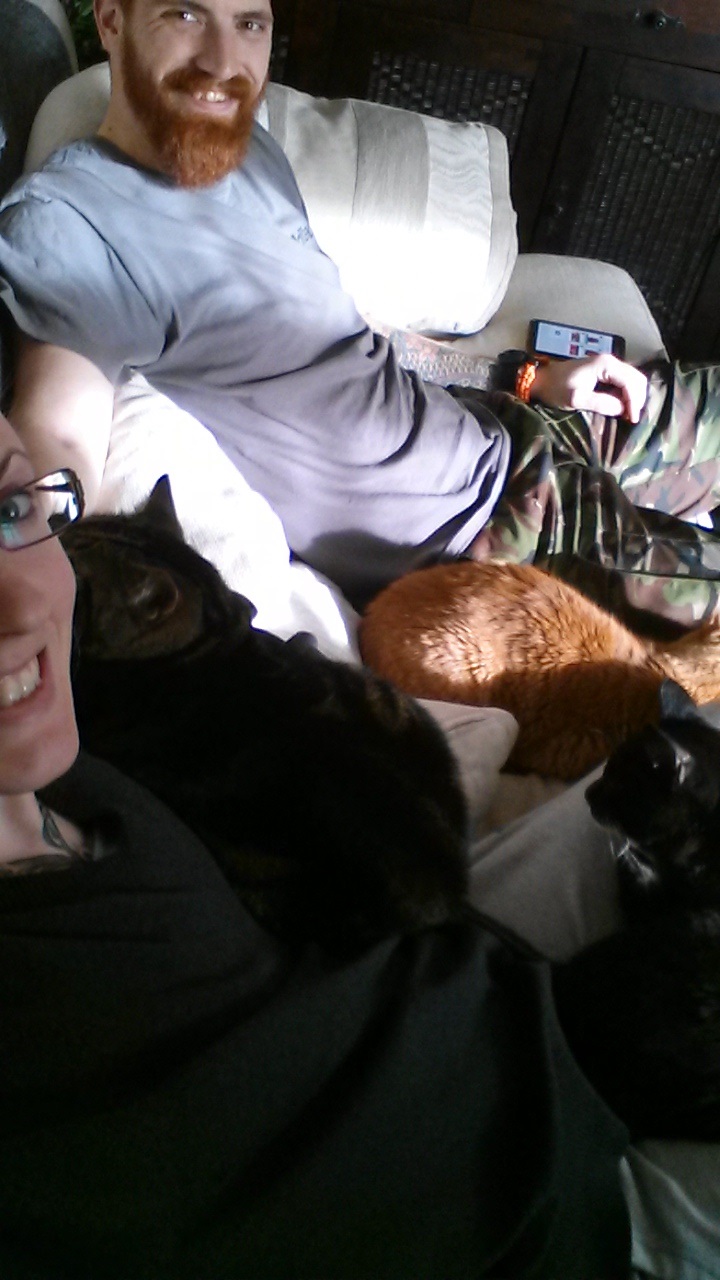 courtesy of Erika Baewer
"Since ours was a low-key wedding, we were getting ready at home with just the 5 of us and my Mom. It was suggested to us at one point that we should put our cats in a cattery on the day to make sure they wouldn't get any cat hair on my wedding dress. I figured all my other clothes and possessions are completely covered in cat hair, so why should my dress be any different?"
"Just before leaving to go to the local registry office, we popped the kitties into our bedroom to keep them safe from the guests when they started arriving back to our home for the BBQ reception."
"Once all the guests had arrived and everyone had eaten, Ben and I got everyone's attention to let them know that the house was now closed while we went in to have family photos done with the fur babies."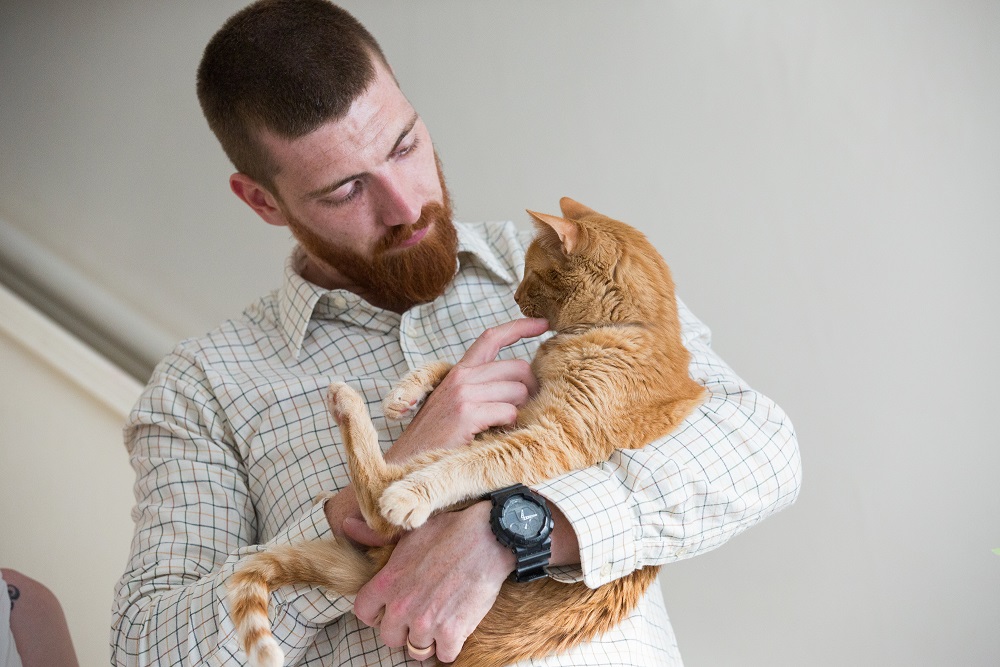 courtesy of Erika Baewer
"We let the cats out and they went wild around the house since they had been locked up for a good few hours. The only way we could get them to stay still long enough to get a few pictures was to ply them with lots and lots of treats!"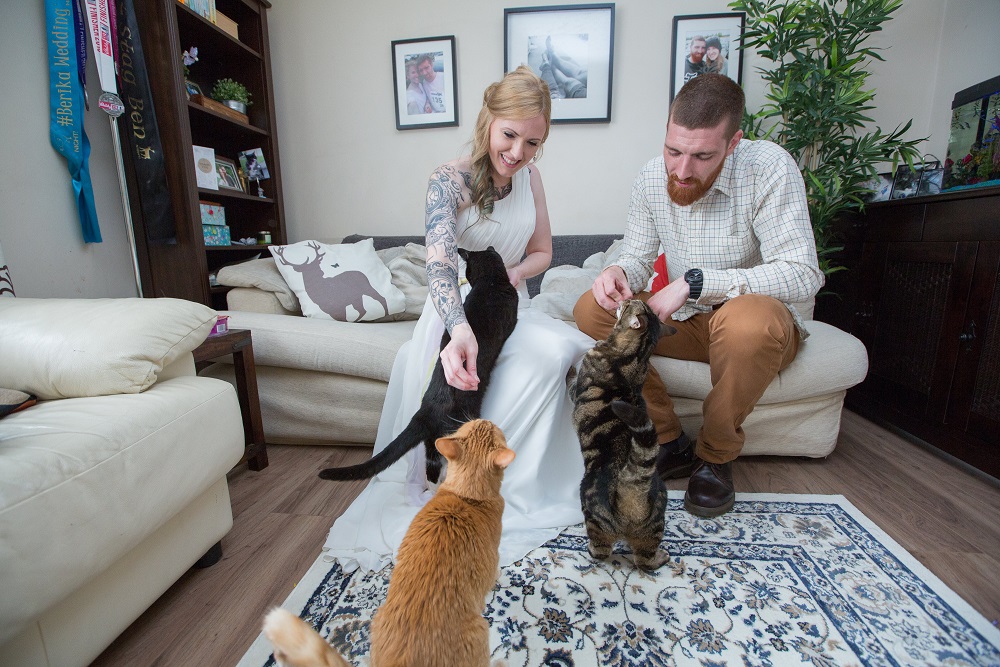 courtesy of Erika Baewer
They settled down while we had them on our laps, but you know cats, their will is definitely their own... Luckily we had the best photographer; Mandy Carter from Dottie Photography is utterly brilliant and was able to get some really amazing shots of us and the fuzzbutts."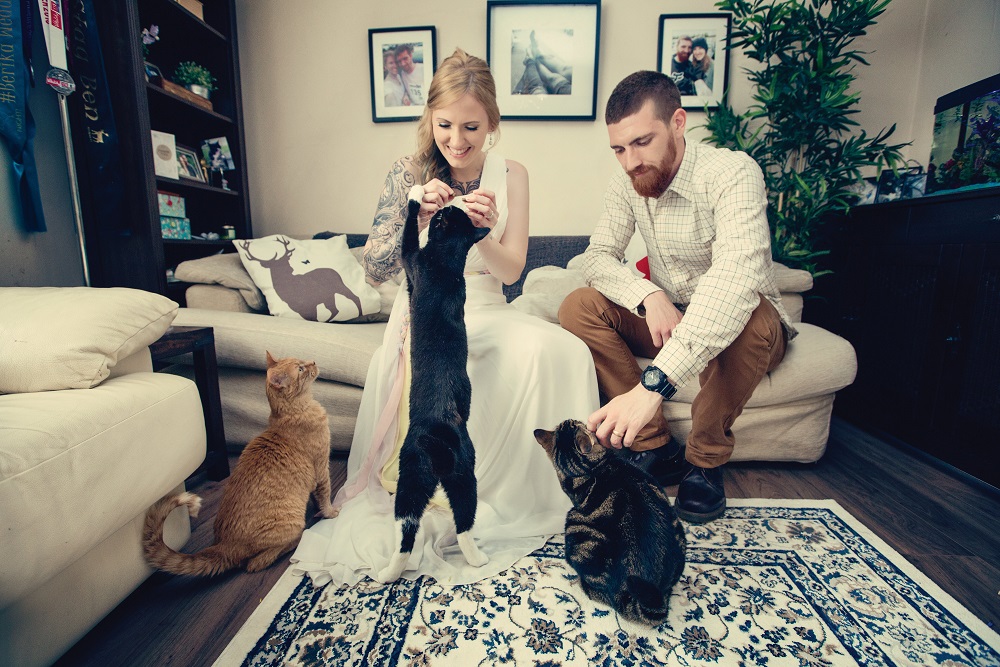 courtesy of Erika Baewer
"To Ben and me, the photo of us with William, Luey and Inara on our wedding day epitomises our definition of family."
"We know they love us as much as we love them; everywhere we go in the house, they follow. If we're on the sofa, they're on the sofa too. If we're in bed, they're snuggled up with us. If we're in the kitchen cooking, they're carefully supervising our culinary skills. If we're in the shower, they're sitting in the bathroom testing the acoustics and serenading us with their dulcet tones."
"There really is no better life to live than one that is shared with cats."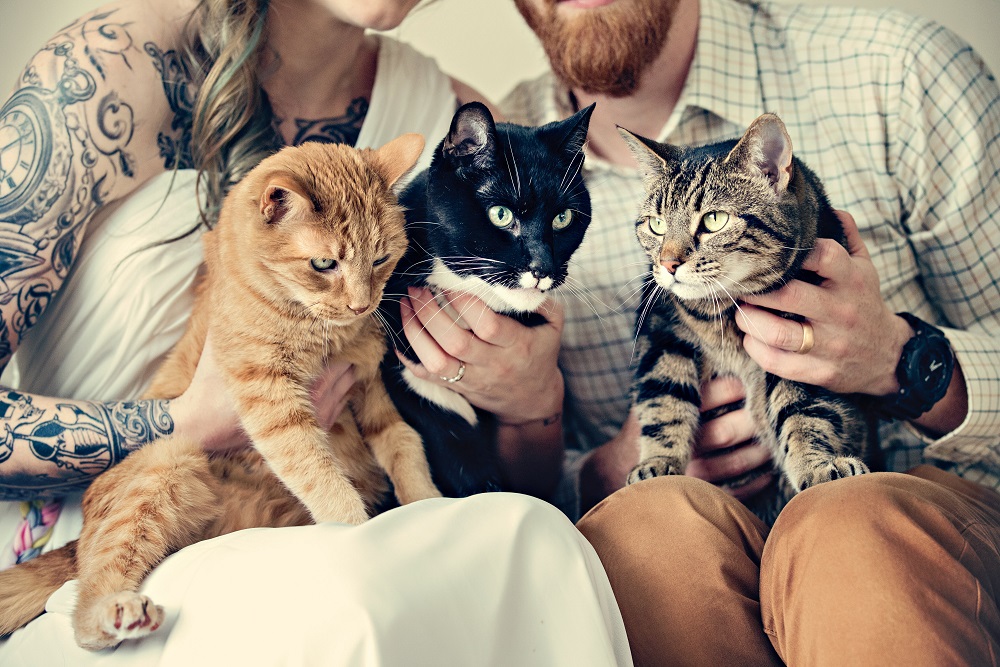 courtesy of Erika Baewer
Share this adorable story!
Cat families rule :)
Related Story: Canadian couple gets married in front of 1,100 guests... and they were all cats! (Gallery)
LIKE US!
Comments
comments powered by

Disqus
LIKE US ON FACEBOOK!