Dear diary: the humans shockingly didn't like the Thanksgiving dinner I prepared
An online diary post from our kitty CEO:
Yet again I'm unappreciated.
Thanksgiving has arrived so I wanted to thank the humans for being excellent servants. I saw them baking a giant frozen skinless bird that didn't look appetizing at all. Where were the feathers? The beak? My human has recently been on a health kick, only wants to eat organic, and what is more organic than getting a fresh kill for dinner?
So, I snuck out back and searched for a nice plump wild turkey to murder.
Funny thing is… I could not find a single wild turkey. I searched the park, the neighbor's yard, and even the sewers… nothing.
So, I figured I'll just kill some tasty pigeon. It didn't take long to find one and take it out with my insane ninja pouncing skills. Sadly, I realized that one pigeon wouldn't be enough to feed all the humans coming over.
So I went on a killing spree, and I got some good stuffs. Went into the sewers and got two rats, killed like a dozen spiders, and found a seriously fat roach. This roach must have been the queen or something because it was huge and put up more of a fight than both rats combined.
Anywho, I returned home, and while the humans were in the living room conversing and drinking, I decided to put my dinner onto their plates. I cut up the pigeon and rats into nice tasty pieces, sprinkled the spiders on the side (they were still wriggling a few – a big hairy one crawled into the mashed potatoes before I could stop it… but figured it'll add some much-needed crunch to that dish) and placed the roach queen on the table with its legs sticking up like a glorious centerpiece.
Well, as they all arrived into the room to begin their feast, I sat below the table, ready to hear their shouts of happiness and tears of joy.
Well… I heard plenty of shouts and plenty of tears… but not for the reasons I was expecting.
Grandma fainted, a few cousins including an aunt threw up, and the queen roach surprised everyone and sprang up and launched itself… onto my human's face. I've never heard him scream like that… so high… so loud…
Well, I've been locked away in the bedroom with the dog. Oh the dog is locked away because he decided to eat all the desserts during the chaos and then threw up in my human's girlfriend's lap. I couldn't stop laughing and that made my human even more mad…
Anywho – after everyone calmed down and stopped crying, Thanksgiving went on as planned. The human even slipped me some turkey strips from under the door.
I guess this Thanksgiving wasn't so bad. I got a nice quiet room to relax in, snacking on turkey strips, while the dog poops in somebody's purse because I told him that's what good dogs do. (He's so stoopy… he's so desperate to be a good dog that I can convince him to do anything if that means it'll make him a good dog. Ha!"
Happy Thanksgiving. Can't wait for Christmas dinner! I'll hunt them something nicer… like a skunk or some snakes.
-i iz cat
P.S. Grandma found the hairy spider in the mash potatoes. Her scream was almost as loud and girl as my human's... almost.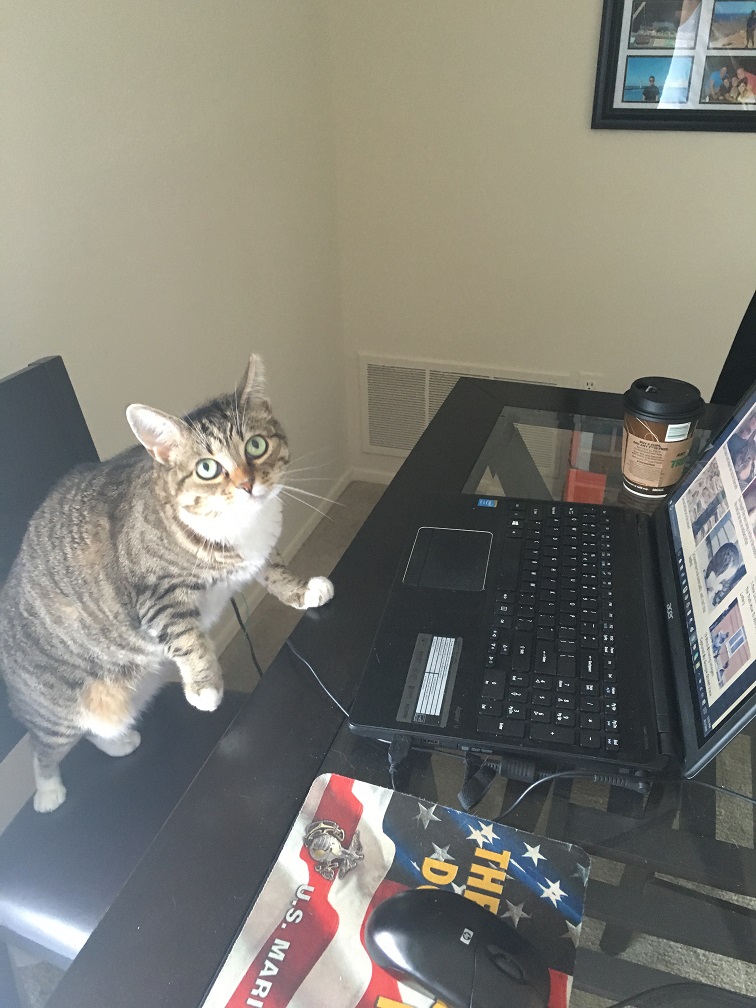 Share the cute!
Related Stories:
Dear diary: I need to time travel back to Ancient Egypt so I can be worshiped properly
LIKE US!
Comments
comments powered by

Disqus
LIKE US ON FACEBOOK!