7 purrfect cat life hacks for the holidays
The holidays are approaching, so here are some life hacks to keep you and your kitty happy.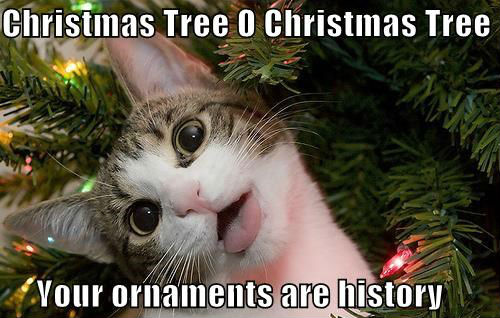 1. How to kitty proof your Christmas tree.
Kitty proofing your tree is a hassle for most cat owners. Check out this complete guide here.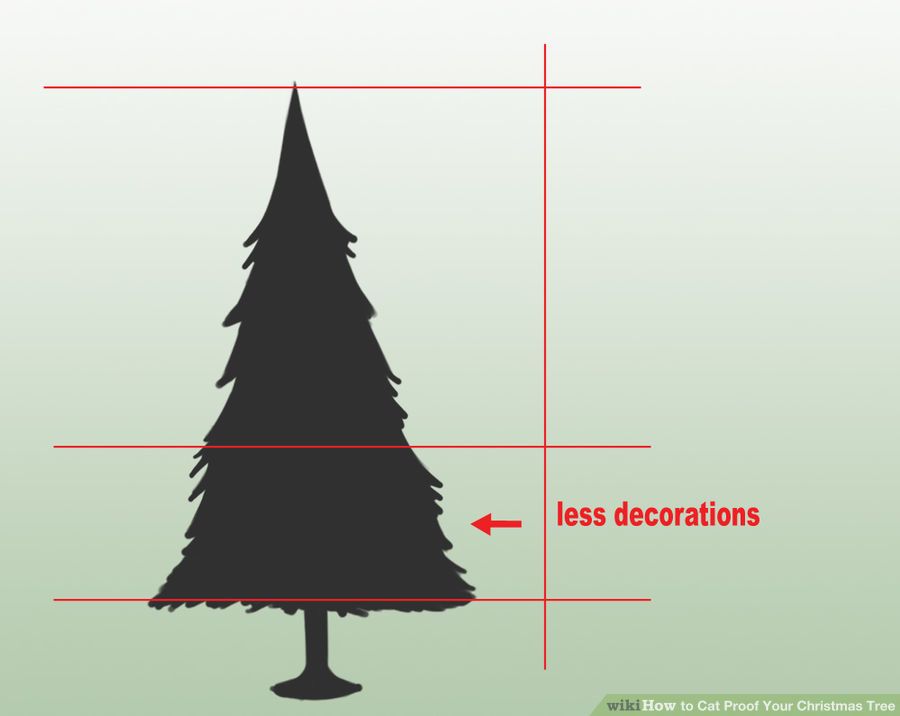 A quick summary of things to consider are hanging more delicate ornaments higher out of their reach, attaching ornaments securely with wires or clamps, placing the tree in a location away from climbable structures, and having a stable tree base that makes it harder for the tree to fall if your cat decides to climb.
2. Make gift wrapping easier by giving your cat a spare box and/or a square of wrapping paper for them to sit on.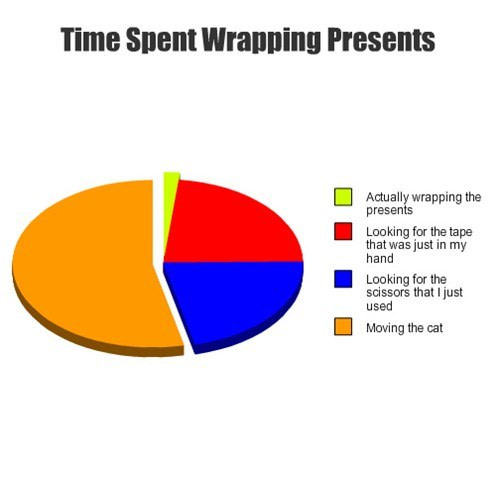 Classic cat life hack. We all know cats are nosey little creatures and when we're wrapping presents, that includes fun boxes and wrapping paper for them to play with!
Set up a decoy box and a square of wrapping paper away from your gift wrapping station. This usually does the trick, and if kitty is still insistent of your gift wrapping, place some treats in that decoy box and square of wrapping paper.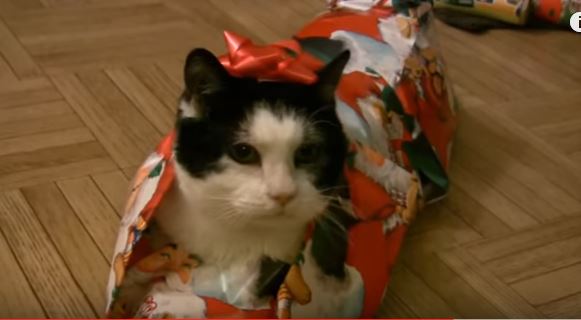 youtube/moreflippycat
3. Inspect all holiday flowers/plants.
Plants are hard to figure out in terms of which are poisonous to cats and which are safe. Cats shouldn't be eating plants and flowers due to that. Poinsettias, a popular holiday plant, are considered mildy poisonous, and it would take a ton of it to have lethal effects. That being said, better be safe than sorry and keep plants away from your cats!
Inspect and research any that come in your home, and remember fake plants are always a cheap and long lasting alternative!
Check out this guide to understand which plants are dangerous for your kitty.
4. Get that awesome holiday cat picture with these few steps.
Use treats to get them to look at the camera – the simplest and go to route of many. Get their attention and keep it by dangling a treat in your hand, similar to waving a child's favorite toy to get them to look at the camera. That, or making a noise or dangling string should do the trick to get their attention.
Choose a comfortable setting - Your cat may get uncomfortable if he is forced to stay in a certain area or position for too long. Make the area where you are photographing your cat relaxing and quiet and he will be more likely to stay put. Choose an area the cat is already accustomed to, such as his cat furniture. Tasty treats or toys can make staying in this one place more appealing.
Get down on your cat's level - This may mean lying on your belly to snap a picture — you almost want to be looking up at your cat when you photograph him, rather than looking down at him. If it's easier, photograph him on a climbing structure or perch — anything that puts you both at the same eye level.
Don't use flash – unless you want your cat to have the dreaded demon eye glow, try to soft, natural light. Plus the flash can irritate and scare your kitty.
5. DIY cat shelters for the ferals outside this winter.
Give back this holiday season by keeping the feral and stray cats safe and warm this winter.
You can also watch the video below on how to build a DIY cat shelter.
6. Catnip flavored cookies so your cat can enjoy the holiday sweets.
Now you and kitty-witty can pig out on Christmas treats together with these catnip-filled "cookies."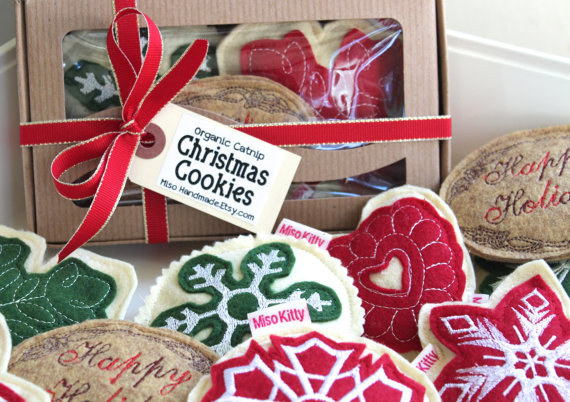 You can find Miso Kitty's etsy shop here.
7. Give your kitty X-mas gifts with a subscription to KitNipBox!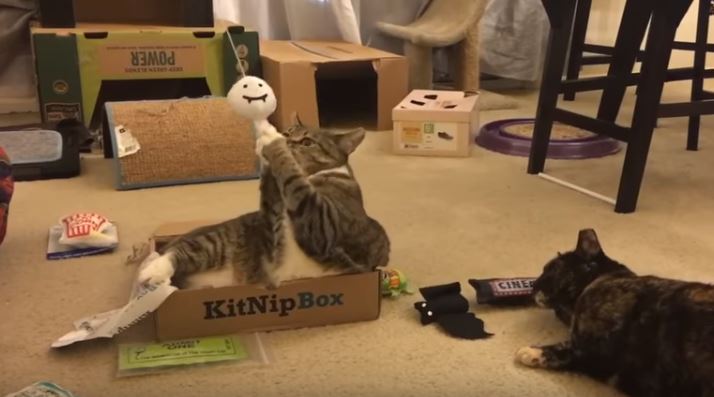 We had the pleasure of getting a KitNipBox and it was pretty epic. Our kitty bosses loved it, and it's a great gift to give your fur babies this holiday season! (They always have adorable themes to go along with their boxes!)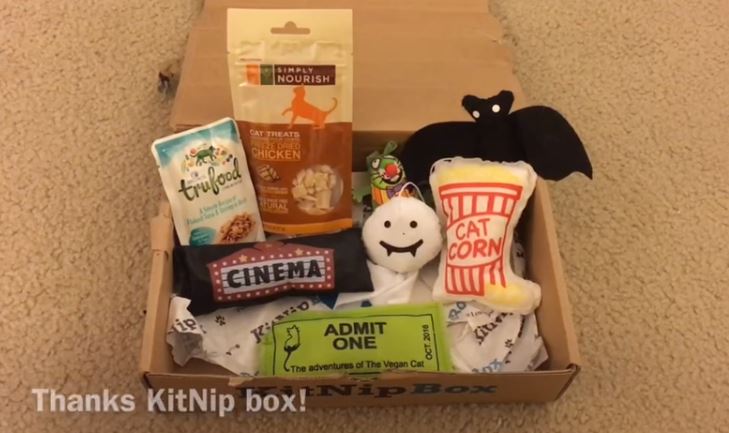 Get your very own KitNipBox by visiting their website and check out their Facebook!
Now you're ready for the holidays!
Share and enjoy!
Related Story: 10 easy steps on how to cat proof your Christmas tree
LIKE US!
Comments
comments powered by

Disqus
LIKE US ON FACEBOOK!