From street cat to lap cat: a TNR failure/success story
Jack the cat wondered into a trap... and ended up finding a home.
Meet Jack!
"I was taking care of a feral kitty living outside my house last winter, which lasted until the spring. I was planning on moving into the city and wanted to make sure the kitty was healthy. So, I worked with a local TNR (trap-neuter-release) organization to try to catch the feral furball, have him neutered, get his shots, a check up, and released back," theneuroticcat shared on reddit. "The community I lived in had A LOT of feral cats, but I really took a liking to this one since I had been feeding it and giving it a little outdoor cat home for 6 months."
"The day finally came and I baited the trap, then waited. I was happy to see the trap had been trigger, but when I lifted the blanket....it was not the cat I intended to catch. Instead, I caught who would be Jack. He was so calm and sweet, acting nothing like a feral cat in a trap. I took him inside and immediately started looking for an owner, even though I had seen him stalking around my yard for the past year or so. No luck on finding an owner, so I took him into the TNR vet."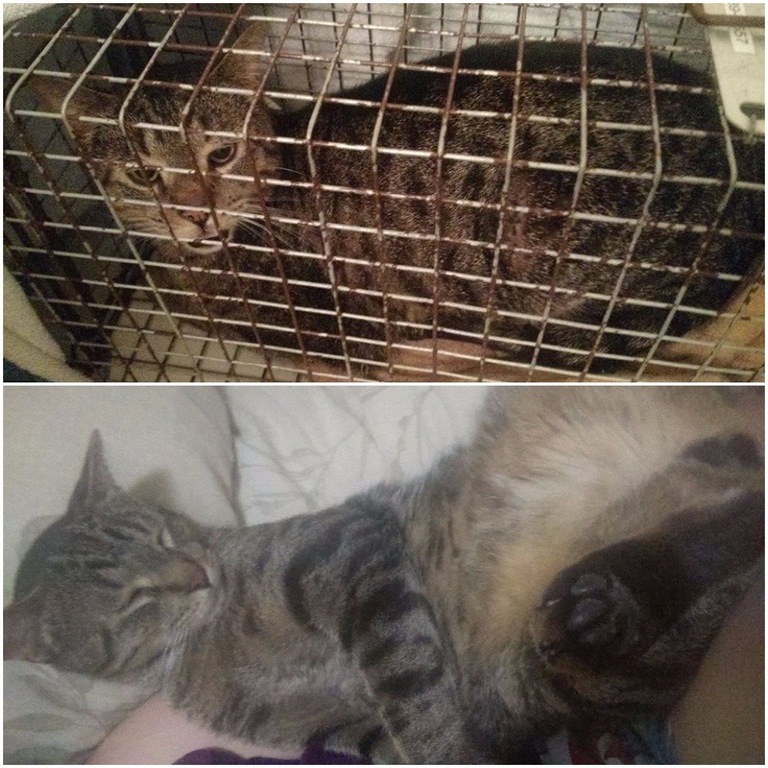 "They told me he was already neutered and was a total sweetie (a little nippy, but that's to be expected), so they didn't think he was feral. He most likely was abandoned, which was common in my area. As I was getting ready to release him....I just realized I couldn't. He was too sweet and friendly, and CLEARLY wanted to be in the house. So.....he just sort of stayed!"
"It's been 6 months and he is such a good boy. He has some residual stray tendencies and has some old injuries that we're treating with pain management, but lets me trim his nails and gets along OK with my other rescue. He's still shy, but he loves me and the vet says that he looks like he knows he's been saved :)"
Bonus: the actual feral cat she was tracking ended up getting caughed and spayed! Mission accomplished!
Share the cute!
Related Story: How to trap feral cats
LIKE US!
Comments
comments powered by

Disqus
LIKE US ON FACEBOOK!