United Arab Emirates bans big cats as pets – huge win for animal rights
A newly enacted law in the United Arab Emirates (UAE) has finally put a long-awaited ban on the ownership and sale of big cats like tigers, cheetahs, leopards, and more as pets. This is a huge victory for big cats who have long been mistreated and neglected by owners who do not have the capacity to care for an animal whose rightful home is the wild.
Exotic pet ownership has long been an issue in the UAE, as it is regarded as a powerful status symbol. There are countless accounts of big cats escaping through busy streets (like this tiger and abused cheetah), or being transported in the back of small cramped cars.
According to Dr. Elsayed Mohammad, regional director at the International Fund for Animal Welfare, "the big problem [with exotic pet ownership UAE] is driven by kids, teenagers. When we worked with kids before, we noticed that almost 100 percent of the kids had exotic pets at least once in their lives."
Instead of cats and dogs, it is common for children in the UAE to grow up with big cats. They treat these majestic creatures as toys – many whom are declawed or have their fangs removed.
According to the International Fund for Animal Welfare, "UAE's newly established restrictions are founded upon the principle that unpredictable, wild animals are simply not suited to be pets—they threaten public safety, and they often suffer at the hands of private owners who are not equipped to care for them."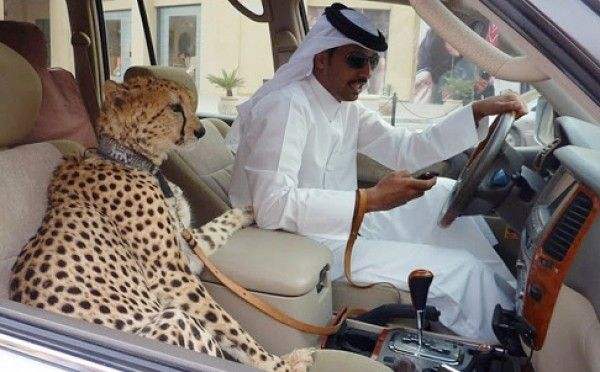 But we are seeing a trend going in the right direction in terms of animal welfare. As the public has become more aware of the abuse, more laws are being passed to support animal rights.
There are still many pieces in this broken system, but we believe we are headed in the right direction. If the U.S. can follow UAE's new law, that would be another huge win.
One victory at a time. Maybe one day we can all learn to coexist.
Share the news!
Related Stories:
New Jersey to become the first state to ban the declawing of cats
Here's why you should NEVER take a selfie with a tiger (or any big cats)
via One Green Planet
LIKE US!
Comments
comments powered by

Disqus
LIKE US ON FACEBOOK!