The ultimate guide for your cat's first visit to the vet
Remember your first trip to the doctor as a kid? It's just as scary, if not more, for your kitty. A trip to the vet is usually a stressful experience for both you and your cat.
But it doesn't have to be that way.
Here's a guide to make your cat's first visit (or any visit) to the vet a more enjoyable experience.
1. Get your cat used to the cat carrier
Well before the day of the vet visit, try leaving the carrier out with the door open and a tasty treat inside. Even if your cat doesn't go in right away, or at all, it helps to have it out so your cat can inspect it and learn that it's not dangerous.
Make sure the carrier is large enough for your cat to move around comfortably, so that he can stand, stretch, and make a full turn. Let them rest inside the carrier and then leave when they want to.
Positive experiences with the carrier beforehand can help avert the notorious mad dash for a hiding spot whenever the carrier appears. Consider using a calming spray, such as Feliway®, in the carrier at least 30 minutes before your trip to the vet.
2. Review your veterinary options
Veterinarians are people just like us, who have strengths and weaknesses in their field. Some vets are great with cats, others not so much. Do your research, read your animal hospital reviews, and make an informed decision.
Here is our kitty CEO with the wonderful staff of Fullerton Animal Hospital. They loved her, and it was good to know that she was in such great hands.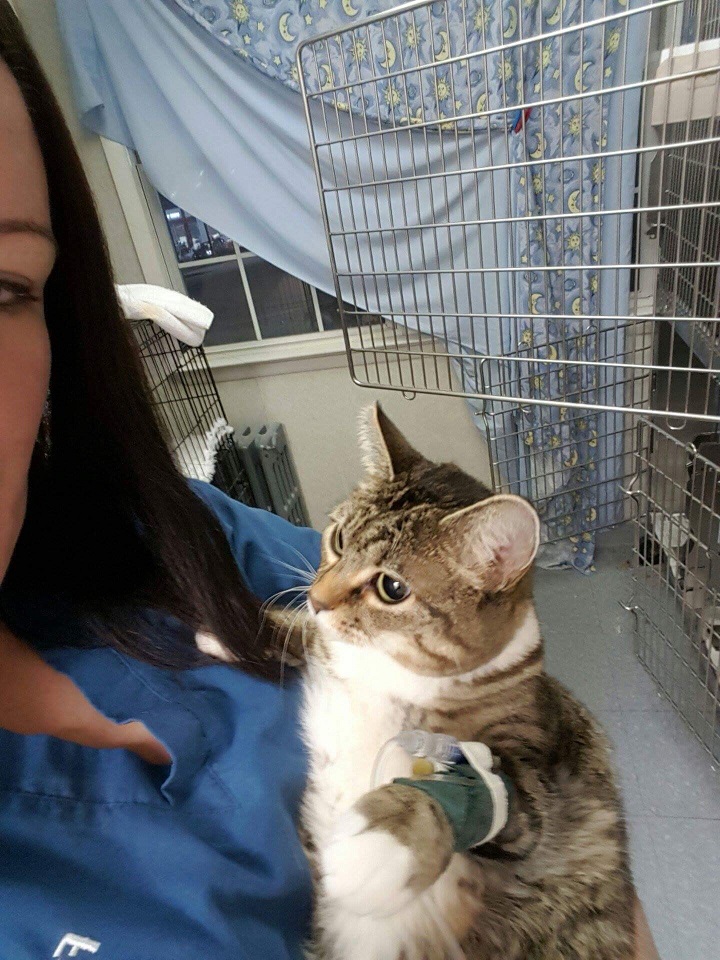 3. Bring the necessary items with you for their trip
Be prepared! Make sure you bring a towel to cover the carrier, some of their favorite tasty treats, one (or more) of their favorite toys, and some disinfecting wipes and paper towels if necessary (for those nervous accidents).
The towel to cover the carrier can help calm your cat from the crowds in the waiting room, especially if other animals like dogs are involved. Giving your kitty treats and having a familiar toy inside with them, and one on you, can help make their wait a little less stressful as well. A toy can also be a playful distraction while your cat is being examined.
Here is our kitty VP on the table, with string in hand. That string distracted her from some nasty shots!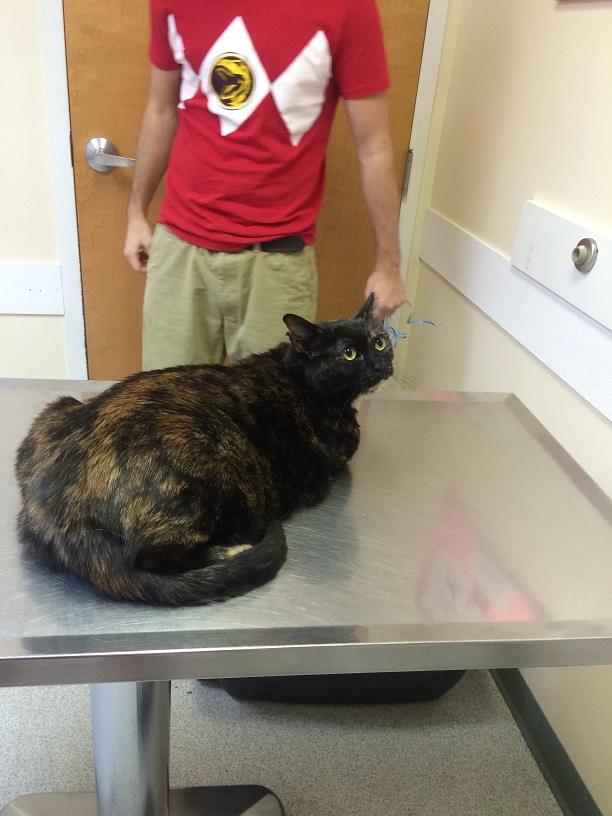 Lastly, accidents do happen. So, if your kitty gets scared and things get messy inside their carrier, do not scold them. They can't help it. You can disinfect and clean the carrier while your vet has your cat in safe hands. Many animal hospitals can do this service for you, free of charge!
4. Never take your cat out of the carrier unless safely in a private room
The waiting room of a veterinary office can be a very scary place for felines -- filled with barking dogs, hissing cats, and any number of anxious humans.
Anything can happen. Your kitty might freak out or another animal might and a fight could break out. Rather risk your kitty hurting himself, another pet, or you, it's best to keep them inside their carrier until a vet or vet tech says its time.
5. Praise your cat for a job well done
Verbal praise, treats in the carrier and gentle stroking will help to reassure your cat that they are loved and safe—and will survive this important and necessary trip.
Cats can sense stress and anxiety, so a calming force from you can do wonders for your cat. This should be done the entire process. This includes the car ride up, the waiting room, the examination, discharge, and the car ride back.
Related Story: 22 priceless photos of cats trying to hide from the vet
6. Don't be afraid to ask questions and request help if needed
If you don't clearly understand something, whether it's about the examination, payment, or treatment, don't hesitate to ask!
It's a veterinarian's job to answer all questions about your pet. If your cat could ask what was going on, they would.
Make sure all treatments and medication instructions are written down and clear. If something isn't clear, and you've already went back home, don't try to figure it out yourself. Call back and make sure you know what you're doing. This can be a life and death situation.
We've experienced this first hand, after our kitty CEO had surgery to remove her bladder stones. Long story short, we gave her the wrong dosage of a pill, and spent a long stressful night on the phone with poison control. If you don't understand something – ASK.
Better be safe than sorry.
Requesting help, such as carrying your cat if it's too difficult to you, administering pills intake, or making home visits, are all on the table for discussion.
7. If your cat needs to spend the night, leave them a familiar smell from home
Spending the night away from home is never fun for your cat, so you can make it a little less scary by leaving a familiar smell from home with them.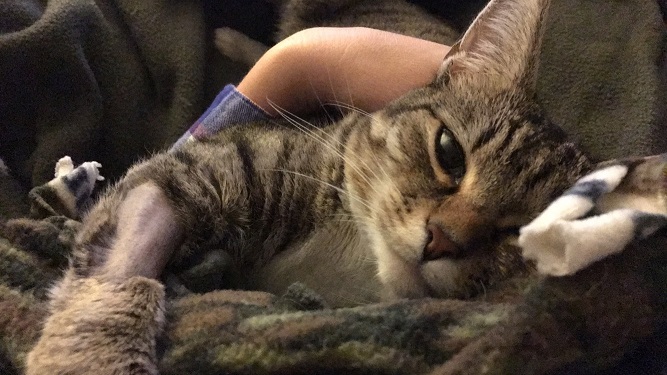 This familiar scent could be one of their blankets, a cat bed, or a shirt/sweater that you own. Ask your vet to leave it with your cat if an overnight stay is necessary.
8. Make sure the ride home is short and one stop
Once it's time to go home, it's best to do just that.
Try not to make any stops if necessary. Make sure you have plenty of gas before the trip, so you don't have to refill on the way home.
9. Praise, praise, and more praise
Once your kitty is safely home, make sure to let them know how great they did! (Even if they didn't…)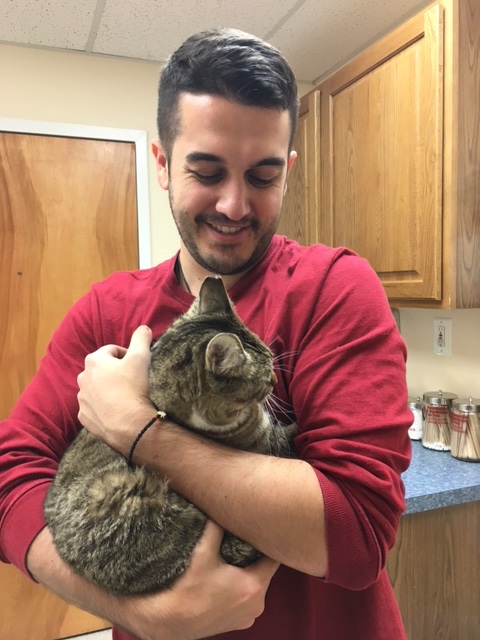 Give your kitty plenty of treats and attention. That being said, if your kitty wants to be left alone, be sure to give them their space. Praise them from a distance, and offer them some of their favorite treats or meals!
If you follow all of these tips, your next trip to the vet might not be such a scary and stressful experience.
Just remember to be patient and love your kitty no matter what!
Share with your friends!
Related Stories:
22 priceless photos of cats trying to hide from the vet
Why you need to introduce wet food into your cat's diet
(h/t) the Humane Society
LIKE US!
Comments
comments powered by

Disqus
LIKE US ON FACEBOOK!