Nobody dared to touch this cat... until one woman finally gave him a hug (Gallery)
Valentino the cat wanted nothing more than for someone to give him some love. Sadly, his looks and condition prohibited just that.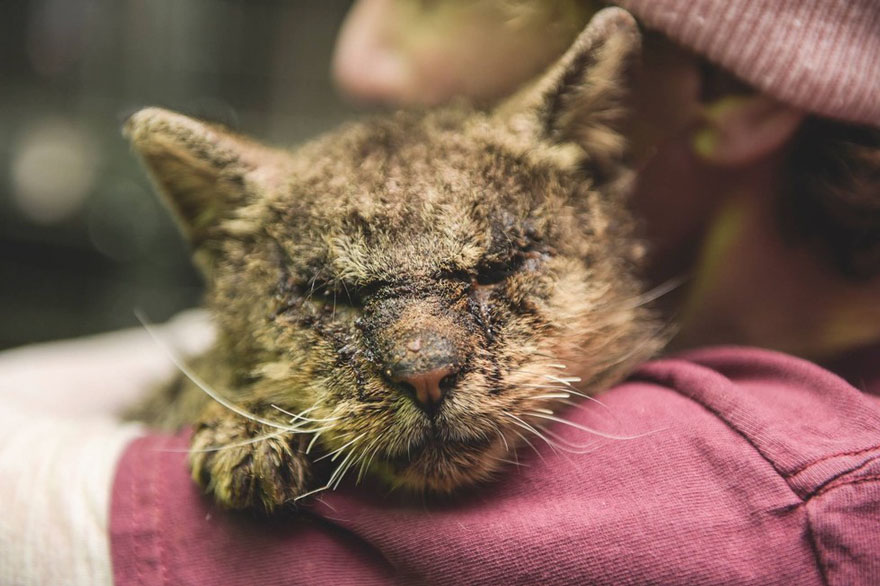 Credit: John Hwang
The cat's hardened fur was riddled with grime. His eyes were so caked and swollen, they were sealed shut. Even worse, this poor cat suffered from sarcoptic mange, a condition that's highly contagious to both cats and humans.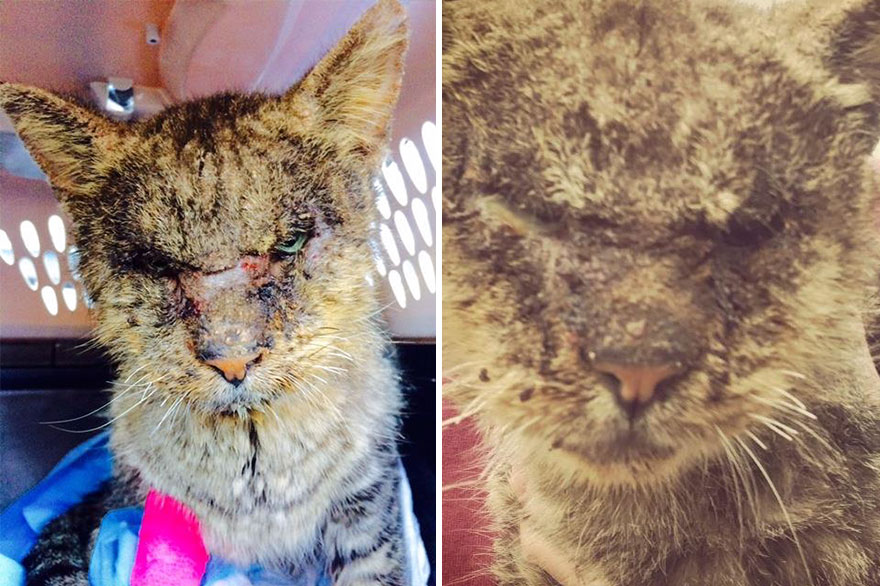 No Paws Left Behind
So Valentino was left alone… begging for love, but people were too afraid to go near him.
Except for a woman named Elaine Seamans.
While passing by his cage at the Baldwin Park animal shelter last week, she heard his faint cry for help.
"He reached out with his little paw and made the tiniest meow," Seamans tells The Dodo. "It was like he was screaming without verbalizing it: 'Please help me.'"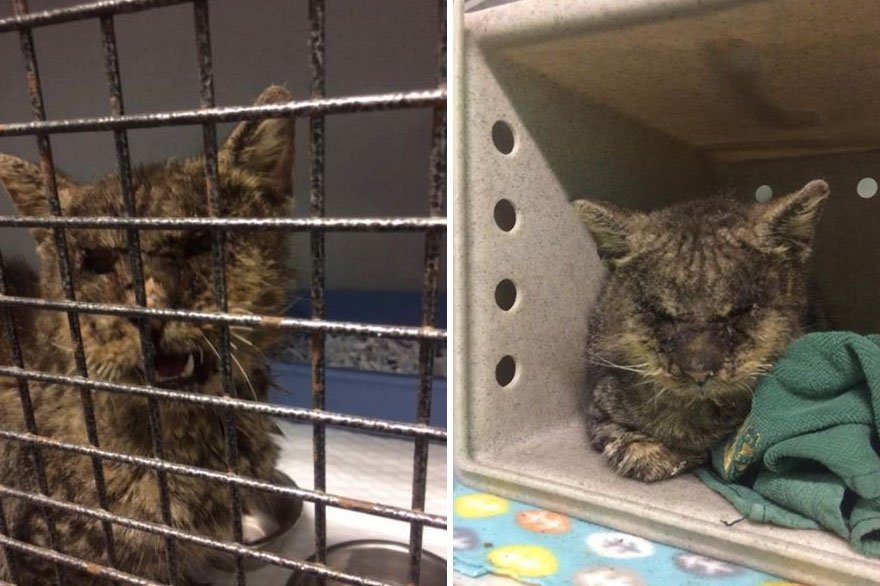 No Paws Left Behind
"There are times when it's not an option to keep walking," she adds. "You just have to stop. This was one of those times."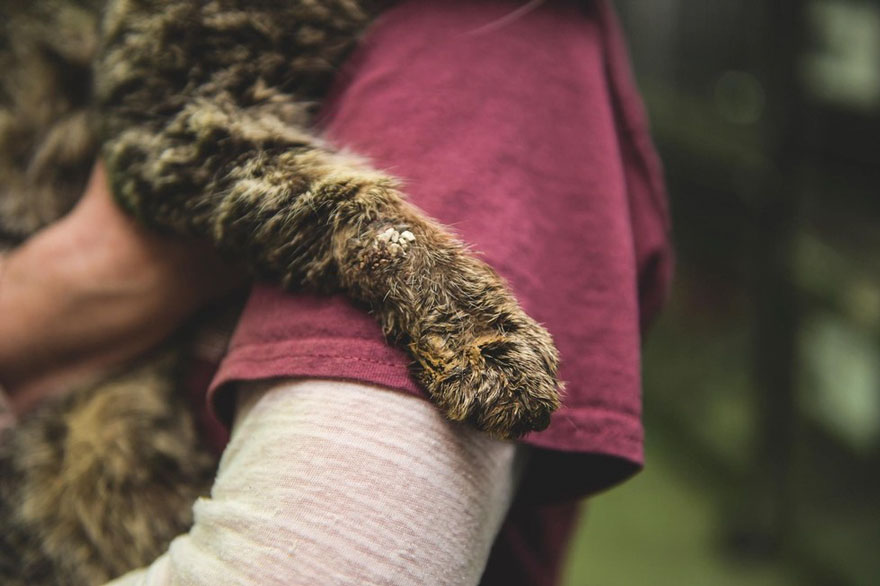 Credit: John Hwang
And she opted not to wear gloves, but to press Valentino directly to her heart.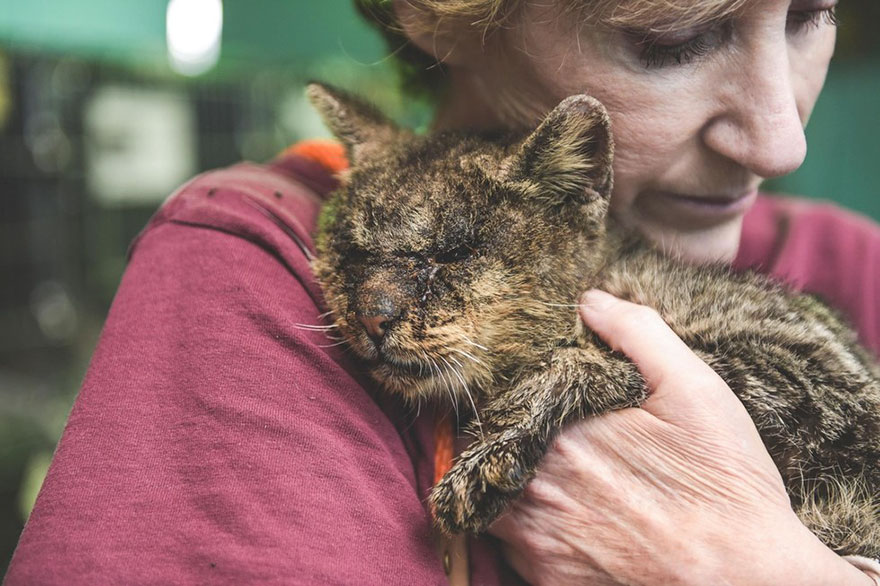 Credit: John Hwang
"When I picked him up, he put his little head on my shoulder," Seamans says. "That was it. I had to get him out."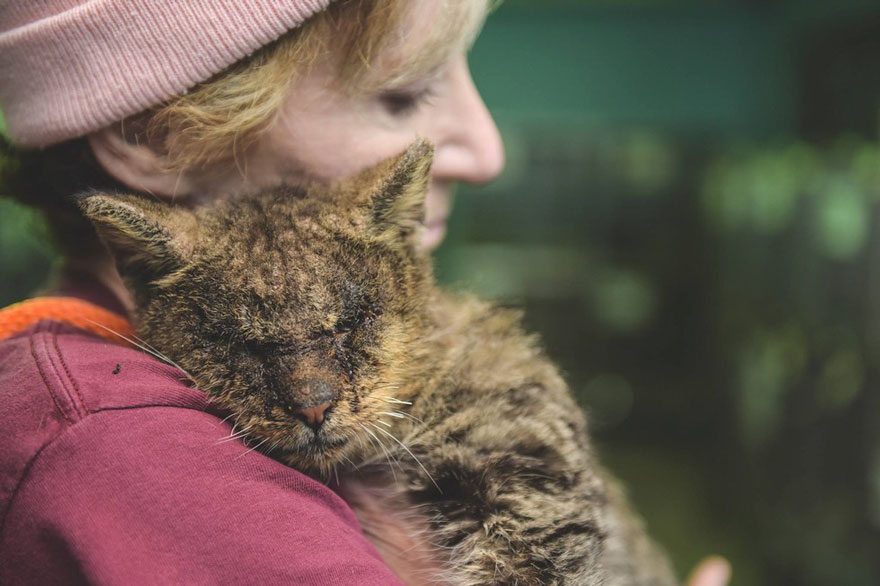 Credit: John Hwang
Seaman contacted Toby Wisneski from Leave No Paws Behind to help
"When I was talking to Elaine on the phone and she let me hear his little meow, I said, 'That's it,'" she tells The Dodo. "I could hear him. That sealed the deal."
Wisneski immediately took Valentino to the vet to get the medical attention he needed.
"He couldn't move and he couldn't see. But God love him, he's a fighter," Wisneski says. "Everybody just adores him and they're very protective of him."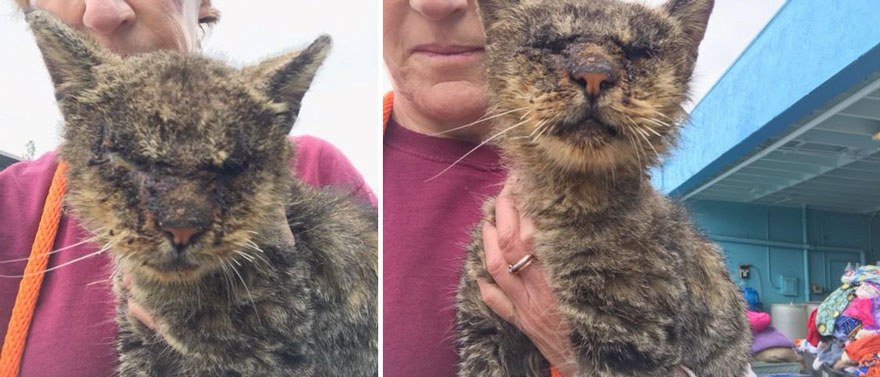 No Paws Left Behind
His prognosis is good, and staff believe he has a long life ahead of him. They can't wait to find him a loving home that he so deserves.
"He's so loving," Wisneski says. "You can tell he is very grateful. He will purr for them and try to rub up against [veterinary staff]. He knows he is safe."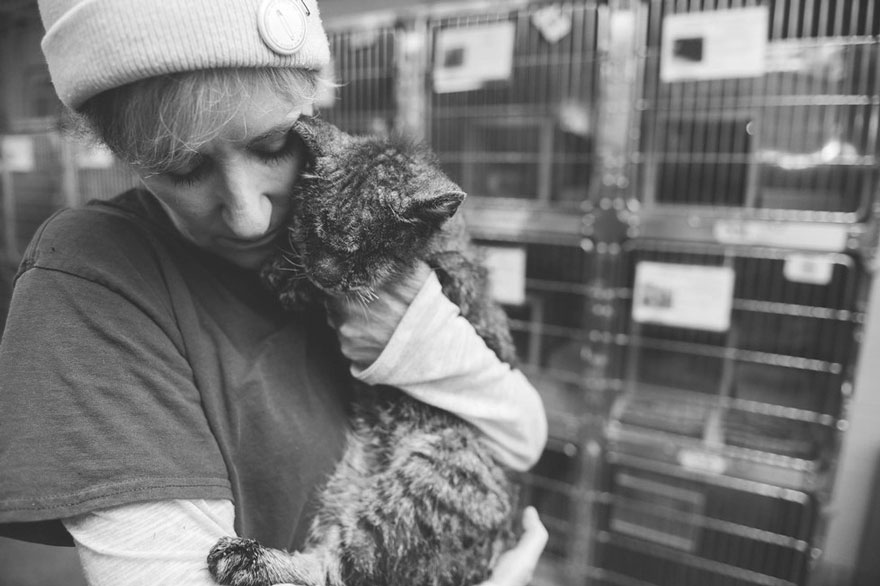 Credit: John Hwang
When Valentino finally opens his eyes, it will be to a brand-new life. One with a family.
You can follow Valentino's recovery on Facebook. If you'd like to help, you consider leaving a donation here. Even better, if you're interesting in giving Valentino a loving home, you can get in touch with him here.
Share this with your friends!
Related Stories:
Kitty covered with thick matted fur couldn't stop purring when her rescuers shaved it off!
Thought to be unadoptable, this 'hopeless' cat is proof of what a little love and patience can do
LIKE US!
Comments
comments powered by

Disqus
LIKE US ON FACEBOOK!