14-year-old shelter cat with declining health gets adopted to live out her golden years (Gallery)
This senior Himalayan was sitting in the shelter. She had a urinary tract infection and early signs of kidney disease. Being so old and having health concerns, it's common for these cats to never get adopted.
But when a young woman named Olivia came into the shelter, she just couldn't say no to that face.
Meet Miss Molly!
"I found Miss Molly (lovingly nicknamed Potato by my sister) on PetFinder after months of looking for a cat. I was checking PetFinder pretty much daily with the goal of finding a mellow cat to be my furry companion,"Olivia shared with iizcat. "I wanted a senior cat because I think they've had time for their personalities to develop and really shine. A cat that was older and in need of love was just what I was looking for."
"In comes Miss Molly, who was brought to the Animal Rescue League of Boston (ARL) at the Brewster, MA campus. On her posting they talked about her sweet disposition and her medical troubles: a urinary tract infection and early signs of kidney disease. All I could think of was how confused Miss Molly must be in her new situation, and I felt like I needed to meet her."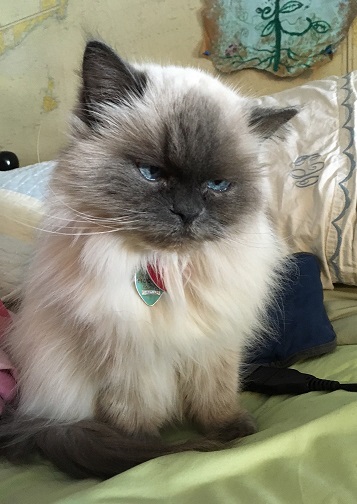 Courtesy of Olivia C
"When I first saw Miss Molly she was sleeping on the top shelf in her large enclosure at ARL. When I was let in, Miss Molly made her way right down the shelves to greet me. I loved that despite being an older cat (14 years old), she had the gusto to climb up and down shelves to explore and find the best seat in the house where she could watch everything that was going on.
I was also thrilled that she climbed down to meet me, a total stranger. I had traveled several hours to meet her and could not contain my happiness when I saw her. She was friendly, curious, and fabulously fluffy. Her eyes were more blue than I could've imagined and she just looked like she knew she could make my heart melt."
Olivia knew this was the cat for her. The shelter kept her a few more days to monitor her health, and once she was given the green light, Olivia drove back up and took her home.
"Miss Molly's transition was about as seamless as I could imagine. She immediately scoped out my bedroom, where I was planning on keeping her until she felt comfortable in the new space, and made herself at home. She would sit out on the floor while I was in the room but hide while I was away. The first night she slept near me except on the floor, with her fluffy tail sticking out from under the bed. The next day it was as if we were old friends and she's been sleeping on my bed ever since."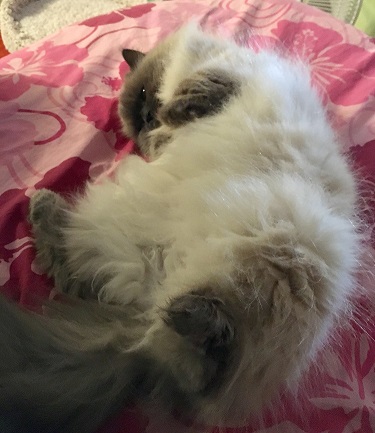 Courtesy of Olivia C
"Miss Molly is a quiet, sassy little girl. She loves to play with hair ties, paper bags, and cardboard boxes despite having some very nice cat toys. Although she is a senior, Miss Molly chases her foe the red laser dot with so much energy and vigor. She pounces, chases, and runs all around trying to catch the red dot. She also likes to make her own fun by throwing a hair tie up in the air and then pouncing on it."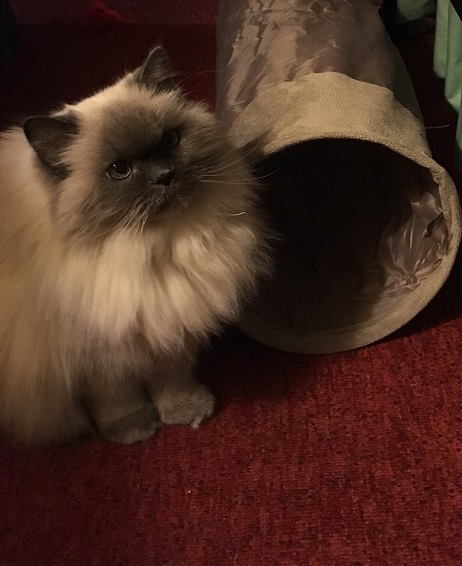 Courtesy of Olivia C
"Although Miss Molly loves to play, she spends most of her time napping in my bed or watching the snowfall from my window. She sleeps on my bed with me and will greet me in the morning by walking all over me to sit on my chest so I can pet her face."
"What I adore most about Miss Molly is that she greets me at the door when I come home. She will come running to greet me (if she isn't feeling to lazy to get off the bed) and will give out a single meow, as if she's saying hello, then wait for her chin scratches."
I demand chin scratches, human.
"Taking home a senior cat, like any other cat, is a huge responsibility," Olivia added. She shared that when adopting a senior cat, pet insurance is something definitely worth looking into. Your vet can usually provide you with a list of trusted or recommended companies.
"Despite having to spend more money on vet bills than perhaps a younger cat, Miss Molly has been the perfect fit."
"What I want people to realize about adopting senior or sick cats is that the cat has just as much companionship to offer as any other cat. Being able to care for an aging cat allows you to be that animal's hero. The time I get to spend with Miss Molly is rewarding for both of us. I get to spoil a loving and playful cat while she gets to be spoiled and doted on."
"The way I see it, I wouldn't ignore a person because they are old and sick; they still have a life to live and plenty of friendship to offer, even if the amount of time you get to spend together is uncertain. My senior cat is showing no signs of slowing down despite her diagnosis. All I can do is give her everything I can to keep her happy and healthy and that is what I wanted in a cat."
"When it comes down to it, adopting a senior cat was the right choice for me because I knew I could give that cat everything she would need going forward. Have an open mind and look at the older cats too, not just the kittens!"
We think Olivia made the right choice. Miss Molly certainly thinks so too.
Share the cute!
Olivia reminded us that just because you may not be able to adopt/rescue a cat, you can always help by donating or volunteering at your local shelter. They always can use the extra help.
You can follow Miss Molly on Instagram @blueeyes_bushytail
:)
Related Stories:
13-year-old shelter cat gets adopted and can't sleep unless new mom holds his paw (Gallery)
Family adopted a 20 year old cat from the shelter, never expected how much love he had left to give
Woman adopts senior cat, then returns to shelter to rescue his old friend
This cat shelter has a program that brings senior cats to senior homes. This photo says it all.
LIKE US!
Comments
comments powered by

Disqus
LIKE US ON FACEBOOK!