Two cats who were separated at a shelter are reunited again when their parents start dating
This is like something out of a movie.
In July 2014, Brian Herrera and Cathleen Cavin each adopted an orange-and-white kitten from Petaluma Animal Services, who happened to be brothers.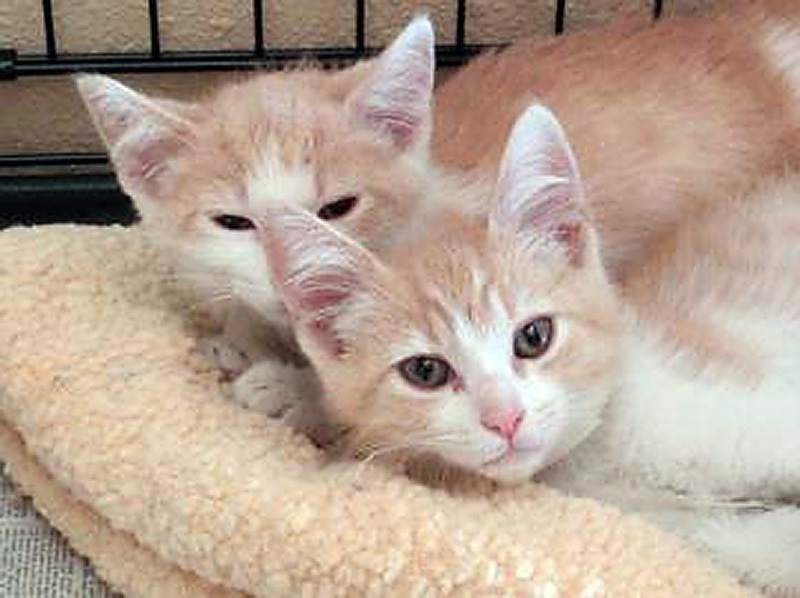 Living their separate lives in neighboring Bay Area towns, the two 44-year-olds never knew each other until they connected on Tinder in April 2015.
The two talked for a few months, but Cavin wasn't really interested.
"I didn't even want to go on a date," she said. "I was trying to get out of it."
The two finally did meet for dinner in late June 2016, at Petaluma's Caffe Giostra.
They talked for hours and the date actually went well. After dinner, the two continued their evening at Herrera's house where, out of the corner of Cavin's eye, she swore she saw an orange-and-white cat.
"I start looking at the cat, and I'm like, 'That's my cat. You have my cat,'" she said. "And he's like, 'No, that's my cat.' So he thought I was some crazy cat lady, and I said, 'No, I promise you. Come over to my house.'"
The next day, Herrera, a widower with a 9-year-old daughter, did exactly that. He couldn't believe his eyes.
They compared adoption paperwork, and sure enough, Ozzie and Butter were brothers!
Cavin remembers that when she and her daughter Cali Joyce, now 8, first adopted Ozzie, they desperately wanted to bring home the brother, too, but knew their landlord wouldn't go for it. So Cavin had Cali pick one cat, and, distraught, the three left the shelter.
"So we're crying as we're leaving," Cavin said, "just devastated that we couldn't take both. They look absolutely identical."
"Every time Cali would see the kitten upset, she would tell me it was because he was missing his brother," she said. "I made a really stupid promise. I told my daughter I would look for the cat and try to find his brother. I kept saying, 'I'm going to find him.' "
Cavin called the animal shelter, but the brother, named Butter, had already been adopted… by you know who.
The whole matter strikes Cavin as "so totally crazy."
"This is the twin brother I told my daughter I'd been searching for forever," she said.
Cavin and Herrera have been dating ever since, and plan to move in together March 1.
But it wasn't until Tuesday that the cats finally reunited.
"We've been saying for the past eight months that we're going to introduce them," Cavin said. "It was the cutest thing I've ever seen, honestly."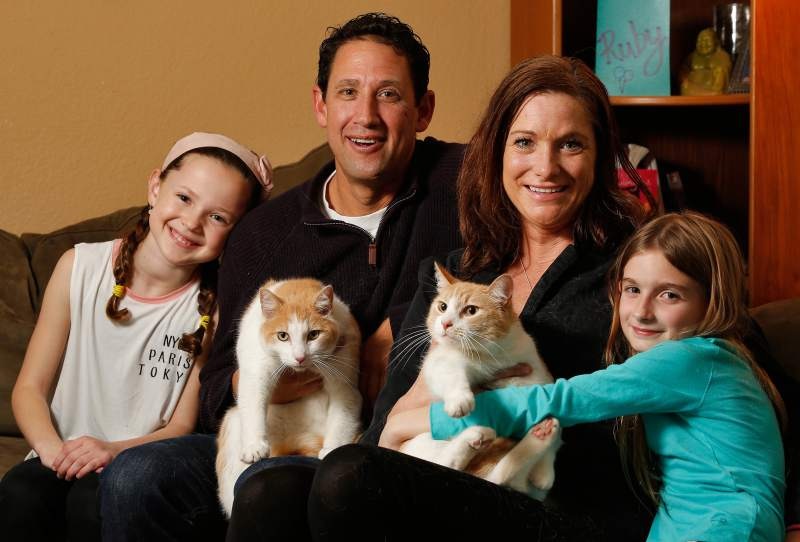 Welp, now they have to get married. For the kitties. No pressure :)
Share the cute!
Related Stories:
Woman adopts senior cat, then returns to shelter to rescue his old friend
16 year-old cat reunites with his brother after being lost for 3 years!
via Press Democrat
LIKE US!
Comments
comments powered by

Disqus
LIKE US ON FACEBOOK!