A Beginner's Guide to Adopting a Cat
The arrival of a new cat is exciting for adopters, but frequently confusing and stressful for the cat itself. A failure to plan ahead can bring negative consequences.
Everyone, including your kitty, wants a smooth and happy transition. By following these guidelines, you'll be off to a great start.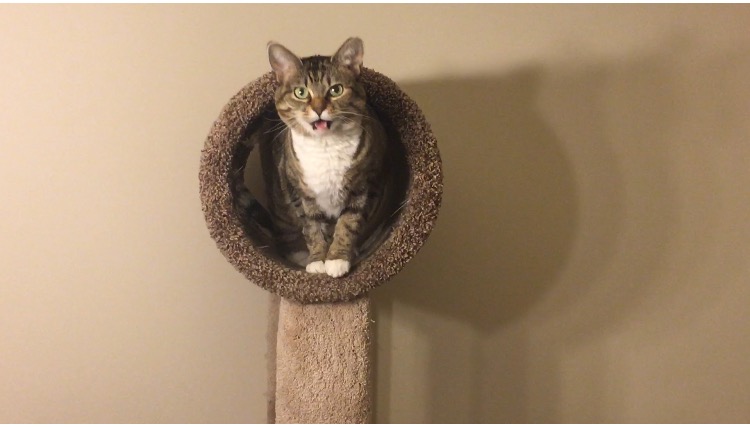 Before Adopting A Cat
Understand that bringing a cat home is a huge responsibility. A cat is not a gift or toy, but a living creature with feelings and needs.
A cat will cost money – food, toys, furniture, litter, and vet bills for the rest of his life.
A cat has a personality - assuming all cats are the same can set expectations up for your cat that it will ultimately fail. Your cat, just like you, has his own unique personality. It takes time to get to know a cat and patience is key to figure out their little quirks.
A cat needs stability – if you're between jobs or your current living situation isn't stable, hold off on adopting a cat until you know you'll be staying somewhere for a while. Moving is stressful and hard enough for your cat to do once, let alone multiple times. Many places don't allow pets as well, so you must keep that in mind.
Bringing Your New Kitty Home
Once you've decided to adopt a kitty, it's time to take them home.
Create A Sanctuary Room
Cats are territorial, and coming into a new home leaves them feeling really uneasy. Pick a smallish room where your cat will spend his first week. The room should be clean, uncluttered and as quiet as possible. Furnish the room with cat amenities, such as food, water, a litter box, cat bedding, toys, and a hiding space (either a kitty condo or simply a brown paper shopping bag on its side). The purpose of this is not to punish or ignore the cat, but to allow them to slowly acclimate to their new surroundings without becoming overly stressed.
Make sure the food and water are away from the litter box.
Give Your Cat Space
Moving into a new home with new sounds, smells, and spaces can be overwhelming for your cat. Many recently adopted cats hide for the first few days, if not the first week. Let your kitty decide when and if he wants to approach family members. You can simply sit with him in his room to allow him to get used to you.
Treats are also very helpful in introductions.
When it comes to children:
Children most likely will be very excited to have a pet. Who can blame them? They will want to rush in and cuddle with your cat, but your cat may not be ready for that. Teach your children that around your new kitty, they must be calm and patient.
Depending on their age, grabbing and poking might seem like a fun way to play with kitty but that can/most likely lead to your cat running away and/or defending himself physically.
Supervise your children when being introduced to the cat and immediately stop any behaviors that might stress kitty out (ie poking, grabbing, yelling, chasing).
Set some ground rules and make sure they don't open the door unless you allow it.
When it comes to other pets:
Keep your new cat and pets separate.
Do not throw them together and let them "work it out." The process of introducing your pets can take days, weeks or months: rushing it can permanently damage your animals' relationship. Be patient and provide lots of loving care to all pets in the house.
Don't attempt any introductions for a few days at the very least. All animals in the house will be aware of each others' presence just from smells and sounds. The goal is to get them used to one another and reinforce positive activities when they're inspecting the door. This includes feeding your pets treats when they approach the door and sniff, and sliding your cat some treats under the door is helpful as well. If you see or hear growling/hissing from anyone, redirect your pet away from the door to a fun activity. Do not bring other pets into Kitty's sanctuary room. He will likely view this as an attack and will become defensive.
Kitty Proof Your Home
Once Kitty is safely in his room, go through your house and look for potential dangers and problem areas.
This includes tying up dangling cords, securing fragile trinkets, locking up hazardous chemicals/cleaning supplies, shutting doors to forbidden areas (closets, cabinets, outside) and put away open food items left on the counter/tables. Make sure that all windows and doors are secure and firmly latched.
Litter Box Etiquette
Provide enough litterboxes to equal one per cat, plus one. (Therefore, a family with two cats will provide three litterboxes.) Avoid placing them in areas where your cat might feel trapped, such as a closet or corner, and avoid covered litter boxes for the same reason.
Choosing the right litter can be difficult. We suggest using an unscented, clumping litter to start. Consider what they were using at the shelter/home you've adopted them from.
Be sure to clean them at least once a day.
Food and Water
Cats can be picky eaters, and even pickier drinkers.
Make sure to provide fresh food and water daily, even if they haven't eaten all of it. Sometimes it takes a bit for your kitty to adjust to their new food and water.
If you cat's eating habits concern you, be sure to contact your vet.
You can check out this link here on why we prefer a wet food diet.
Toys and Cat Furniture
As your cat adjusts, he'll show signs that he wants to explore outside his safe haven. Make sure other pets or family members won't startle him while he gradually expands his territory. He may be ready to play, so you can furnish some toys. Many cats like feather wands from the pet supply store, but homemade toys are often favored. A wad of a tissue paper to bat around or a paper bag to hide in can be fun.
Cats like to climb, scratch, and hide, so introduce plenty of scratching posts, boxes, and a tall kitty tree can do wonders.
There are plenty of stylish options for kitty furniture, including cat shelves and kitty cities to place around your home. Have fun with it.
Know Your Vet
Establishing a good relationship with your vet can save you plenty of heartache and stress in the future.
Finding the right vet for you is an important step for your cat's well being. You can check out our ultimate guide here.
Give Your Cat Plenty of Love and Patience
Let your cat know that you love them. Tell them that a verbally praise them – a soothing voice can help ease their nerves.
Praising them when they doing something good is also great positive reinforcement. Telling them what a good kitty they are when they eat their food, use their litter box, come to greet you, and play and use their toys and scratch posts.
If your cat is doing something wrong, such as scratching your couch, simply grab your cat and place them on their scratching post or cardboard. Cats, unlike dogs, do not respond well to discipline. A dog might sulk in a corner but your cat won't.
Positive reinforcement of good behavior, and patiently correcting their bad behavior, are the best ways to go.
Remember, adopting a cat is adopting another member into your family. Treat them with love, respect, and patience.
Follow these guidelines and you'll be on your way to having a well-adjusted feline family member!
Share this with your friends!
Related Story: The ultimate guide for your cat's first visit to the vet
Sources: AHS & Pet Finder
LIKE US!
Comments
comments powered by

Disqus
LIKE US ON FACEBOOK!