Missing cat found 200 miles away.... but how?!
Obi Wan Catobi (okay, usually I hate the names humans give us... but this one... this one iz pretty awesome) vanished from hiz owner and ended up at a hotel...200 miles away... the real question iz how the heck did he get there??
Via Mirror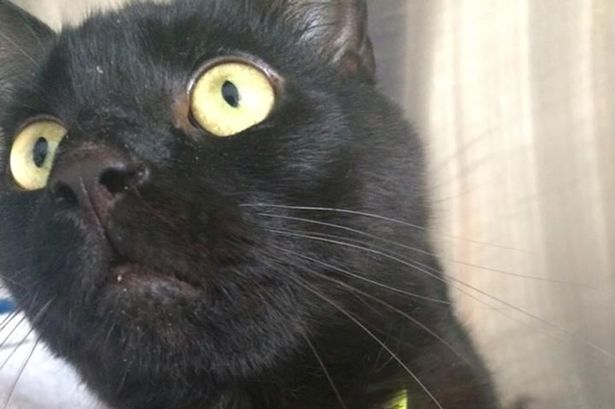 A beloved cat missing for nine weeks was discovered living underneath the floorboards of a construction site in London - 200 miles away from his Leeds home.
How the moggie, named Obi Wan Catobi after the Star Wars character, arrived in the capital is a mystery - but use of 'the force' has not yet been ruled out.
He was found in an unfinished hotel near Euston train station last Thursday by construction workers who stopped work in case he became trapped.
The RSPCA were called and laid down a humane trap with food to lure the cat out.
Rescuers then got the shock of their lives when they checked Obi's microchip which revealed he had strayed all the way from Leeds after going missing in April when his owners moved house.
Owner Adam Williams was delighted when he received a call to say Obi was found, the Evening Standard reports.
The 32-year-old, from Horsforth, said: "How he got himself down there I have no idea. Some people suggested a train, as the hotel was near Euston train station, but that would have meant him changing several times.
"The only thing we can think of is that he got into a contractor's van which went straight there. But this amazes us as he hates getting in cars or any kind of vehicles - he's quite a nervous cat.
"It might be the mystery we can never solve."
Writing on Facebook before Obi was reunited with Mr Williams, a spokesperson for the RSPCA Central and North East London branch who rescued the cat, said: "Obi the cat is being reunited with his family in Leeds today after we rescued him from a building site in Kings Cross last Saturday!
"How he got there will always remain a mystery but we are so pleased for him and his loving owners! This illustrates how vital it is to microchip your pets!
LIKE US!
Comments
comments powered by

Disqus
LIKE US ON FACEBOOK!