'Breaking Cat News' debuts in E-N and 100 other newspapers today
Elvis, Lupin and Puck, the stars of the webcomic and now newspaper comic "Breaking Cat News" by Georgia Dunn, breaks into the Express-News and around 100 other newspapers starting today via Andrews McMeel Syndication, with the comic running in the Express-News seven days a week.
Breaking Cat News has gained in popularity over recent years with the premise of "cats reporting on the news that matters to cats."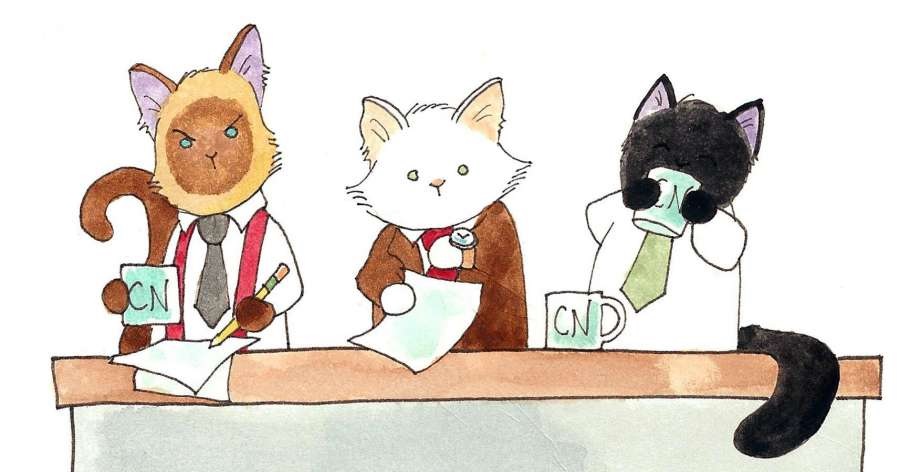 Dunn writes and draws the whimsical strip based on her own cats Elvis, Lupin and Puck. Because as every good reporter knows, the best stories usually come straight from the source.
"It's actually pretty easy for me to write to a certain degree because, as silly as it sounds, I just sort of imagine what the cats themselves would actually say in that circumstance," Dunn shared San Antonio Express News. "Which makes me sound like a crazy person, but that's how it works."
"The People," as the CN cats call them, are the Woman, the Man, the Toddler and the Baby — aka Dunn, her husband Ryan Faillace, and their 3-year-old son Luke and 1-year-old daughter Guinevere, who all live in the Seattle area.
Dunn got the idea for "Breaking Cat News" in March 2014, when Lupin knocked everything off a shelf at Dunn and Faillace's previous home in Covington, Washington, just south of Seattle.
Elvis and Puck raced to the scene, meowing about as Dunn and Faillace cleaned up. Dunn jokingly offered her own "hard-boiled reporter voices" for the cats, which sparked a couple of tweets and a drawn comic the next day. Friends and family lapped it up.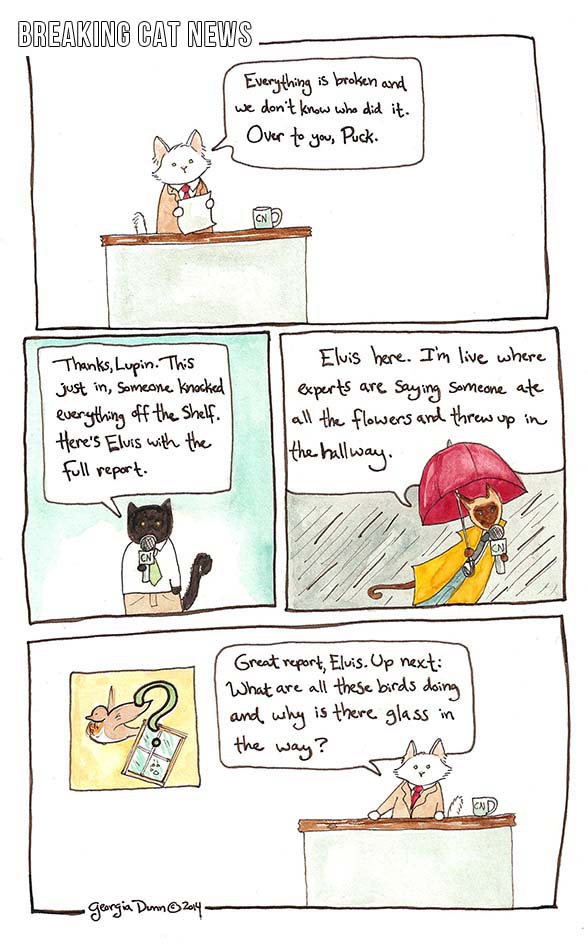 This lead to the creation of their website, breakingcatnews.com, and plenty of their comics have been praised and shared on major sites such as Reddit.
"I'm a huge fan of the strip and have been following it closely since it launched online," Shena Wolf, acquisitions editor for Andrews McMeel Syndication, said via email. "The art and the humor have always been on point, and being able to work with Georgia to bring it to syndication has been a very inspiring process. I'm delighted that Andrews McMeel is the company to bring this strip to papers and a wider readership."
Despite its online origins, "Breaking Cat News" is surprisingly analog. Dunn does all her strips on paper with ink and watercolors. ("I'm garbage with computers," she said.) Newspaper readers will see those watercolors in all their glory on Sundays. Most newspapers will carry the weekday and Saturday strips in black and white ink.
Here's just a sample of her hilarious comics below!
A Hairbrush Has Been Left Out

The Woman Is Sick

The Man Is Taking A Shower

Share the cute!
Related Stories:
8 comics from "They Can Talk" that totally nail what cats think
How your office would look if your boss was a cat
LIKE US!
Comments
comments powered by

Disqus
LIKE US ON FACEBOOK!